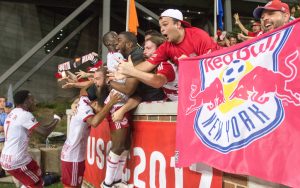 The 2017 Lamar Hunt US Open Cup Final features two Major League Soccer originals, and despite the two club's expansive histories, one of them is seeking its first major title in over 20 years of cup competitions.
Sporting Kansas City will host the New York Red Bulls tonight in front of a likely sold-out crowd at Children's Mercy Park to decide this year's Open Cup winner, as the latter looks to capture its first major tournament trophy in the competition's 104th edition. Meanwhile, Peter Vermes' Sporting KC will be attempting to become just the eighth team in history to win four Open Cup titles.
The two MLS sides have had similar paths to the final, each facing extra time on two occasions and penalty kicks once.
Below, we make the case for both teams coming out victorious as they prepare to square off in nationally-televised game (ESPN2/ESPN Deportes) championship game.
Why Sporting Kansas City will win
Let us start off with the obvious. Head coach Peter Vermes and his side have been here before. The former Sporting Kansas City (Kansas City Wizards) player may not have won an Open Cup title during his playing career, however, he's been victorious on three separate occasions in this competition, in addition to winning an MLS Cup back in 2013.
Sporting has a solid base of veterans players, such as Matt Besler, Graham Zusi and Benny Feilhaber, all of whom have played key roles for the club in their previous triumphs. Meanwhile, in recent seasons the team has added younger talents like Latif Blessing, Gerso Fernandes and Diego Rubio to help spark the squad's attack.
While the Red Bulls will be used to playing in front of a hostile environment — particularly when they take on NYCFC in the Bronx — Children's Mercy Park is among the loudest stadiums in MLS. In fact, WalletHub recently named Kansas City to be the best soccer town in the United States, after compiling a list of nearly 300 cities across the country.
Sporting is just one of two teams in MLS with an unbeaten home record this season (Toronto FC). Vermes' men are 9-0-5 at CMP, making the Red Bulls' task all the more difficult.
Additionally, the three-time Open Cup champions have lost just twice in all competitions since May 27, which is one of the most successful unbeaten runs in all of MLS during that span.
With veteran experience, great coaching and stadium full of fans cheering them on, Sporting Kansas City should lift their fourth US Open Cup trophy and the third in the last six years.
Why the Red Bulls will win
It all starts and finishes with Bradley Wright-Phillips, the Red Bulls' all-time leading goalscorer. The former Manchester City academy player has 94 career goals for the Harrison-based club, including three this season in the Open Cup. While BWP's track record in big matches hasn't always been staggering, the 32-year-old is just about the best in the league when it comes to finishing chances in front of net.
Speaking of the best, head coach Jesse Marsch has accumulated an impressive record in this competition during his playing days. The former MLS player was a four-time winner in the Open Cup with both the Chicago Fire (once) and D.C. United (three times). Although Marsch clearly won't be playing in the final, his experiences from the past could surely aid his side.
In 2014, the Red Bulls hit a low point when they were embarrassed with a 3-0 loss to the New York Cosmos of the NASL. Prior to 2015, Marsch took over and since then, the team has only lost one Open Cup game (6-1-2, 1-1 PKs), including a 4-1 revenge win over the Cosmos in his first year. It has been, by far, the team's best run of form in the tournament, signaling to fans that the club is making the Open Cup a priority.
It's been an up-and-down season for the Red Bulls who currently sit in sixth place in the Eastern Conference, but one thing this team has proven in the Open Cup is that they are resilient. Despite scoring just five regulation goals in four matches in the 2017 tournament, the two-time MLS Supporters' Shield winners have played solid defense and have dug deep when the squad needed to most.
The Red Bulls enter Wednesday evening having taken points in nine of their last 11 MLS matches, including four positive results on the road.
Last round, the Red Bulls trailed by two goals heading into the final 15 minutes against USL side FC Cincinnati, but BWP and his teammates pulled off one of the more dramatic comebacks in the competition's modern history with three late goals (including one in extra time) to put the Red Bulls one step away from winning its first US Open Cup title. If they win, they would be the first New Jersey-based club to lift the trophy since 1972 (Elizabeth SC).
2017 Lamar Hunt US Open Cup Final
New York Red Bulls (MLS) at Sporting Kansas City (MLS)
Children's Mercy Park – Kansas City, KS
BROADCAST: ESPN2 / ESPN Deportes / Watch ESPN app
Kickoff: 9 p.m. EST
New York Red Bulls Open Cup records
Overall: 21-17-3 (2-1 PK) | Home: 9-5-2 (1-1 PK) | Away: 11-11-1 (1-0 PK) | vs. MLS: 7-9-3 (2-1 PK)
Last entry: 2016 (Lost 2-1 at Philadelphia Union of MLS in Round of 16)
Best finish: 2003 Runner-up (Lost 1-0 vs. Chicago Fire of MLS)
Leading goalscorer: Bradley Wright-Phillips – 3 goals
How they got here
Round 4: 1-0 home win vs. New York City FC (MLS)
Round 5: 1-1 home draw (5-3 PK win) vs. Philadelphia Union (MLS)
Quarterfinals: 1-0 road win at New England Revolution (MLS)
Semifinals: 3-2 (AET) road win at FC Cincinnati (USL)
---
Sporting Kansas City Open Cup records
Overall: 25-13-6 (4-2 PK) | Home: 18-7-2 (2-0 PK) | Away: 7-6-4 (2-2 PK) | vs. MLS: 11-8-3 (3-0 PK)
Last entry: 2016 (Lost 3-1 at Houston Dynamo of MLS in Round of 16)
Best finish: 2004, 2012, 2015 champions
Leading goalscorer: Four players tied with 2 (Blessing, Fernandes, Opara, Salloi)
How they got here
Round 4: 4-0 home win vs. Minnesota United (MLS)
Round 5: 2-0 road win at Houston Dynamo (MLS)
Quarterfinals: 3-0 (AET) home win vs. FC Dallas (MLS)
Semifinals: 1-1 home draw (5-4 PK win) vs. San Jose Earthquakes (MLS)
US Open Cup Final history:
* A list of every US Open Cup Final (1914-present)
* US Open Cup Final All-Time Goalscorers
* 1923 US Open Cup Final: Paterson FC claims New Jersey's "tainted" first title
* 2004 US Open Cup: How Sporting Kansas City won their first Dewar Cup
#USOC2017 coverage:
* 2017 Lamar Hunt US Open Cup schedule, results
* 2017 US Open Cup Round 1 review
* 2017 US Open Cup Round 2 review
* 2017 US Open Cup Round 3 review
* 2017 US Open Cup Round 4 review
* 2017 US Open Cup Round of 16 review
* 2017 US Open Cup Quarterfinal review
* 2017 TheCup.us Player of the Round winnners
* 2017 US Open Cup bracket (TheCup.us)
* 2017 US Open Cup statistical leaders
* A map of all 99 entries for the 2017 US Open Cup
* 2017 Meet the Underdogs series
* 2017 US Open Cup qualifying Round 2 review: 14 more teams advance as Round 3 moved to next year
* 2017 US Open Cup qualifying Round 1: Scores and recaps from every game

#USOC2018 qualifying coverage
* 2018 US Open Cup qualifying begins this weekend (Sept. 23-24)
* Which NPSL teams will qualify for 2018 US Open Cup?
* Which PDL teams will play in the 2018 US Open Cup? 
MORE:

* Cincinnati's forgotten US Open Cup history
* 2017 US Open Cup Final will be broadcast live on ESPN networks
* California Clasico isn't new: North has battled South in US Open Cup since 1950s
* Who is the US Open Cup equivalent to Lincoln City FC and their magical FA Cup run?
* Eric Wynalda hired to lead LA Wolves for 2017 US Open Cup run
* Reading United qualifies for record 9th straight US Open Cup, seeking more than an opening round win
* Biggest USOC controversies of last 100 years, Part 1: The Soccer War, boycotts, the ultimate sister kiss and more
* Biggest USOC controversies, Part 2: NASL bails, World Cup tickets, buying home field and more
* Support TheCup.us: New Del Rey City jerseys available for purchase
* Appreciate what we do at TheCup.us? Donate here
* TheCup.us is looking for writers/editors, graphics, WordPress gurus & people who can handle digital ad sales (paid position). Email us here
Twitter (#USOC2016) | Facebook | Instagram | Flickr | Reddit