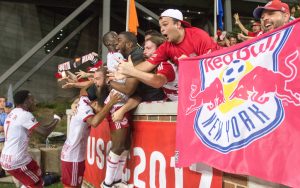 All good things must come to an end. FC Cincinnati's surprise run to the 2017 Lamar Hunt US Open Cup Semifinals in just their second year of existence was as far as they could go, as the New York Red Bulls overcame a two-goal deficit against a seemingly unbreakable Cincinnati defense to win in extra time, 3-2.
Having not allowed a goal all tournament, things looked to be in Cincinnati's favor when they scored in the 31st minute off a strong strike from Corben Bone. Danni Konig provided the assist. It was the first goal in the first half for the squad, so how they would play with a lead was a question that needed answered. Cincinnati answered it well, scoring again in the 62nd minute, this time from Cincinnati native Austin Berry with an assist from Kenney Walker.
Victory seemed assured, but everything fell apart in the 75th minute when Gonzalo Veron scored, and Bradley Wright-Phillips netted the equalizer just three minutes later.
With extra time looming, Wright-Phillips nearly ended the game in regulation as he fired a well-placed header off the underside of the cross bar in the 90th minute.
The match would go to extra time, but it was clear that New York had gained the upper hand. Wright-Phillips struck again 11 minutes into added time for the game winner on an assist from Sal Zizzo. For Wright-Phillips, it was his third goal of the tournament, which leaves him one behind the tournament co-leaders with one match left to play.
As the final whistle blew, many FC Cincinnati players collapsed, some in tears, as the Red Bulls celebrated their first trip back to the Open Cup finals since 2003. It was just the second time in the Modern Era that a team has come back from a two-goal deficit in the Semifinals to win (Columbus Crew over the Kansas City Wizards in 2002). It was also the first time New York has overcome a two-goal deficit in any round of the tournament. Not only that, it was just the third time that the Red Bulls had come back to win an Open Cup game (2003 Semifinals vs. D.C. United / 2011 Third Round vs. FC New York)
"The first thing I want to do is congratulate this city and this club. What a great environment, what a great performance, what a great run for this team," said Red Bulls coach Jesse Marsch. "We escaped by the skin of our teeth. As big as it was for them, it was big for us as well … I heard the MLS Commissioner was here tonight. I hope he takes notice of what's going on here, and I don't think it will be too long before we're back here again playing in more meaningful games."
With a home stadium located in Harrison, N.J., the Red Bulls have reached the Open Cup Final for the sixth time in the state's history. Paterson FC lost in 1919 and won in 1932, Elizabeth SC won in 1970 and 1972, and the Red Bulls (under the name Metrostars) lost in 2003 to the Chicago Fire at Giants Stadium.
This time, they will face Sporting Kansas City. The away trip will be tough, as SKC has never lost a Cup final and will be looking to become just the eighth club in the tournament's 104-year history to lift the trophy for a fourth time.
FC Cincinnati will have to wait for next year till their next Open Cup game, but will leave this tournament with plenty of Modern Era records and pride. Djiby Fall, who did not play because of a yellow card accumulation, became the first player to score four game-winning goals in a single tournament. Goalkeeper Mitch Hildebrandt's single-tournament shutout streak came to an end at 464 minutes, while his personal streak (dating back to last year) ended at 543 minutes. The team's 584-minute scoreless streak shattered the previous record of 453 minutes (2008 Seattle Sounders, Chris Eylander). Additionally, FC Cincinnati set multiple round attendance records (Round 4, Round 5), including a Semifinal record crowd of 33,250 Tuesday night.
According to TheCup.us records, Tuesday night's sold-out crowd was the second-largest to ever witness a US Open Cup game, trailing only the 2011 Final hosted by the Seattle Sounders FC (35,615).
"Any time you're up 2-0 in a game and you don't win you're going to be disappointed in the end, but putting that aside, nothing but pride. Absolute pride in the group of players that put everything into it out there on the pitch tonight," said FC Cincinnati coach Alan Koch. "Not only this game, but this cup run, has been truly magical. You've seen it galvanize the team, the club, the city."
Koch and Cincinnati supporters will hope this unexpected run will be the launching point for an MLS bid later in the year.
The 104th US Open Cup Final will be played in Kansas City at Children's Mercy Park on Sept. 20 at 9 p.m. EST. Earlier in the day, the United States Soccer Federation announced that the game will be broadcast live on ESPN2 and ESPN Deportes.
TIMELINE:
FC Cincinnati strikes first
WATCH: Corben Bone strikes first for #FCCincy in the 31′ vs The NY Red Bull! #CINvNY pic.twitter.com/Ff48wC2sqG

— FC Cincinnati (@fccincinnati) August 16, 2017
FCC makes it 2-0
WATCH: Cincinnati local Austin Berry gives FCCincy a 2-0 lead vs the NY Red Bull in the 61′. #CINvNY pic.twitter.com/TSbMNwmMWV — FC Cincinnati (@fccincinnati) August 16, 2017
Veron pulls one back for the Red Bulls
Gonzi with the finish!!!!#CINvNY | #RBNY pic.twitter.com/GxxhaKhPec

— New York Red Bulls (@NewYorkRedBulls) August 16, 2017
BWP equalizes
You may be able to quiet him for a bit but you CAN NOT STOP BWP! We call that an EQUALIZER!#CINvNY | #RBNY pic.twitter.com/twP0gwOnQ7 — New York Red Bulls (@NewYorkRedBulls) August 16, 2017
The Red Bulls' game-winner
The @NewYorkRedBulls winner. #CINvNY #USOC2017 pic.twitter.com/BtkaN4iSFJ

— Major League Soccer (@MLS) August 16, 2017