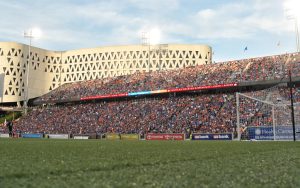 When the dust settled on the Round of 16 of the 2017 Lamar Hunt US Open Cup, there were two clear-cut headliners. Somehow, FC Cincinnati (USL) and the Chicago Fire (MLS) managed to have the game live up to the hype without scoring a single goal. The game was broadcast live on ESPN in front of a record crowd of more than 32,000 (the second largest crowd of any kind in the Modern Era) and Cincinnati prevailed in a penalty kick shootout.
Elsewhere, Kwadwo Poku of Miami FC (NASL) scored the game-winning goal on what was essentially the final kick of the game to upset Atlanta United (MLS).
Two lower division teams will take part in the Quarterfinals and thanks to the way the bracket shook out, they will play each other in the next round. This guarantees that there will be a lower division club in the Semifinals for the first time since 2011 (13th time since 1996).
Joining them in the Quarterfinals are six MLS teams: Three-time winner Sporting Kansas City, two-time winner and defending champion FC Dallas will square off, while the California Classico will return to the Open Cup as the Galaxy will travel to San Jose to take on the Earthquakes. The last game features an original MLS matchup between the New York Red Bulls, who are seeking their first Open Cup title and the Revolution, last year's runner-up who hasn't lifted the trophy in a decade.
Here is a brief recap of each Round of 16 game with links to the full match report (Check back as more will be added):