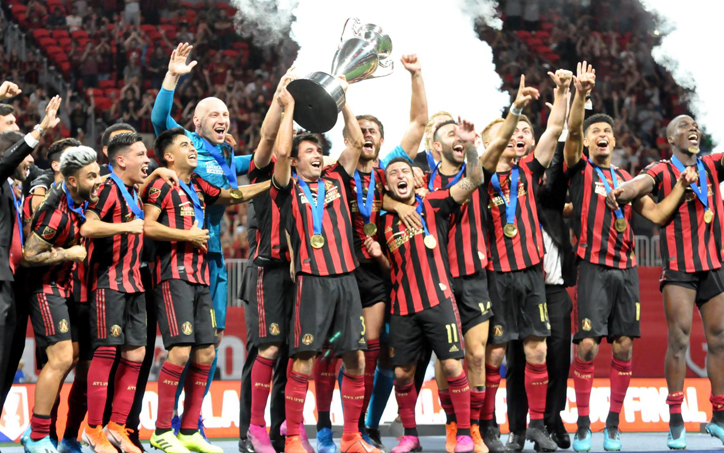 The Philip F. Anschutz Trophy. Campeones Cup. And now, the Lamar Hunt US Open Cup.
Atlanta United made it three trophies in its brief history as it held off a pesky Minnesota United FC side, 2-1 in front of an all-time US Open Cup Final record attendance of 35,709 fans at Mercedes-Benz Stadium. With the win, Atlanta became the first Georgia-based team to lift the trophy in the 106-year history of the tournament. They also became the first team from Major League Soccer to clinch a spot in the 2020 CONCACAF Champions League and walk away with $300,000 in prize money.
Minnesota United, who were also seeking to become the first team from their state to win the tournament, leave with $100,000 as the runner up.
"Today, we achieved something beautiful for the club," said Atlanta coach Frank de Boer, who joined Bruce Arena (1996-97) and Dave Sarachan (2003-04) as the only coaches to win their first five US Open Cup games. "Of course, we have a short history as Atlanta United, but to win in the third year is a fantastic achievement."
Atlanta's win wasn't without a bit of adversity, either. After a fortunate own goal and Gonzalo "Pity" Martinez scoring in the first 16 minutes of the match, Leandro Gonzalez Pirez received two yellow cards within three minutes of each other, forcing the home team to play more than 15 minutes plus five minutes of stoppage time down a man. In the end, the hosts survived – and were the ones left celebrating when the final whistle sounded.
? The domination continues in front of our 17s

Highlights from our U.S. Open Cup Final win pic.twitter.com/MrrtpUCQ9N

— Atlanta United FC (@ATLUTD) August 28, 2019
It looked as if a quick start was in the cards as if not for an offside flag in the 2nd minute on a goal from Josef Martinez, Atlanta would have had the early lead. But that opening score did come in the 10th minute thanks to some bad luck on Minnesota's part. A sequence that started with a pinpoint pass from Pity Martinez saw the ball make its way to a free-running Gonzalez Pirez, who attempted to cross the ball. As he did, Minnesota's Chase Gasper slid in to block the pass, but instead, the ball deflected off of him and past goalkeeper Vito Mannone to make it 1-0.
In the 17th minute, Pity Martinez found himself involved in the offense again. A beautiful cross by Justin Meram from the left side was one-touched perfectly into the net by the former South American Footballer of the Year to make it a 2-0 scoreline.
Minnesota wouldn't stay on the mat, though, striking just a couple minutes into the second half when Kevin Molino was played through on the right wing. Molino crossed the ball into the box where he found Robin Lod who redirected the ball into the back of the net to cut the lead in half and give the visitors new life.
Atlanta would create several opportunities to add to its lead in the second half – including a goal that was called offside. However, despite their pressure, with a record crowd behind them, it failed to materialize. Minnesota, for its part, couldn't find the equalizer.
"When you look back over the 90 minutes, we had four or five really, really good chances," said Minnesota coach Adrian Heath. "We gave ourselves a huge hole to get ourselves out of, but I can't fault the guys for the effort they put in to try to put us back on level terms. We got the goal, and I thought the initiative was with us."
The potential turning point, though, came just shy of the final quarter-hour of the match as Pirez was given his marching orders after receiving a second yellow card by referee Allen Chapman. But the tying goal, one that would have sent the match to extra time, never came as the Loons' best chance saw Michael Boxall sky a stoppage-time attempt over the bar as Atlanta saw the match out for the eventual win.
A new trophy for the ATL ? pic.twitter.com/JsFlYaw5Se

— Atlanta United FC (@ATLUTD) August 28, 2019
"I think the mindset was, 'We should still be playing'," said Boxall. "In the halftime, when we spoke, we knew if we got one, then we'd given ourselves every chance of bringing the trophy home … It just hurts that we're not still out there because if that goes in, all the momentum's on our side."
Instead, it was Atlanta United winning its third final in as many tries at Mercedes-Benz Stadium, dating back to its MLS Cup victory in December before defeating América in the Campeones Cup earlier this month. Nevertheless, the club feels it is out for more, including a second straight league title.
"It's a feeling of 'Yeah, we'll enjoy this tonight," said Atlanta goalkeeper Brad Guzan, who won the US Open Cup for the first time. "We understand what it's about to win trophies and win big tournaments. Ultimately, there's a big one later on in a few months."
Beyond that, the potential of having a second attempt at becoming the first MLS side to win the CONCACAF Champions League lies ahead after a disappointing showing earlier this year.
"We certainly weren't at our best at the beginning of the year," said Guzan. "Now, to have a second go at it, we want to try and show that we can compete with the best in the region. Champions League obviously allows us that opportunity, but we're certainly better than what we showed this year in Champions League. I think next year could be potentially a different showing if we make sure we get off to a good start."
All but one player who saw the field for Atlanta United in the Final won the US Open Cup for the first time. Jeff Larentowicz came on as a sub in the 85th minute, lifting the trophy for the second time in his career. Larentowicz, along with Michael Parkhurst, both won the tournament in 2007 as members of the New England Revolution. The 12-year gap in between US Open Cup titles ties the record set by D.C. United legend Jaime Moreno (1996, 2008).
For Minnesota's Osvaldo Alonso, he fell short of winning a Modern Era record fifth tournament title, but he extended his own record by playing in his seventh US Open Cup Final.
One more historical tidbit: Tuesday's championship game was the 13th US Open Cup game to be hosted indoors, but it was the first time in the history of the tournament that a championship game was held indoors.
¡DALE CAMPEÓN! ? pic.twitter.com/1yQRilllzb

— Atlanta United FC (@ATLUTD) August 28, 2019
#USOC2019 ESSENTIALS
2019 US Open Cup Schedule/Results (with links to every match report)
2019 US Open Cup statistical leaders (Goals, Assists, GKs)
2019 US Open Cup bracket (TheCup.us)
All-Time Career US Open Cup Final goalscorers (1913-present)
2019 US Open Cup Round 1: Game-by-game review
2019 US Open Cup Round 2: Game-by-game review
2019 US Open Cup Round 3: Game-by-game review
2019 US Open Cup Round 4: Game-by-game review
2019 US Open Cup Round of 16: Game-by-game review
2019 US Open Cup Quarterfinals: Game-by-game review
2019 US Open Cup Semifinals: Atlanta United blank Orlando City to become first Georgia team to reach the Final
2019 US Open Cup Semifinals: Mason Toye's winner sends Minnesota United past Timbers, into first-ever Final
Appreciate what we do? Help improve our coverage by joining TheCup.us Patreon team!
NPSL Mid-Atlantic Conference adds matches to end of regular season to try to make 4 of 5 teams 2020 US Open Cup eligible
Every US Open Cup game to stream on ESPN+ in multi-year media rights deal
THECUP.US PLAYER OF THE ROUND
Round 1: Charles Boateng – Richmond Kickers
Round 2: Bryant Martin – Florida Soccer Soldiers
Round 3: Blake Frischknecht – Orange County FC
Round 4: Teal Bunbury – New England Revolution
Round of 16: Sam Fink – Saint Louis FC
Quarterfinals: Adam Grinwis – Orlando City SC
Semifinals: Mason Toye – Minnesota United FC
#USOC2020 QUALIFYING
First Round matchups for Open Division Local tournament announced
Newtown Pride FC win first Amateur Cup title, qualify for 2020 US Open Cup
Which USL League Two teams could qualify for 2020 US Open Cup?
Which NPSL teams could qualify for 2020 US Open Cup?
#USOC2019 QUALIFYING
2019 US Open Cup qualifying schedule/results
2019 US Open Cup Qualifying Round 1 game-by-game review
2019 US Open Cup Qualifying Round 2 game-by-game review
2019 US Open Cup Qualifying Round 3 game-by-game review
2019 US Open Cup Qualifying Final Round game-by-game review
Florida Soccer Soldiers qualify for first time after America SC withdraws
More pros, less amateurs, an extra sub in 2019 US Open Cup format
Chattanooga FC qualifies for 2019 US Open Cup, but opts out
Bavarian SC qualify for 2019 US Open Cup by winning Amateur Cup title
MEET THE UNDERDOGS SERIES
Milwaukee's Bavarian Soccer Club, proudly amateur since 1929
West Chester United battle tested from long journey back to US Open Cup
NTX Rayados grooming "new generation" to keep qualifying streak going
Academica SC earns first US Open Cup berth after more than 40 years as a club
FC Denver using US Open Cup to build to "higher level"
First year Florida Soccer Soldiers winning with "respect, pride and commitment"