West Chester United's road back to the Lamar Hunt US Open Cup for the first time since 2016 has been a meandering and arduous one with trips to Wisconsin, New York City and Boston all while juggling a roster of players with a wide variety of off-the-field commitments that interfere with weekend travel.
The amateur club — based in a university town 45 minutes due west of Center City Philadelphia — narrowly missed qualifying through the National Premier Soccer League (NPSL) and the National Amateur Cup — losing in the final in Wisconsin in August — but after four straight road games in local qualifying finally punched their ticket with a win over Safira FC outside Boston last month.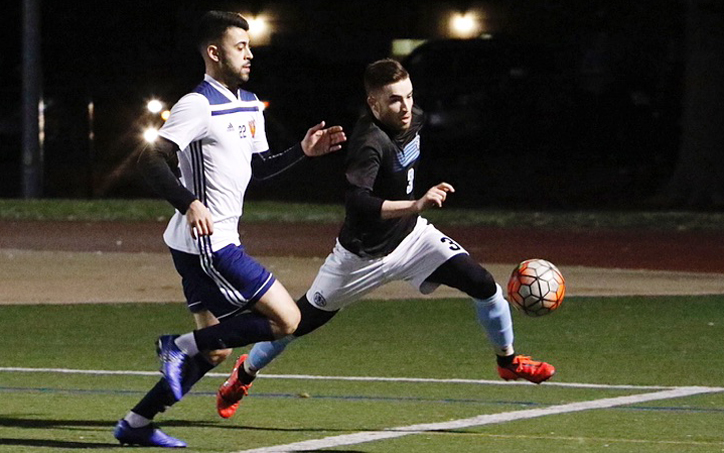 "Travel gives a different facet to the relationships that are built," said West Chester United head coach Blaise Santangelo. "Although costly for an amateur program it really unites the guys and helps them to focus for a longer period of time. It's also the us-against-the-world mentality when you're on the road. I don't want to say it's preferred but our guys really know how to handle it."
Santangelo wasn't exactly happy when he learned they would again have to charter a bus for a fifth straight road game to visit FC Baltimore Christos on May 7 or that the reward for a win there would be an even longer and more expensive midweek trip to Birmingham, Alabama to play USL Championship side Birmingham Legion in that club's first-ever Open Cup match.
Like it or not, the road has been good to Santangelo's team, which is still relatively young on the amateur scene having started a decade ago as an Over-30 team before branching out into an open team and summer Under-23 program. The club won its first national championship — the Werner Fricker Cup — back in 2015 in Virginia Beach and qualified for the Open Cup for the first time in 2016. They traveled to Virginia to play Fredericksburg FC for the first round match and advanced on penalties their last and only first round appearance. Their reward then was a home game against the Harrisburg City Islanders, which they lost in front of an overflow crowd at their home field five minutes from West Chester University.
Only one player remains from that team, 27-year-old Temple University grad Chas Wilson. Wilson, who is a social studies teacher at one of the nearby high schools and also coaches for a local youth club, has played a number of positions for Santangelo, filling in where he's needed most at just about every position other than goalkeeper but is back to playing as a No. 9 with as much of a knack for setting up teammates as he has for putting the ball in the back of the net.
"He doesn't score a lot of goals but he facilitates a lot of players and a lot of our goals come from his work," Santangelo said. "He's a joy to watch."
Though he has the most history with a team that goes by the nickname Predators, Wilson isn't the oldest player on the team. That would be 30-year-old center back Peter Nolan, who is an accomplished squash player and high-level corporate executive with an MBA from Harvard. Nolan had a pair of goals in their qualification-clinching 3-0 win over Safira FC.
Many of the players on the team end up with the club because they find work in the area like Nolan, have ties to local college programs or grew up playing for the West Chester United's youth club, which encompasses the nationally-recognized Penn Fusion Academy program.
Sami Phelps, a defender on the team, joined Penn Fusion Academy after moving to the area to attend Westtown School. He and Kyle Hoops were also teammates on a West Chester University team that made it all the way to the NCAA Division II final in Pittsburgh last December.
"It's been nice because I've been able to go from one high level to another high level," said Phelps, who joined back up with the squad he spent time with in the summer after his college career ended. "The success for both West Chester United and West Chester University shows what the area has to offer since both teams are drawing mostly from the area here."
Midfielder Andreas Bartosinski is one of only a couple internationals on the squad. The former FC Köln youth player joined the team last spring after starring at nearby Villanova University, where Wisconsin native Enda O'Neill spent his senior season last fall as a grad transfer.
"For me personally, the run we're on has been exciting, especially after we lost in the National Amateur Cup in Milwaukee," said Bartosinski, who won a national Under-19 cup as a youth player in 2013. "The Open Cup compares to the German National Cup. It's pretty much the same thing. It's all about lower tier teams getting a chance to upset higher level teams. It's just really fun to play in that environment where anything can happen in one game."
Penn State is also represented in the team with grads Michael Gonzalez, who regularly wears the captain's armband and defender Sam Bollinger while Notre Dame teammates Senan Farrelly and Aiden McFadden both starred on the team's second season in the NPSL. Whether it's league play in the fall and spring, cup competitions, NPSL and Northeast Elite Soccer League competition in the summer or preseason friendlies against Bethlehem Steel FC or the Philadelphia Union's Under-19 team, a large roster is part of what enables Santangelo to piece together a squad that can go head to head with some of the best amateur teams in the nation.
"In the last two-three years I think we've raised our level of play and our quality of play through our sheer numbers," Santangelo said. "Our success from that comes year round with all the games we get in different competitions."
Santangelo, a father of five who runs a successful landscaping business, is a tireless advocate not only for the players he recruits into the program but also for a sport that has been a lifelong love and passion. Committed as he is to his player and the club, he does admit that he probably wouldn't be as willing to make some of the sacrifices he's had to make things run if so much success hadn't followed, which at present includes a streak of three straight league championships in the United Soccer League of Pennsylvania.
A stalwart as a player who played through the various levels of age divisions in amateur soccer with the four-time former Open Cup champions Ukrainian Nationals after a successful college career at Elizabethtown College, Santangelo is also part of the more distant history of one of the oldest soccer competitions in the world.
"I played in this tournament with the Ukies, I remember playing a game at RFK Stadium so I knew what it meant to represent the club and our local soccer community," Santangelo said. "I'm proud to be part of the Philly soccer landscape. There's been a lot of great people who have helped build the talented regional area we have here."
While over the past 18-plus months the focus has been on racking up wins and getting into the "Open Cup proper," the approach now will be to stay alive as long as possible and make it back home to what would seem to be their turn to host a game should they make it all the way to the third round.
"It really is all about enjoying the journey at this point," Santangelo said.