Call them professionally amateur.
Milwaukee's Bavarian SC has long been among the country's top amateur clubs – their crest is packed with eight stars, each representing a national championship won by the club founded by German immigrants in 1929 as Fussball Club Bayern and re-named in 1956.
The two most recent stars were earned last August when the Bavarians won their fifth National Amateur Cup title and then claimed their first United Premier Soccer League (UPSL) championship a week later.
That Amateur Cup championship gave the Bavarians an automatic berth in the first round of the Lamar Hunt US Open Cup, and they will play host to USL League One's Forward Madison FC on Tuesday night at Uihlein Soccer Park in Milwaukee in what is being billed as the "Dairyland Derby."
The Bavarians, whose Heartland Fund Value Stadium about 15 minutes away in Glendale didn't meet all the US Soccer Federation standards for hosting an Open Cup match, embrace their non-professional status.
"Some people shy away from it, but we're proud to admit that we're amateur," coach Patrick Hodgins said. "We're proud to call ourselves amateur soccer players, and a lot of our guys take that to heart.
"People look at it as a slight to call yourself amateur but it has nothing to do with our quality. I think if you look at the teams we play and the people who have played us, I think they will have the same opinions of us."
To further that point, the team created a unique hype video ahead of the season. It showcases some players' day-to-day lives in addition to their passion for soccer – including training outdoors in the snowy Wisconsin weather.
"There's something to be said about guys who aren't getting paid who want to show up twice a week and go on road trips and play all these games with each other," Hodgins said. "There's a lot to be said about that."
?2019 HYPE VIDEO ALERT?

Being part of the Bavarian Soccer Club Men's team means we are profesional…ly amateur. Just a bunch of guys with day jobs that like playing soccer. Come see us play in 2019, we'd like that ? pic.twitter.com/dLxUBRx1Dy

— Bavarians SC Men's | UPSL (@BavarianMajors) April 4, 2019
Take, for example, two of the Bavarians' most influential players, brothers Logan and Braden Andryk.
Hailing from nearby Hartland, both played high school soccer at powerhouse Milwaukee Marquette, club soccer with FC Wisconsin Nationals and starred at NCAA Division III Milwaukee School of Engineering.
Their college coach was former US national team defender Jimmy Banks, who was 54 when he died of cancer April 26. Banks' son JC is a Forward Madison midfielder who is well known to many of the Bavarians' players.
Logan Andryk set program records with 61 goals, 60 assists, 182 points and 15 game-winning goals. Braden Andryk finished his career two years later with 70 goals, 38 assists, 178 points and 17 game-winners. The brothers rank first and second in Raiders history in each of those attacking categories.
But before they head out to the Bavarians' training sessions twice a week, the Andryk brothers have plenty of other work to do. Logan, 24, is in medical school at the Medical College of Wisconsin, while 22-year-old Braden has nearly completed his master's degree in engineering at MSOE.
"I might be their coach, but I would put Logan and Braden Andryk up against a lot of players," Hodgins said. "They've focused more on the academic side of things, and that's good for them, but I think if professional teams were to give them the opportunity that they would succeed at a higher level.
"I think for them, an opportunity to challenge themselves and see, in a one-game situation, how they stack up."
Braden Andryk was named the 2018 UPSL Spring Season Most Valuable Player after helping lead the Bavarians to a 15-0-0 overall record.
"He's got great pace," midfielder Scott Lorenz said of Braden Andryk. "He's been absolutely crucial for us over the past three years – he leads the team in both goals and assists over the past three years, and it's not even close … He's definitely a focal point for our attack."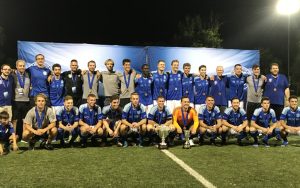 Hodgins added: "He just has this knack for scoring big goals. He's always come up big whenever we've needed him. He plays with a passion. He just gets after it, he tackles well, he does everything we need him to do, he doesn't play with an ego – he's never been a "me" guy, he likes to play for the team."
According to Hodgins and Lorenz, the Bavarians won't change their style of play against Forward Madison.
"That's not being disrespectful to Forward Madison – they're a good side and they're coming in as the favorite, and that's the way it should be," Hodgins said. "We just feel comfortable playing the way that we play with the guys that play for us … That's what we feel gives us the best chance to get a result. We don't train enough, we don't play enough to put in a new system."
That means expect to see a 4-3-3 or 4-2-3-1 formation from the hosts.
"We love to go forward. Our team is built with strength on the wing, with speed," Lorenz said. "We don't mind defending, but once we create that turnover, we like going as quickly as possible to potentially catch them out. Now, having said that, we'll see how the game looks. If we had our way, it would be to get it to the wings, create those 1-on-1s and see what happens."
The 31-year-old Lorenz is one of the former pro players who brings a calming presence to the Bavarians. He spent time with Major League Soccer's Sporting Kansas City, the second-tier NSC Minnesota Stars and the Fort Lauderdale Strikers in the North American Soccer League – his coach during the 2012 season in Florida was Daryl Shore, now at the helm of Forward Madison.
"I'm hoping to be in the lineup ," said Lorenz, who earned a business management degree from the University of Wisconsin in Madison while playing Division I college soccer and now is the development director for a co-working space in downtown Milwaukee. "I'm going to go ahead and give it everything I've got. I'm excited to play. I think it's a great opportunity. And I think it's going to be a ton of fun for the state of Wisconsin."
Another ex-pro who figures to be in the lineup is Tighe Dombrowski, whose family has a long history in the Open Cup.
He played with the San Jose Earthquakes in MLS and the Minnesota Thunder in USL First Division and with Swedish club IK Sirius FK before returning to the Milwaukee area. Now 37, Dombrowski usually sits deep in the Bavarians' midfield.
"Tighe creating that tempo really allows the midfielders ahead of him to be a little more fluid and creative and maybe take some chances," Lorenz said of his midfield mate, "because he brings such a good presence to the game with his positioning and his communication."
Tuesday's Open Cup match will be the first competitive game of the season for the Bavarians, who rescheduled their UPSL Midwest Conference Central Division season opener last Saturday to accommodate a regional Amateur Cup match, only to then end up receiving a forfeit in the game.
As Hodgins mentioned, the Bavarians know they're not the favorites.
"Despite our recent success – and we had a lot of fun last year getting a couple of trophies – we are, at the end of the day, an amateur team full of guys who have professional careers outside of soccer," Lorenz said. "We are underdogs. We're not going to carry that too hard on ourselves, because we do believe that we have talent, but the Madison team, they train every day, they're getting paid to play the game, their commitment level is so much different than ours. … These guys are professional, they're out here to play the game as a career, and we're very aware of that. We're going to give them our respect, absolutely, and try to make it as fun of a game as we can.
"Let's go out, let's have some fun, let's see what we can do and not hole up in a shell, not sit in the front of the box and let's see where we stand."
And, in a one-off cup match, anything can happen, right?
"People like a good underdog story, and this tournament really creates that atmosphere for most of the games – especially the early-round games – there's going to be a clear favorite and there's going to be a clear underdog. So you have the opportunity to root for the underdog," Lorenz said. "And there's usually one story and one underdog that pushes all the way through. It would be incredible if it's us – if we can get a result (Tuesday) and continue to go on and play, it would be fantastic.
"If not, we'll take a look at it, try to learn some things from it and try to better ourselves for the rest of our season in UPSL and Amateur Cup. But you'd better believe that we'll be rooting for all the underdogs as well – whether we're still in the tournament or not."