Lamar Hunt US Open Cup glory is on the line, as Minnesota United FC heads to Atlanta to face off with Atlanta United FC at Merecedes-Benz Stadium on Tuesday night.
There is plenty of history that could be made because not only has neither team won the US Open Cup, but no team from the state of Minnesota or Georgia have ever won the tournament in the 106-year history of the competition. Not only that, but Tuesday night is expected to draw the largest crowd to ever witness a US Open Cup game. The last time Atlanta United hosted a US Open Cup game at Mercedes-Benz Stadium was last year against the Chicago Fire. That game was the Round of 16, and it drew 41,012, which shattered the tournament's all-time attendance record. If that was the Round of 16, then it's probably safe to say that the championship game, with a trophy, $300,000 and a spot in the 2020 CONCACAF Champions League on the line, it's very likely that record will fall.
The game will be broadcast live on ESPN+ at 8 p.m. Eastern Time with a pregame show beginning at 7:45 p.m. Eastern Time.
Below is a preview of the 106th US Open Cup Final (with links to live video and other US Open Cup coverage):
#USOC2019 ESSENTIALS
2019 US Open Cup Schedule/Results (with links to every match report)
2019 US Open Cup statistical leaders (Goals, Assists, GKs)
2019 US Open Cup bracket (TheCup.us)
All-Time Career US Open Cup Final goalscorers (1913-present)
2019 US Open Cup Round 1: Game-by-game review
2019 US Open Cup Round 2: Game-by-game review
2019 US Open Cup Round 3: Game-by-game review
2019 US Open Cup Round 4: Game-by-game review
2019 US Open Cup Round of 16: Game-by-game review
2019 US Open Cup Quarterfinals: Game-by-game review
2019 US Open Cup Semifinals: Atlanta United blank Orlando City to become first Georgia team to reach the Final
2019 US Open Cup Semifinals: Mason Toye's winner sends Minnesota United past Timbers, into first-ever Final
Appreciate what we do? Help improve our coverage by joining TheCup.us Patreon team!
NPSL Mid-Atlantic Conference adds matches to end of regular season to try to make 4 of 5 teams 2020 US Open Cup eligible
Every US Open Cup game to stream on ESPN+ in multi-year media rights deal
THECUP.US PLAYER OF THE ROUND
Round 1: Charles Boateng – Richmond Kickers
Round 2: Bryant Martin – Florida Soccer Soldiers
Round 3: Blake Frischknecht – Orange County FC
Round 4: Teal Bunbury – New England Revolution
Round of 16: Sam Fink – Saint Louis FC
Quarterfinals: Adam Grinwis – Orlando City SC
Semifinals: Mason Toye – Minnesota United FC
#USOC2020 QUALIFYING
First Round matchups for Open Division Local tournament announced
Newtown Pride FC win first Amateur Cup title, qualify for 2020 US Open Cup
Which USL League Two teams could qualify for 2020 US Open Cup?
Which NPSL teams could qualify for 2020 US Open Cup?
#USOC2019 QUALIFYING
2019 US Open Cup qualifying schedule/results
2019 US Open Cup Qualifying Round 1 game-by-game review
2019 US Open Cup Qualifying Round 2 game-by-game review
2019 US Open Cup Qualifying Round 3 game-by-game review
2019 US Open Cup Qualifying Final Round game-by-game review
Florida Soccer Soldiers qualify for first time after America SC withdraws
More pros, less amateurs, an extra sub in 2019 US Open Cup format
Chattanooga FC qualifies for 2019 US Open Cup, but opts out
Bavarian SC qualify for 2019 US Open Cup by winning Amateur Cup title
MEET THE UNDERDOGS SERIES
Milwaukee's Bavarian Soccer Club, proudly amateur since 1929
West Chester United battle tested from long journey back to US Open Cup
NTX Rayados grooming "new generation" to keep qualifying streak going
Academica SC earns first US Open Cup berth after more than 40 years as a club
FC Denver using US Open Cup to build to "higher level"
First year Florida Soccer Soldiers winning with "respect, pride and commitment"
HOW THEY GOT HERE

Minnesota United kicked off their Open Cup run by welcoming four-time champion Sporting Kansas City to their new home at Allianz Field. United quickly took the lead in the 2nd minute from Angelo Rodriguez, saw Sporting equalize midway through the first half, then dropped three goals (one from Ethan Finlay and a brace from Darwin Quintero) in the second half for a 4-1 victory. In their second match against the Houston Dynamo, United traveled to BBVA Stadium and went down 2-0 in the first half only to see Quintero bring them level with a second half brace. Then, an 89th minute goal from Mason Toye sent Minnesota into the next round.
In the Quarterfinals, Minnesota hosted USL Championship side New Mexico FC. After giving up an early goal, the Loons quickly equalized, then added five more goals in a 6-1 victory, as Rodriguez netted a hat trick and Quintero, Jan Gregus, and Miguel Ibarra each added goals.
In the Semifinals, it was Mason Toye to the rescue again as he broke a 1-1 tie when he ran on to an outlet pass by Kevin Molino and bent the ball around Portland Timbers goalkeeper Steve Clark to lift Minnesota to the title game, 2-1. His goal and overall performance was enough to earn him TheCup.us Player of the Round honors.
Atlanta United was paired up with the Charleston Battery for the third straight year in their opening game in the Fourth Round, but after weather forced the match from South Carolina to Georgia, they ended up winning a closed-door game 3-1. Brandon Vazquez led the way with a pair of extra time goals. Five days later, Vazquez registered another brace as Atlanta took down the Columbus Crew 3-2 on June 18. Atlanta punched its ticket to the semifinal on July 10 as Pity Martinez's 52nd-minute goal stood as the game winner in a 2-0 victory over second-division Saint Louis FC. They followed that up with another 2-0 win, this time on the road against Orlando City SC. Eric Remedi and Emerson Hyndman each scored a goal and Brad Guzan picked up the clean sheet in goal to advance to the championship game.
RECENT FORM
Minnesota has been up and down in August. After defeating the Portland Timbers 1-0 in MLS play on Aug. 3 and 2-1 on Aug. 7 in the US Open Cup Semifinals, the Loons lost 5-3 to FC Dallas in an eight-goal thriller. The Loons then defeated the Colorado Rapids 1-0 and drew Orlando City 1-1, and most recently lost to Sporting Kansas City, 1-0. Minnesota is currently tied with the LA Galaxy for fourth place in the Western Conference, just one point behind Real Salt Lake and the Seattle Sounders who are tied for second.
Atlanta is undefeated in the month of August and are riding a six-game winning streak across all competitions, including eight of their last nine. After kicking off the month with a 3-0 victory over the LA Galaxy, and their 2-0 Semifinal victory over Orlando City, United defeated New York City FC 2-1 and captured the Campeones Cup title with a 3-2 victory over Club America. In recent weeks, Atlanta defeated Portland 2-0 and Orlando City 1-0. They are currently tied for first place in the Eastern Conference with the Philadelphia Union (15-9-3), and they have a game in hand.
PAST MEETINGS
Atlanta has had the upper hand against Minnesota since both sides joined MLS in 2017. In their first meeting, Atlanta defeated Minnesota 6-1 at TCF Bank Stadium on March 12, 2017, while the Loons were able to hand Atlanta their first-ever loss at Mercedes-Benz Stadium, winning 3-2 on Oct. 3.
With MLS switching schedule format prior to the 2018 season, Minnesota and Atlanta have only met once in the 2018 and 2019 seasons. Once again meeting early in the season, Atlanta defeated Minnesota 1-0. Earlier this season, Atlanta was again victorious over the Loons, using goals from Franco Escobar and a late brace from Josef Martinez to put the match away.
US OPEN CUP HISTORY
Minnesota United FC (MLS)
10th US Open Cup appearance (3rd as MLS team)
Overall: 9-7-2 (1-1 PK) | 4-2-1 (1-0 PK) as MLS team
Away: 5-4-2 | 3-2-0 as MLS team
vs. MLS: 4-5-0 | 3-2-0 as MLS team
Best finish: 2018 Fifth Round
(USSF Div. 2 in 2010, NASL from 2011-16)
Atlanta United FC (MLS)
3rd US Open Cup appearance
Overall: 6-2-0
Home: 4-1-0
vs. MLS: 2-1-0
Best finish: Fifth Round (2017, 2018)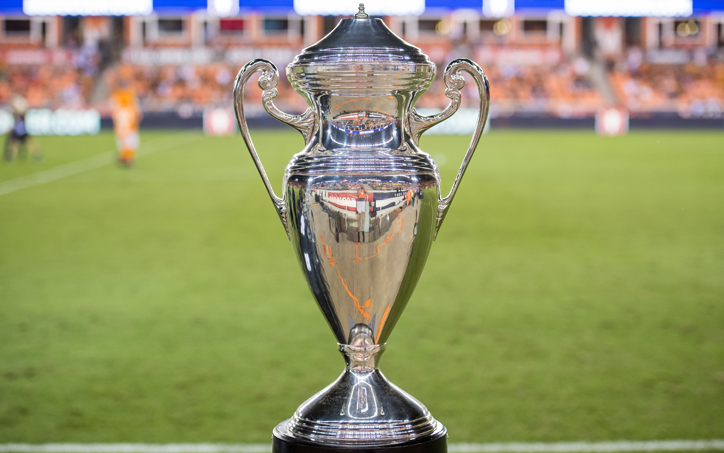 Atlanta United, who had their US Open Cup runs end in the Round of 16 in each of their first two seasons, have finally broken through to the Final this year. The state of Georgia has never had a team even reach the title game, much less lift the US Open Cup trophy in the 106-year history of the tournament. In fact, United are the first Georgia club to reach the final four in 38 years. Only two teams from the Peach State have reached the Semis: Atlanta Wolves were the first in 1980, followed by Datagraphic in 1981.
Minnesota United made their debut as a club in 2010 in the USSF's Division 2 league as the NSC Minnesota Stars FC. They were among the teams that joined the new version of the NASL when it launched in 2011. They rebranded as Minnesota Stars FC in 2012 and made their US Open Cup debut where they made a big splash with an upset, on the road, against Real Salt Lake (MLS). After changing their name to Minnesota United in 2013, they would only only two more wins in the following four tournaments before joining MLS in 2017. After being one-and-done against eventual champion Sporting Kansas City in 2017, they would eliminate USL side FC Cincinnati in penalty kicks before falling to last year's eventual champion, the Houston Dynamo.
This year's trip to the Final is, by far, their best Open Cup run in team history.
The state of Minnesota has very little Open Cup history. Not necessarily for a lack of participation, but the state of Minnesota didn't have a team reach the Quarterfinals until the A-League's Minnesota Thunder did it in 2004. According to TheCup.us records, the first Minnesota-based club to enter the tournament was the Minneapolis Tigers who lost in the opening round of the 1958/59 tournament. In the Modern Era, there have been very few entries. Combined with Minnesota United, Duluth FC qualifying for the 2018 US Open Cup marked the first time since 1995 that multiple Minnesota teams qualified for the same tournament. No Open Division Local team from Minnesota has ever qualified in the Modern Era.
WHY MINNESOTA UNITED WILL WIN
By Jeremiah Braeback

| | |
| --- | --- |
| Most US Open Cup championships (All-Time) | |
|   |   |
| Billy Gonsalves | 8 |
| Fall River Marksmen / New Bedford Whalers | 1930-32 |
| Stix, Baer & Fuller / Central Breweries | 1933-35 |
| Brooklyn Hispano | 1943-44 |
| | |
| Bill McPherson | 7 |
| Fall River Marksmen / New Bedford Whalers | 1924, 1927, 1930-32 |
| Stix, Baer & Fuller | 1933-34 |
| | |
| Alec McNab | 6 |
| Fall River Marksmen / New Bedford Whalers | 1930-32 |
| Stix, Baer & Fuller / Central Breweries | 1933-35 |
| | |
| Nate Jaqua | 5 |
| Chicago Fire | 2003, 2006 |
| Seattle Sounders FC | 2009-11 |
| | |
| Werner Nilsen | 5 |
| Fall River Marksmen / New Bedford Whalers | 1930-32 |
| Stix, Baer & Fuller | 1933-34 |
| | |
| James Riley | 5 |
| New England Revolution | 2007 |
| Seattle Sounders FC | 2009-11 |
| D.C. United | 2013 |
| | |
| Osvaldo Alonso | 4 |
| Seattle Sounders FC | 2009-11, 2014 |
| | |
| 15 others tied with four | Source: TheCup.us |
The Loons have proven to have an explosive offense in the US Open Cup. They are led by midfielder Darwin Quintero, who leads all scorers in the tournament with six goals, leaving him one goal away from breaking the Modern Era record for goals in a single tournament. The Loons have scored a total of 15 goals over their previous four matches, while Angelo Rodriquez (who is listed as questionable for the Final) has added four goals and Mason Toye has two game-winning goals, including the one that sent Minnesota to the Final. Their offense has been on full display in their victories over Sporting Kansas City, Houston Dynamo, and New Mexico United, scoring three goals in a 21-minute period against KC, and following that with three goals in 23 minutes against Houston, and hanging four goals on New Mexico in 13 minutes.
For the Loons, to find this kind of success against Atlanta, the Loons will have to get on the front foot and take control early in the match, breaking through an Atlanta defense that is one of the best in MLS and has only allowed three goals in the tournament, while also containing Josef Martinez, who has scored in 12 consecutive MLS matches, a league record.
The Loons will win with their defense showing up and helping goalkeeper Vito Mannone add to his shutout total, which currently stands at nine on the season in MLS play. Romain Metanire will recapture his early season form and Ozzie Alonso (who is expected to play in his Modern Era record sixth US Open Cup Final, as he tries to lift the trophy for a record-tying fifth time), Jan Gregus, and Ike Opara will control the center of the pitch, which will free up the attack for Rodriguez, Quintero, and Toye, with a splash of attack coming from Hassani Dotson and Metanire out of the back, and Miguel Ibarra finding the attacking flair that put him on the US National Team radar a few years ago. With all of these pieces clicking, the Loons will lift their first trophy since winning the 2011 NASL championship.
WHY ATLANTA UNITED WILL WIN
By Sydney Hunte
Any tactical plan for Atlanta United has to center around keeping the prolific Josef Martinez at bay. The Venezuelan is having yet another remarkable season: 24 goals in 26 matches spanning all competitions and an MLS-record 12-match scoring streak. It's no coincidence that Atlanta has found itself at the top of the Eastern Conference table with Martinez simply doing what he does best, and it will be a tough ask for Minnesota to keep him off the scoresheet. That's not to mention fellow designated players Ezequiel Barco and Pity Martinez. Despite Barco still working his way back into form after an extended absence and some uneven performances from Pity Martinez, Atlanta's attacking corps will present a massive challenge for Minnesota's defense.
One change that has helped Atlanta shake off a sluggish beginning to the season was a formation switch to a 3-5-2. This allows the team to work the ball along the ends of the pitch, allowing players like Justin Meram and Julian Gressel to push the ball upfield and get crosses into the box to allow opportunities for Martinez to score. Darlington Nagbe is another key player to watch – he won't be relied on for his goalscoring ability, but for his ability in the middle of the pitch which is an underrated aspect of his game that helps unlock offensive opportunities for his forwards. Miles Robinson, playing alongside Leandro Gonzalez Pirez on the backline, has quickly made a case for himself as one of the top center backs in MLS.
As a result, Atlanta's recent play has been brilliant, having won its last six across all competitions and holding an 11-0-1 mark in its last 12 matches at Mercedes-Benz Stadium – including a stirring 3-2 win over Liga MX's Club América in Campeones Cup on Aug. 14. This is a club that doesn't lose much in its own building, and with a massive crowd expected, Atlanta should be able to ride the home support to its second trophy of the season.