TheCup.us introduces "The First Cup" series, which revisits the first running of the Lamar Hunt US Open Cup (then known as the National Challenge Cup) that took place from the fall of 1913 to the spring of 1914.
Editor's note: As you read this, you'll notice a lot of players with just one name. This is not an oversight on our part, but rather, many of the sources of this information (newspapers, publications etc.) only use the last name of players in their stories. If you have confirmation of any of their names, or any other details that would add to our historical records, feel free to reach out to us HERE. We are always looking for help with historical research.
Links to the full series are located at the bottom of this story.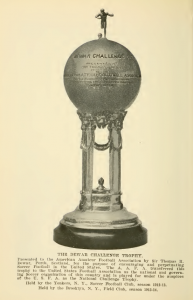 Pullman FC became the eighth and final team to advance to the inaugural National Challenge Cup quarterfinals with a 4-2 victory over fellow Chicago club Hyde Park Blues.
With the game taking place at the beginning of the spring season in Chicago, the Chicago Daily Tribune noted that although the grounds were free of snow, the muddy conditions combined with the lack of fitness caused the pace of the game to slow down after about thirty minutes of play.
Pullman took a 3-1 halftime lead on goals from Pollitt, Shalcross and Mackie. Pollitt added another goal in the second half. Wright, a newcomer to the Blues roster, scored a goal in both halves for the losing side.
The win set up the car builders to travel north to face the Niagara Falls Rangers in the quarterfinal round, and also left them as the sole remaining western team in the tournament.
It should be noted that at this point in history, "western" cities were regarded as St. Louis, Chicago and Detroit. Until commercial airline travel became widespread in the 1950s, the Mississippi River was regarded as the "western frontier" as far as most national sports leagues and competitions in the United States were concerned.
1913/14 National Challenge Cup
Third Round


Pullman FC 4:2 Hyde Park Blues (3:1 HT)
March 8, 1914 – Chicago, Illinois
Scoring Summary
Pullman: Pollitt (2), Shallcross, Mackie
Hyde Park: Wright (2)
Lineups
Pullman: Roberts, B. Govier, Blockey, Dixon. S. Govier, Brown, Pollitt, Mackie, Shallcross, Cartwright, McNaughton
Hyde Park: Birchall, Scott, Burton, Whiteside,Parker, Fairhurst, Craig, Evans, Wright, Hawk, Mair
Referee – W. Napier | Linesmen – Patterson, Cummings
THE FIRST CUP SERIES (THECUP.US)
A detailed look back at the 1913/1914 National Challenge Cup
Sept. 12, 1913 / Oct. 11, 1913: How the 1913/14 National Challenge Cup began
Nov. 1, 1913: The inaugural National Challenge Cup gets under way
Nov. 2, 1913: Brooklyn Field Club begins their journey as Round 1 concludes
Nov. 29 1913: Farr Alpaca forfeit Round 1 replay with New Bedford FC
Dec. 6, 1913: Four teams move on to Round 3, two more to be decided by protest or replay
Dec. 14, 1913: Second Round nearly complete as USFA announces protest results, draw for Round 3
Dec. 21, 1913: Third time's the charm for St. George FC as Round 2 comes to a close
Jan. 12, 1914: Rochester's MacNaughton Rangers forfeit replay with Niagara Falls Rangers
Jan. 24, 1914: Differing opinions as New Bedford FC eliminates West Philadelphia FC to reach quarterfinals
Jan. 25, 1914: Brooklyn Field Club, Columbia Oval join the quarterfinals
Mar. 8, 1914: Pullman FC beats Hyde Park Blues in Chicago derby to complete quarterfinal field
Mar. 28, 1914: Brooklyn Field Club defeat 'cup holders' Yonkers FC to reach Challenge Cup Semifinals
Mar. 29, 1914: Brooklyn Celtic defense carries them past Columbia Oval, into Semifinals
Apr. 5, 1914: Niagara Falls Rangers topple Pullman FC to complete Semifinal field
Apr. 18, 1914: Brooklyn Field Club edge New Bedford FC to reach inaugural National Challenge Cup Final
Apr. 26, 1914: Brooklyn Celtic cruises past Niagara Falls Rangers to reach inaugural National Challenge Cup Final
Before the 1913/1914 Final: By boat or by train, Brooklyn Field Club, Brooklyn Celtic prepare for inaugural National Challenge Cup Final
May 16, 1914: Brooklyn Field Club wins inaugural National Challenge Cup on late winner over Brooklyn Celtic