Last night, Atlanta United punched their ticket to the 2019 Lamar Hunt US Open Cup Final with a 2-0 win over Orlando City SC. Tonight, Minnesota United and the Portland Timbers will battle at Allianz Field in St. Paul, Minn. (8 p.m. ET) for the right to meet Atlanta in the championship game on Aug. 27 (Atlanta will host at Mercedes-Benz Stadium).
Atlanta becomes the first team from the state of Georgia to reach the US Open Cup Final, and the winner of Minnesota and Portland will also be the first from their respective states to reach the title game. This marks just the 10th ninth time in the 106-year history of the tournament where the entire final four has never reached the Final.
Tonight's Semifinal and the championship game on Aug. 27 will both air live on ESPN+.
Below is a preview of the Minnesota / Portland game (with links to live video and other US Open Cup coverage):


#USOC2019 ESSENTIALS
2019 US Open Cup Schedule/Results (with links to every match report)
2019 US Open Cup statistical leaders (Goals, Assists, GKs)
2019 US Open Cup bracket (TheCup.us)
Things you should know about the US Open Cup Semifinals
2019 US Open Cup Round 1: Game-by-game review
2019 US Open Cup Round 2: Game-by-game review
2019 US Open Cup Round 3: Game-by-game review
2019 US Open Cup Round 4: Game-by-game review
2019 US Open Cup Round of 16: Game-by-game review
2019 US Open Cup Quarterfinals: Game-by-game review
Appreciate what we do? Help improve our coverage by joining TheCup.us Patreon team!
NPSL Mid-Atlantic Conference adds matches to end of regular season to try to make 4 of 5 teams 2020 US Open Cup eligible
Every US Open Cup game to stream on ESPN+ in multi-year media rights deal
THECUP.US PLAYER OF THE ROUND
Round 1: Charles Boateng – Richmond Kickers
Round 2: Bryant Martin – Florida Soccer Soldiers
Round 3: Blake Frischknecht – Orange County FC
Round 4: Teal Bunbury – New England Revolution
Round of 16: Sam Fink – Saint Louis FC
Quarterfinals: Adam Grinwis – Orlando City SC
#USOC2020 QUALIFYING
Newtown Pride FC win first Amateur Cup title, qualify for 2020 US Open Cup
Which USL League Two teams could qualify for 2020 US Open Cup?
#USOC2019 QUALIFYING
2019 US Open Cup qualifying schedule/results
2019 US Open Cup Qualifying Round 1 game-by-game review
2019 US Open Cup Qualifying Round 2 game-by-game review
2019 US Open Cup Qualifying Round 3 game-by-game review
2019 US Open Cup Qualifying Final Round game-by-game review
Florida Soccer Soldiers qualify for first time after America SC withdraws
More pros, less amateurs, an extra sub in 2019 US Open Cup format
Chattanooga FC qualifies for 2019 US Open Cup, but opts out
Bavarian SC qualify for 2019 US Open Cup by winning Amateur Cup title
MEET THE UNDERDOGS SERIES
Milwaukee's Bavarian Soccer Club, proudly amateur since 1929
West Chester United battle tested from long journey back to US Open Cup
NTX Rayados grooming "new generation" to keep qualifying streak going
Academica SC earns first US Open Cup berth after more than 40 years as a club
FC Denver using US Open Cup to build to "higher level"
First year Florida Soccer Soldiers winning with "respect, pride and commitment"
Portland Timbers FC (MLS) at Minnesota United FC (MLS)
Allianz Field – St. Paul, MN
Kickoff: August 7 – 8 p.m. ET
BROADCAST: ESPN+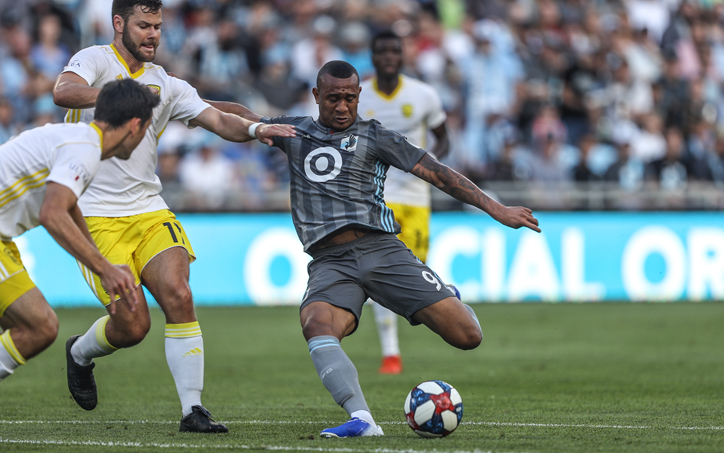 The Portland Timbers and Minnesota United face off for the second time in four days at Allianz Field, with a berth in the 2019 US Open Cup Final on the line.
HOW THEY GOT HERE
For the eighth time, the Portland Timbers faced Cascadian rivals Seattle Sounders in their first match of this season's US Open Cup. The Modern Era's most common matchup produced another tense battle as the Timbers defeated the Sounders in Tacoma, Wash., 2-1 on a brace from Brian Fernandez. Portland returned home to to rout the Los Angeles Galaxy 4-0 at Providence Park in the Round of 16, with goals from Fernandez, Sebastian Blanco, Jorge Moreira, and an own goal from Galaxy defender Perry Kitchen. In their latest match, they used a late goal to take down MLS front-runners Los Angeles FC at Banc of California Stadium, as Jeremy Ebobisse netted the winner in the 84th minute.
Minnesota United kicked off their Open Cup run by welcoming four-time champion Sporting Kansas City to their new home at Allianz Field. United quickly took the lead in the 2nd minute from Angelo Rodriguez, saw Sporting equalize midway through the first half, then dropped three goals (one from Ethan Finlay and a brace from Darwin Quintero) in the second half for a 4-1 victory. In their second match against the Houston Dynamo, United traveled to BBVA Stadium and went down 2-0 in the first half only to see Quintero bring them level with a second half brace. Then, an 89th minute goal from Mason Toye sent Minnesota into the next round. In the Quarterfinals, Minnesota hosted USL Championship side New Mexico FC. After giving up an early goal, the Loons quickly equalized, then added five more goals in a 6-1 victory, as Rodriguez netted a hat trick and Quintero, Jan Gregus, and Miguel Ibarra each added goals.
RECENT FORM
Portland comes in to the match in strong form, climbing up the table from last place in the Western Conference to just below the red line. Since the end of June, the Timbers are 4-1-2, defeating FC Dallas, New York City FC, Seattle Sounders, and LA Galaxy in that time, while drawing with the Colorado Rapids and Orlando City FC. Their lone loss happened this past Sunday against the Loons, a 1-0 defeat.
Minnesota is in perhaps the best form of any team in MLS. Currently 2nd in the Western Conference table, the Loons are on an eight-match unbeaten run in MLS play, which includes Sunday's 1-0 victory over the Timbers.
PAST MEETINGS
Minnesota used a late penalty kick by Ethan Finlay to defeat the Timbers 1-0 on Sunday at Allianz Field. For much of the match, neither side could really gain a foothold over the other, and while they had their chances, it took the late penalty kick given up by the Timbers to decide the match. In Minnesota's first two seasons in MLS, the two teams have split their four meetings with the home team winning each time.
PLAYERS TO WATCH
Brian Fernandez leads the Timbers 11 goals in all competitions since joining the team in early May, scoring in each of his first five MLS appearances, a new league record, while adding two assists. Jeremy Ebobisse in second on the Timbers in goalscoring with eight goals in MLS and US Open Cup Play. Argentinian playmakers Diego Valeri and Sebastian Blanco spring the attack for the Timbers. Valeri and Blanco are both top five in assists in MLS, with Valeri third with 12 assists and Blanco tied for fifth with nine.
For the season, Valeri has seven goals and 13 assists, while Blanco has four goals and 10 assists. Valeri, the 2017 MLS Most Valuable Player may have begun to show his age in some areas, but he is still the key link in the Timbers attack, and the Argentine trio of Fernandez, Valeri, and Blanco lead the team in shots and shots on goal.
Defensive midfielder Diego Chara is the motor that runs the Timbers midfield. While he may be one of the smallest players on the pitch, his tenacity for breaking up plays and bringing a physical side to the pitch makes him a player most teams would love to have but hate to play against.
Goalkeeper Steve Clark pushed his way in as the No. 1 goalkeeper for the Timbers and hasn't looked back. With five shutouts across all competitions, backup Jeff Attinella has only allowed more than one goal once this season. Clark also leads the tournament in goals against average (0.33) as he has started all three games for the Timbers.
For the Loons, the attack goes through Darwin Quintero who leads the team with 12 goals across all competitions, while adding six assists, and Angelo Rodriguez, who has nine goals and five assists. Mason Toye has had a breakout sophomore season, scoring five goals across all competitions, and Ethan Finlay has scored five goals on the season, including the game-winner against the Timbers on Sunday.
In the midfield, Slovakian international Jan Gregus leads the Loons in assists with nine to go along with two goals, while veteran Ozzie Alonso has also brought grit in defensive midfield since joining the team this season. Alonso brings plenty of Open Cup experience to the squad as he is the only Modern Era (1995-present) player to play in six championship games. If he is able to lift the trophy with Minnesota, he would join former Seattle Sounders teammates Nate Jaqua and James Riley as the only players to win five US Open Cup titles in the Modern Era.
Right back Romain Metanire brings pace and pinpoint distribution into the attack and is second on the team with six, while also adding a goal.
Goalkeeper Vito Mannone has been rock solid for United, starting every competitive match for the Loons. Mannone has eight shutouts on the season, which ranks third in the league. .
US OPEN CUP HISTORY
Minnesota United FC (MLS)
10th US Open Cup appearance (3rd as MLS team)
Overall: 8-7-2 (1-1 PK) | 3-2-1 (1-0 PK) as MLS team
Home: 3-3-0 | 2-0-0 as MLS team
vs. MLS: 3-5-0 | 2-2-0 as MLS team
Best finish: 2018 Fifth Round
(USSF Div. 2 in 2010, NASL from 2011-16)
Portland Timbers FC (MLS)
15th US Open Cup appearance (8th as MLS team)
Overall: 19-13-1 (0-1 PK) | 12-7-0 as MLS team
Away: 10-7-0 | 5-5-0 as MLS team
vs. MLS: 9-9-1 (0-1 PK) | 9-6-0 as MLS team
Best finish: 2013 Semifinals
(A-League/USL First Division from 2001-09, USSF Div. 2 in 2010)
Minnesota and Portland represent a pair of teams that started out in a lower division league and moved up to Major League Soccer. They also come from states that have had very limited US Open Cup representation over the years.
The Timbers name was re-born in 2001, and after not qualifying for the tournament in their first three years in the USL's A-League (Div. 2), they made their US Open Cup debut in 2004. They were part of the USL from 2001-09, and was part of the USSF's Division 2 league that was created in 2010 to handle the conflict between the USL and the teams that wanted to split off to form the new North American Soccer League. Portland had very limited success as a lower division team in the tournament. In their seven trips to the tournament, they only defeated one pro team (granted, it was a 2-0 win over the Seattle Sounders in 2005), and they suffered a major upset in 2008 when Open Division Local side Hollywood United traveled up to Portland and beat them, 3-2.
The Timbers would fail to qualify in their first year in MLS in 2011, and when they made their Open Cup debut as a MLS side in 2012, they were upset — at home — by another Southern California-based amateur team in Cal FC. They would bounce back the following year with their best run in team history, reaching the 2013 Semifinals where they would fall 2-1 on the road against Real Salt Lake. In the years that have followed, the Timbers haven't advanced beyond the Quarterfinals until this year.
Portland is attempting to become the first Oregon-based club to reach the US Open Cup Final. The state of Oregon has a very limited history in the tournament. According to TheCup.us records, the earliest entry from Oregon is a club called Gresham United that reached the Round of 16 in 1989. The best finish for an Oregon time, outside of the Timbers, was Kell's Celtic that reached the Quarterfinals in 1992. They would lose to the eventual champion San Jose Oaks in that game.
Minnesota United made their debut as a club in 2010 in the USSF's Division 2 league as the NSC Minnesota Stars FC. They were among the teams that joined the new version of the NASL when it launched in 2011. They rebranded as Minnesota Stars FC in 2012 and made their US Open Cup debut where they made a big splash with an upset, on the road, against Real Salt Lake (MLS). After changing their name to Minnesota United in 2013, they would only only two more wins in the following four tournaments before joining MLS in 2017. After being one-and-done against eventual champion Sporting Kansas City in 2017, they would eliminate USL side FC Cincinnati in penalty kicks before falling to last year's eventual champion, the Houston Dynamo.
This year's trip to the Semifinals is, by far, their best Open Cup run in team history.
Much like Oregon, the state of Minnesota has very little Open Cup history. Not necessarily for a lack of participation, but . The state of Minnesota didn't have a team reach the Quarterfinals until the A-League's Minnesota Thunder did it in 2004. According to TheCup.us records, the first Minnesota-based club to enter the tournament was the Minneapolis Tigers who lost in the opening round of the 1958/59 tournament. In the Modern Era, there have been very few entries. Combined with Minnesota United, Duluth FC qualifying for the 2018 US Open Cup marked the first time since 1995 that multiple Minnesota teams qualified for the tournament. No Open Division Local team from Minnesota has ever qualified in the Modern Era.
Josh Hakala also contributed to this report