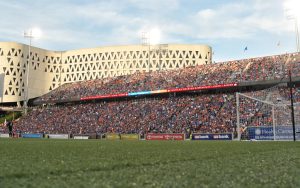 New York Red Bulls (MLS) at FC Cincinnati (USL)
Tuesday, Aug. 15 – 8 p.m. EST
Nippert Stadium – Cincinnati, OH
Winner will play at Sporting Kansas City in 2017 Final on Sept. 20
BROADCAST: 
Links to full #USOC2017 coverage located at the bottom
FC Cincinnati and New York Red Bulls face off Tuesday to see who will travel to take on Sporting Kansas City for the Lamar Hunt US Open Cup championship. This semifinal has been nearly a month in the making, after FC Cincinnati's last match against Miami FC, originally scheduled for July 12, was rained out until August 2.
FC Cincinnati, who has broken multiple Modern Era attendance records already this year, may be on the verge of breaking the all-time attendance record (35,615 at Century Link Field in Seattle for the 2011 U.S. Open Cup Final). While the official attendance figure will not be announced until the day of the game, the club has already announced that Tuesday's game at Nippert Stadium has sold out. Needless to say, it will be a remarkable atmosphere to decide who will advance to the 104th U.S. Open Cup Final on Sept. 20.
In just its second year of existence, FC Cincinnati has become only the 13th lower division side to reach the Open Cup semifinals since 1996, and the first since 2011 (Richmond Kickers, USL). The success found on the field and in the stands this tournament run has bolstered hopes of eventually being awarded an MLS franchise. Cincinnati has broken multiple attendance records, has not allowed a goal yet this tournament, and feature two of the most recent TheCup.us Players of the Round (Djiby Fall, QuarterFinals; Mitch Hildebrandt, Round of 16).
Underdogs on paper in every game except the opener, FC Cincinnati hasn't made things easy. They started the run against AFC Cleveland, and took them to extra time before Fall finally found a winner with three minutes remaining in stoppage time. That 1-0 luck would follow the squad through in the next two matches, as FCC dispatched league rival Louisville City and potential future rival Columbus Crew SC by the same 1-0 score lines. In both games, it was again Fall who tallied the winner.
Due to injury, Fall (currently tied for the golden boot with four goals on the tournament) missed the next match against the Chicago Fire. No goals? No problem. The Cincinnati defense, led by Hildebrandt in net, kept the vaunted Fire offense silent all night for a 0-0 draw before triumphing in penalty kicks.
The road trip to Miami was the first away test in the Open Cup this year for Cincinnati. Facing the reigning NASL champions, it was again reasonable to expect Cincinnati to stumble. But Fall's return to the lineup proved once again to be the difference maker, as his goal moved the club on to its biggest game in history. It was his fourth consecutive game winning goal of the tournament, the most ever in a single cup run. More impressively, the record for career game winners in the Modern Era is five. Fall will not have a chance to tie that record unless Cincinnati can advance.
That's the good news. The downside is that Fall had a reckless elbow in the 90th minute called and received a yellow card, his third of the tournament. That means that he will miss the semifinal due to a accumulation suspension. Cincinnati will once again need to find a way to win without the only player to score a goal for them.
However, despite only scoring four goals in their five Open Cup matches, one of the lowest-scoring Semifinalists of the Modern Era, the defense has been, and will likely be crucial in Tuesday's semifinal match. The defense, led by Hildebrandt in goal, are currently enjoying a 510-minute scoreless streak, which is a new Modern Era record for a team. (Hildebrandt also holds a personal shutout streak of 469 minutes dating back to last season).
Additionally, the recent run of form from Cincinnati has not been good. They're a mere 8-8-7 in league play and are coming off their worst match in their club's short history, a 5-0 loss at Louisville. They're winless in their last three league matches, and perhaps have had their eye on the Open Cup instead of the regular season.
The New York Red Bulls are on the opposite side of that coin. Coming off a 3-1 home win over Orlando City, the Red Bulls have only lost once since July, racking up five wins in the process. The lone loss was a closely-contested 3-2 game against rivals New York City FC.
Like their semifinal opponent, the Red Bulls have yet to score more than one goal in an Open Cup match. They have, however, spread the love around. In the club's opening round game (Fourth Round), Danny Royer scored the lone goal in the 67th minute against NYCFC, which was all that was needed to advance.
The next match in the Round of 16 proved to be a bit more difficult. Facing the Philadelphia Union, who have bounced the Red Bulls from this tournament the last two years, Sacha Kljestan scored in the 42nd minute only to see Roland Alberg equalize late in the 86th. The game would go all the way to penalty kicks, as it did in 2015, but this time New York prevailed.
In the Quarterfinals, the Red Bulls matched up with the New England Revolution, playing on the road at Harvard. The game was evenly matched until the 75th minute when Benjamin Angou was shown a straight red card for violent conduct following a foul on Bradley Wright-Phillips. Phillips would add insult to injury by scoring the game winner in the 87th minute. This was one of the best Open Cup performance by New York since 2003, when they finished as the tournament's runner-up. They have never hoisted the final trophy.
Whichever team prevails will have a tough task ahead, going on the road to play a Sporting Kansas City team that has won the Cup three times already and are looking for their third in six years (2004, 2012, 2015). They've never lost a Cup final. Should they win, they will become the third MLS team with four titles, joining the Seattle Sounders and Chicago Fire.
New York Red Bulls Open Cup records
Overall: 20-17-3 (2-1 PK) | Home: 9-5-2 (1-1 PK) | Away: 10-11-1 (1-0 PK) | vs. Div. 2: 6-5-0
Last entry: 2016 (Lost 2-1 at Philadelphia Union of MLS in Round of 16)
Best finish: 2003 Runner-up
Leading goalscorer: Sacha Kljestan, Daniel Royer, Bradley Wright-Phillips – 1 goal each
How they got here
Round 4: 1-0 home win vs. New York City FC (MLS)
Round 5: 1-1 home draw (5-3 PK win) vs. Philadelphia Union (MLS)
Quarterfinals: 1-0 road win at New England Revolution (MLS)
---
FC Cincinnati Open Cup records
Overall: 25-13-5 (3-2 PK) | Home: 18-7-1 (1-0 PK) | Away: 7-6-4 (2-2 PK) | vs. MLS: 11-8-2 (2-0 PK)
Last entry: 2016 (Lost 1-0 at Tampa Bay Rowdies of NASL in Round 3)
Best finish: 2016 Third Round (Lost 1-0 at Tampa Bay Rowdies of NASL)
Leading goalscorer: Djiby Fall (4 – Tournament co-leader)
How they got here
Round 2: 1-0 (AET) home win vs. AFC Cleveland (NPSL)
Round 3: 1-0 home win vs. Louisville City FC (USL)
Round 4: 1-0 home win vs. Columbus Crew (MLS)
Round 5: 0-0 home draw (3-1 PK win) vs. Chicago Fire (MLS)
Quarterfinals: 1-0 road win at Miami FC (NASL)
#USOC2017 coverage:
Quarterfinals
* Wondolowski's brace gives Earthquakes first USOC win over rival Galaxy
* Inspired Sporting KC explode in OT to dethrone FC Dallas
* BWP scores late winner as Red Bulls edge 10-man Revolution
* Djiby Fall's historic winner, FC Cincinnati's historic defense blanks Miami FC, 1-0
* 2017 Lamar Hunt US Open Cup schedule, results
* 2017 US Open Cup Round 1 review
* 2017 US Open Cup Round 2 review
* 2017 US Open Cup Round 3 review
* 2017 US Open Cup Round 4 review
* 2017 US Open Cup Round of 16 review
* 2017 US Open Cup Quarterfinal review

* 2017 TheCup.us Player of the Round winnners
* 2017 US Open Cup bracket (TheCup.us)
* 2017 US Open Cup statistical leaders
* A map of all 99 entries for the 2017 US Open Cup
* 2017 Meet the Underdogs series
* 2017 US Open Cup qualifying Round 2 review: 14 more teams advance as Round 3 moved to next year
* 2017 US Open Cup qualifying Round 1: Scores and recaps from every game

#USOC2018 qualifying coverage
* Which NPSL teams will qualify for 2018 US Open Cup?
* Which PDL teams will play in the 2018 US Open Cup? 
MORE:
* Cincinnati's forgotten US Open Cup history
* California Clasico isn't new: North has battled South in US Open Cup since 1950s
* Who is the US Open Cup equivalent to Lincoln City FC and their magical FA Cup run?
* Eric Wynalda hired to lead LA Wolves for 2017 US Open Cup run
* Reading United qualifies for record 9th straight US Open Cup, seeking more than an opening round win
* Things you should know about the Semifinals of the US Open Cup
* Support TheCup.us: New Del Rey City jerseys available for purchase
* Appreciate what we do at TheCup.us? Donate here
* TheCup.us is looking for writers/editors, graphics, WordPress gurus & people who can handle digital ad sales (paid position). Email us here
Twitter (#USOC2016) | Facebook | Instagram | Flickr | Reddit