The Round of 16 for the 2023 Lamar Hunt US Open Cup begins tonight.
Four games are on the schedule for Tuesday night, followed by the remaining four on Wednesday. The bracket is set for the remainder of the tournament, so everyone knows their path to the 108th Final. 

Out of the remaining 16 teams, there are two lower division teams left. Both of them are from the USL Championship (2nd Division) and both of them are hosting their Fifth Round match against MLS sides on Wednesday night. Birmingham Legion FC, who are the first Alabama team in the history of the tournament to reach the Round of 16, will host Charlotte FC. While the Pittsburgh Riverhounds will try to reach the Quarterfinals for the first time in more than two decades when they host the Columbus Crew SC.
Only four teams left in the tournament have won the competition before (Chicago Fire FC, Columbus Crew SC, Houston Dynamo, LA Galaxy), which leaves 12 teams vying for their first Open Cup trophy. Chicago is attempting to win an all-time record-tying fifth Open Cup title, while Columbus and Los Angeles are both trying to end lengthy Open Cup title droughts (2002 and 2005, respectively). Houston became the first South Texas team to ever win the tournament when they lifted the trophy in 2018.
All eight games this week will be streamed online through CBS Sports Golazo and on the Bleacher Report's YouTube channel.
Scroll down to find a preview of every game and live stream links.

TUESDAY, MAY 23

Nashville SC (MLS) at Inter Miami CF (MLS)
DRV PNK Stadium – Fort Lauderdale, FL
Kickoff: 7:30 p.m. ET
BROADCAST: CBS Sports Golazo
Winner will play at Birmingham Legion FC or Charlotte FC
By Tim Sullivan
Who takes the game more seriously? Which team can win with depth? How important is home-field advantage? The combination of those answers may well tell the story of a game in which these teams played a lopsided league match, with Nashville winning 2-1 but Miami finding only consolation with a goal on the final touch of the match, just six days before their meeting in the US Open Cup. It was just the second league meeting since the 2020 season – first in Major League Soccer – for both of these clubs.
En route to this Round of 16 matchup, Nashville dispatched USL Championship side San Antonio FC 1-0  and fellow MLS club FC Dallas 2-0, while Inter Miami beat local side The Miami FC and Charleston Battery, both of the USL Championship, in penalties and by a 1-0 scoreline, respectively.
The Boys in Gold boast reigning MLS MVP Hany Mukhtar, who has yet to play in the 2023 US Open Cup. MLS journeyman Fafa Picault, along with former MLS homegrowns Ethan Zubak (LA Galaxy) and Alex Muyl (New York Red Bulls) have scored the goals that brought Nashville to this point. Shanyder Borgelin and Ryan Sailor scored for Miami against local competition, while the Herons benefitted from an own goal to provide the difference in their matchup with Charleston.
Now, the Herons get to continue playing in sunny South Florida, while Nashville must leave Music City for the first time in the competition.
US OPEN CUP HISTORY

Nashville SC (MLS)
4th US Open Cup appearance
Overall: 8-1-2 (0-2 PK) | 4-0-1 (0-1 PK) as MLS
Away: 1-1-1 (0-1 PK) | 1-0-1 (0-1 PK) as MLS
vs. MLS: 3-0-1 (0-1 PK) | 2-0-1 (0-1 PK) as MLS
Best finish: Quarterfinals (2022)

Inter Miami CF (MLS)
2nd US Open Cup appearance
Overall: 3-0-2 (1-1 PK)
Home: 2-0-0
vs. MLS: 0-0-1 (0-1 PK)
Best finish: Round of 16 (2022)
---
FC Cincinnati (MLS) at New York Red Bulls (MLS)
Red Bull Arena – Harrison, NJ
Kickoff: 7:30 p.m. ET
BROADCAST: Bleacher Report
Winner will host Pittsburgh Riverhounds SC or Columbus Crew SC
By George Diamond

A hungry Cincinnati team travels to Harrison, N.J. to contest a potentially revitalized Red Bulls team in an Eastern Conference clash in the Round of 16.
FC Cincinnati is on the rise after their first three seasons yielded consecutive last place finishes in MLS. Since the hiring of former Union assistant Pat Noonan as manager, and former Union technical director Chris Albright as general manager, Cincy have improved their results dramatically. They are now fighting for their first real chance at a trophy since joining the league in 2019. They are currently first in the Supporters Shield race on 30 points and are unbeaten in their last seven matches through all competitions. Big name signings such as Lucho Acosta and Obinna Nwobodo combined with the breakouts of striker duo Brenner and Vazquez have heralded their rise.
Pre MLS expansion, Cincy went on a famous run to the Semifinals of the 2017 edition of the Cup as a USL side. They knocked out Columbus Crew and Chicago Fire before being eliminated by NYRB 3-2 after extra time. That run, and the impressive home support shown by the Cincy faithful, are a large part of the reason why Commissioner Don Garber chose to award FC Cincinnati with expansion into MLS. This history in the Cup could give both teams an extra edge in their mentality for this game. Any Cincy fans traveling to Red Bull Arena will be pushing their team to avenge that loss.
Red Bulls are on a quest to right the ship after a slow, and at times, controversial start to league play. Their designated player, striker Dante Vanezir, was suspended six games due to violating league policy on racist language. This and a torrid start which resulted in an ugly winless streak of seven games got their head coach fired. As it stands, they have the second fewest goals scored in MLS with 10. Despite this, they also have the third best defense, only allowing 12 goals. Since assistant Troy Lesesne's appointment as Head Coach on May 8, the Red Bulls haven't lost across all competitions going 3-0-1.
Despite being a founding member of Major League Soccer, the Red Bulls are yet to win an MLS or an Open Cup so there is every reason to believe Lesesne will field his strongest eleven. Lesesne hasn't started the same eleven in back-to-back games and has utilized a few different formations. An interesting decision will be who starts at striker. Cory Burke just scored in last weekend's win against CF Montréal and could start. Alternatively, now that Vanezir has served his suspension and has internally been decided by his teammates to return to the team in a unanimous vote, he may draw the start if he is fit. One thing is for sure and that is that US international John Tolkin will retain his role as Right Back. Despite playing in defense, Tolkin is instrumental to the Red Bulls attack and build up play as evidenced by his team leading four assists.
The Red Bulls entered the competition in the Round of 32 and beat DC United 1-0 thanks to an Omir Fernandez goal.
Meanwhile, Cincy eliminated Louisville City 1-0 in the Third Round and dispatched NYCFC 1-0 in the round of 32 on the back of a Brandon Vazquez goal.
On paper this is an intriguing match as both teams have a lot to prove. FC Cincinnati want to further their case as the next big thing in MLS and a Lamar Hunt Trophy in the silverware cabinet would be a great step in their development. However, an away win is no small task. They only have one road win in the league and have not traveled in USOC play this year until now. New York Red Bulls are looking to redeem their rocky first few months of the season. A win against the hottest team in MLS could steady the ship and send a message to the rest of the Eastern Conference that they are back and mean business.

US OPEN CUP HISTORY

FC Cincinnati (MLS)
6th US Open Cup appearance
Overall: 11-4-2 (1-1 PK) | 4-2-0 as MLS
Away: 2-3-0 | 0-2-0 as MLS
vs. MLS: 2-2-2 (1-1 PK) | 1-1-0 as MLS
Best finish: Semifinals (2017)

New York Red Bulls (MLS)
23rd US Open Cup appearance
Overall: 27-21-3 (2-1 PK)
Home: 13-6-2 (1-1 PK)
vs. MLS: 12-13-3 (2-1 PK)
Best finish: Runner-Up (2003, 2017)

---
Minnesota United FC (MLS) at Houston Dynamo (MLS)
Shell Energy Stadium – Houston, TX
Kickoff: 8:30 p.m. ET
BROADCAST: Bleacher Report
Winner will play at Austin FC or Chicago Fire FC
By Bridget McDowell
Five years after winning their first and only US Open Cup title, Houston Dynamo returns home to host Minnesota United FC in the Round of 16. The two clubs just faced each other in league play one week ago, with the Loons getting their first home win of the MLS season on a 1-0 result. While Minnesota enters the round on a positive surge of results, Houston is struggling in league play and their Round 4 win displayed the squad's frustration.
Bongokuhle Hlongwane has been Minnesota's breakout star in May, registering four goals and one assist in 393 minutes. Two of those goals and the assist came in the Round 4 win over Philadelphia Union, earning him TheCup.us Player of the Round honors. Hlongwane has scored twice in three appearances since, both game-winning goals in two consecutive 1-0 wins (5/17 vs Houston, 5/20 at Portland).
Things have changed a bit for the Loons since the midweek game against Houston: MNUFC announced Friday that midfielder/winger Robin Lod suffered a torn meniscus in that match and will undergo surgery on Monday. Hlongwane paid tribute to his midfield partner after his stoppage time goal in Portland with Lod's trademark bow-and-arrow celly. With Emanuel Reynoso not yet reintegrated, Adrian Heath now has two midfield gaps to fill, but the squad's performance in Portland showed that they can and will adapt. The Portland result bumped MNUFC up to fifth in the West, tied with San Jose on points but behind by just one goal behind in goal differential.
Houston will also have to adapt. While they secured one big point in their Rivalry Week matchup at FC Dallas on Saturday, May has not been a productive month for the Dynamo and they currently sit tenth in the West. With two draws and two losses (one of each at home) in MLS play, they'll need to shrug off the frustration that saw them go down to nine men in the 1-0 loss at Seattle and harness the energy that secured their 1-0 win over Sporting Kansas City in Round Four, despite playing down a man for 55 minutes (Chase Gasper will be unavailable for selection on Tuesday due to his red card ejection in the 35 minute mark at Sporting). Like Minnesota, Houston has a young forward leading a low-scoring but gutsy offense. Thor Úlfarsson scored the late equalizer at FC Dallas and notched the lone goal early in the 1-0 win at SKC. He had two shots, one on target, in a 31-minute sub shift at Minnesota last week, leading the squad with a 0.17 xG. A Dynamo attack of Úlfarsson and Adalberto Carrasquilla could trouble United's stingy defense.
The Houston Dynamo do have the advantage of hosting the USOC leg of this matchup. Since 2023, Houston has played 24 USOC games, 18  of which have been at home – including all five of their wins in 2018 when they went on to win the tournament. Minnesota United has only won multiple games in a USOC tournament once since joining MLS (they reached the final in 2019, losing to expansion rival Atlanta United). The NASL iteration of MNUFC won multiple games in 2012, but lost out in Round Three. MNUFC head coach Adrian Heath, however, has a better USOC record. He is tied for fourth with SKC's Peter Vermes in most US Open Cup coaching wins and advances in the Modern Era (22 wins / 25 advances).
US OPEN CUP HISTORY

Minnesota United FC (MLS)
12th US Open Cup appearance (5th as MLS team)
Overall: 12-9-3 (2-1 PK) | 7-4-2 (1-1 PK) as MLS
Away: 7-5-2 (1-1) | 3-3-1 (1-0 PK) as MLS
vs. MLS: 5-7-1 (1-0 PK) | 4-4-1 (1-0 PK) as MLS
Best finish: Runner-up (2019)

Houston Dynamo (MLS)
15th US Open Cup appearance
Overall: 21-12-2 (1-1 PK)
Home: 17-5-1 (1-0 PK)
vs. MLS: 7-10-1 (1-0 PK)
Best finish: 2018 US Open Cup champions

---
LA Galaxy (MLS) at Los Angeles FC (MLS)
BMO Stadium – Los Angeles, CA
Kickoff: 10:30 p.m. ET
BROADCAST: CBS Sports Golazo
Winner will play at Colorado Rapids or Real Salt Lake
By Wendy Pintor 
The US Open Cup Round of 16 match between the LA Galaxy and LAFC at BMO Stadium on Tuesday marks the 19th meeting between the two teams across all competitions, with the Galaxy leading the all-time series 7-6-5. Against LAFC, the Galaxy hold a 6-4-5 record in league play, a 0-2-0 record in the MLS Cup Playoffs and a 1-0-0 record in the US Open Cup. The last time the two teams played in the Round of 16, the Galaxy earned a 3-1 win at Dignity Health Sports Park on May 25, 2022, with Javier "Chicharito" Hernández and Dejan Joveljić each tallying goals. Dating back to their first US Open Cup match in 1999, the LA Galaxy hold an all-time record of 36-18-1 (1-0 in PKs) in 55 matches played in the competition and have also been crowned champions twice (2001, 2005). But today all those statics mean nothing to LAFC.
To get here, LAFC's defeated USL's Monterey Bay FC with their MLS Pro team 5-4 in a penalty kick shootout after a 2-2 draw. The Black & Gold now host the rival Galaxy with a spot in the Quarterfinals on the line.
In league play, LAFC defeated the San Jose Earthquakes in a 2-1 win at BMO Stadium over the weekend.  With the win, LAFC is at the top of the Western Conference standings with 25 points through 12 games played. Those 25 points are the most by any defending MLS Cup champion after 12 matches of a season in MLS history. The Black & Gold enter Tuesday with a three-game winning streak over the Galaxy in all competitions — including a 3-2 win on April 16 in Carson in MLS regular season action. While it is unclear if he will start, LAFC also boasts the league's leading scorer in Dénis Bouanga. He finished the weekend with 10 goals in 12 matches.
Meanwhile the Galaxy took on a younger team in the Seattle Sounders, winning 3-1 which they had hoped would give them a boost in league play, but they did not materialize.
The Galaxy are coming off two back-to-back shutout losses in the East. The first loss was 2-0 against Columbus Crew and then last Saturday they fell 3-0 at D.C. United. They now sit in the complete opposite of the town's neighbor in the standings with nine points. This is the worst start to a MLS regular season in Galaxy history. A lack of offense is one of their issues. Only one player on the roster has scored multiple goals this year (Dejan Joveljic with 2). The club's 10 goals in 13 games are the second-lowest in the league. When the teams will face each other today, the Galaxy are very much playing the role of underdog.
US OPEN CUP HISTORY

LA Galaxy (MLS)
21st US Open Cup appearance
Overall: 36-18-1 (1-0 PK)
Away: 10-14-1 (1-0 PK)
vs. MLS: 14-13-1 (1-0 PK)
Best finish: 2001, 2005 US Open Cup champions

Los Angeles FC (MLS)
4th US Open Cup appearance
Overall: 7-2-2 (1-1 PK)
Home: 6-1-0
vs. MLS: 4-2-1 (0-1 PK)
Best finish: Semifinals (2018)

---
WEDNESDAY, MAY 24
Columbus Crew SC (MLS) at Pittsburgh Riverhounds SC (USL-C)
Highmark Stadium – Pittsburgh, PA
Kickoff: 7 p.m. ET
BROADCAST: CBS Sports Golazo
Winner will play at New York Red Bulls or FC Cincinnati
By Jason Herbert

Columbus will travel to Pittsburgh for their Round of 16 match in the 2023 US Open Cup as it is only the second meeting ever between the two sides, with the initial match taking place in 2019 in the Fourth Round when David Accam scored the winner for Columbus as the Crew took a 1-0 win.
As Columbus enter their match at Pittsburgh, it should be noted that the Crew are the only Ohio team in history to win the tournament (2002.) This may prove vital as the Crew are coming off a 3-2 loss against instate rivals FC Cincinnati, who currently sit in the top spot of the Eastern Conference in MLS. Although Columbus has lifted the US Open Cup trophy, coming into 2023 they also had the third longest Modern Era streak of a team that has failed to win multiple games in a tournament. Prior to this season they have gone 10 tournaments in a row without winning more than one game, a streak dating back to their loss in the 2010 US Open Cup Final. Since winning the 2002 title the Crew have only won multiple games in a tournament twice.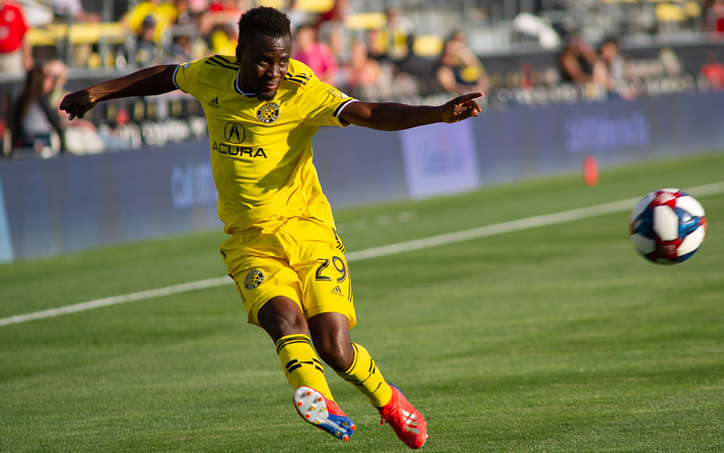 Columbus is still searching for their way under first year head coach Wilfried Nancy as they have taken strides forward but are still trying to find a consistent stretch to their season. After their derby loss at the hands of FC Cincy, the Crew now sit in eighth spot and twelve points off the pace of first place. The Crew took 14 points out of their opening seven games, but have since hit a dry spell only tallying two wins in their last seven league matches. Having six players out due to injury, which include their first choice goalkeeper and two center backs, has not helped a team that has also given important minutes to young newcomers from their inaugural MLS Pro champion side Crew 2. Players such as Jaycen Russell-Rowe, Patrick Schulte and Phillip Quinton have been given important opportunities with the first team, along with Alex Matan as Nancy has both willingly let the youth push into the first team while also having his hand forced recently due to injuries.
The Pittsburgh Riverhounds, on the other hand, are trying to reach the Quarterfinals of the US Open Cup for the second time in club history. The Riverhounds reached this round of the tournament in 2001 and have never beaten two MLS sides in the same tournament, a feat which they could accomplish against Columbus as they recently beat the New England Revolution in the previous round. 2023 also marks the first time in club history that the Riverhounds have been able to tally three wins in the same tournament (one of the wins was a forfeit win in Round 2 vs. Rochester New York FC). Pittsburgh is coached by Bob Lilley who also happens to rank sixth in the Modern Era for coaching wins with 21.
The Riverhounds are fresh off a 4-1 win over the weekend against Las Vegas that saw Edward Kizza bag a first half brace. Arturo Ordonez and Danny Griffin also scored for Pittsburgh as they have now won four of their last six taking nine league points during that stretch, as well as two US Open Cup wins. Griffin, a New England native, was the runner-up for the last round's TheCup.us Player of the Round award for scoring the lone goal against the Revolution.
OPEN CUP HISTORY

Columbus Crew SC (MLS)
22nd US Open Cup appearance
Overall: 25-17-3 (0-3 PK)
Away: 8-10-1 (0-1 PK)
vs. Div. 2: 9-3-1 (0-1 PK)
Best finish: 2002 US Open Cup champions

Pittsburgh Riverhounds SC (USL-C)
19th US Open Cup appearance
Overall: 16-16-3 (1-2 PK)
Home: 11-5-1 (1-0 PK)
vs. MLS: 2-6-0
Best finish: Quarterfinals (2001)

---
Charlotte FC (MLS) at Birmingham Legion FC (USL-C)
Protective Stadium – Birmingham, AL
Kickoff: 8 p.m. ET
BROADCAST: Bleacher Report
Winner will host Inter Miami CF or Nashville SC
By Jordan Beech
Birmingham Legion FC welcomes Charlotte FC to Protective Stadium for a Round of 16 match up. Both sides will be making some history on Wednesday, as the Legion has never faced an MLS opponent and Charlotte, likewise, has never been challenged by a team from the USL Championship.
The Legion entered the 2023 US Open Cup in the Second Round, dispatching Chattanooga Red Wolves SC, 4-1, on the road. They then needed penalties to sneak past NISA's Chattanooga FC before enjoying a 3-0 romp past Memphis 901 FC in the Fourth Round. Birmingham, the first Alabama-based team to ever reach the Round of 16, will need to shake off a bad run of form to get past Charlotte, having gone 1-4-0 in May across all competitions.
Charlotte made their 2023 Open Cup debut in the Third Round, dropping USL League One's South Georgia Tormenta, 4-1, before eliminating the 2022 Open Cup Champions, Orlando City SC, with a 1-0 victory in the last round. The Crown have enjoyed a good run of form in May, going 4-1-0. However, Charlotte will need to be on notice as they're only loss in Open Cup history was on the road.
A win for Birmingham – coached by Tom Soehn, who led D.C. United to an Open Cup title in 2008 – would mark the first time an Alabama side has reached the Quarterfinals. A Charlotte triumph would mark the club's first foray into the Quarterfinals, and they would be the first North Carolina team since 2014 (NASL's Carolina RailHawks, now known as North Carolina FC), to reach that stage.
US OPEN CUP HISTORY

Charlotte FC (MLS)
2nd US Open Cup appearance
Overall: 4-1-0
Away: 2-1-0
vs. Div. 2: 0-0-0
Best finish: Round of 16 (2022)

Birmingham Legion FC (USL-C)
3rd US Open Cup appearance
Overall: 4-2-1 (1-0 PK)
Home: 3-1-1 (1-0 PK)
vs. MLS: 0-0-0
Best finish: Third Round (2019, 2022)

---
Chicago Fire FC (MLS) at Austin FC (MLS)
Q2 Stadium – Austin, TX
Kickoff: 9 p.m. ET
BROADCAST: Bleacher Report
Winner will host Minnesota United FC or Houston Dynamo
By Chuck Carlson
When Frank Klopas' Chicago Fire take on Josh Wolff's Austin FC in a Round of 16 clash on Wednesday night in Texas, it will be a matchup between coaches with multiple Open Cup championships. Klopas and Wolff were teammates on the 1998 Chicago Fire Open Cup/MLS Cup championship team, so they will both know the joy and challenges of winning US's oldest running knockout men's soccer tournament.
Austin FC, who joined MLS in 2021, are playing in just their second US Open Cup, having lost their inaugural match to USL Championship side San Antonio FC in 2022. This year, the Verde and Black have gotten off to a more auspicious Cup start, defeating New Mexico United 2-0 in the round of 32. Coach Wolff's men did not give the Albuquerque-based USL Championship side much hope of a Cupset, as Austin were up by two in the first 36 minutes and were never really threatened in the 2nd half as they got a comfortable win in Austin.
The Fire have had a more challenging road to this game. Because of their low finish in MLS 2022 table, they entered the Cup in the Third Round, and faced fellow Windy City club Chicago House AC in a matchup only the Open Cup can produce: a first division professional side and an amateur side from the Midwest Premier League. The Fire easily defeated House 3-0 at SeatGeek Stadium in Bridgeview, which set up a first ever meeting with fellow MLS side, St. Louis City SC, in the Round of 32.
It was clear from the get-go that the Fire, who had just fired their head coach Ezra Hendrickson, and installed Klopas as interim manager for his third stint as Chicago's head coach, took this St. Louis match very seriously. Teams from the cities of St. Louis and Chicago have had contentious Open Cup matches dating back more than a century, when teams such as the Chicago Bricklayers and Scullin Steel of St. Louis competed to be "Champions of the West." In this most recent matchup of these city rivals, the Fire scored in the 3rd minute to put St. Louis on the backfoot, then again in the 75th minute., and though St. Louis got a stoppage time consolation goal, the Fire moved on with a 2-1 win.
While Austin FC have a very limited Open Cup history, for the Fire, this 2023 Cup is a chance to make some serious history. Only three teams in the 108-year history of the tournament have won 5 Open Cup titles (Bethlehem Steel, Maccabee AC, Fall River Marksmen/New Bedford Whalers). When the Chicago Fire won their fourth Open Cup title in nine years of existence, it looked as though they would quickly join that list of all-time champions. However, since capturing that fourth title in 2006, the Fire's Open Cup trophy case has been stagnant, and the Fire will be looking to give themselves the chance to win a record tying fifth title. However, they have knocked on the door of that fifth trophy multiple times, finishing runner-up in 2011, and reaching the Semifinals five times (2013, 2014, 2015, 2016, 2018).
Both Austin FC and the Fire have struggled to stay in MLS playoff contention this season. In addition, Austin FC were knocked out of CONCACAF Champions league by Haiti's Violette, so progress in the Open Cup would be an accomplishment for either side. It should be a great game at Q2 in Austin on Wednesday night, as there is no doubt that former Open Cup champion teammates Wolff and Klopas will ensure their teams are ready for this matchup of MLS teams that has significance well beyond a league game.
US OPEN CUP HISTORY

Chicago Fire FC (MLS)
24th US Open Cup appearance
Overall: 44-16-7 (4-3 PK)
Away: 15-15-3 (2-1 PK)
vs. MLS: 23-10-2 (2-0 PK)
Best finish: 1998, 2000, 2003, 2006 US Open Cup

Austin FC (MLS)
2nd US Open Cup appearance
Overall: 1-1-0
Home: 1-0-0
vs. MLS: 0-0-0
Best finish: Third Round (2022)

---
Real Salt Lake (MLS) at Colorado Rapids (MLS)
Dick's Sporting Goods Park – Commerce City, CO
Kickoff: 10 p.m. ET
BROADCAST: CBS Sports Golazo
Winner will host LA Galaxy or LAFC
By Andrew Mosier

There is always a cup of one sort or another on the line when geographical rivals Colorado Rapids and Real Salt Lake play.
Last Saturday at Dick's Sporting Goods Park, it was the Rocky Mountain Cup, awarded to the supporters of the club that wins the regular season series between the two clubs. RSL is the perennial cup holder, winning 13 out of 18. A 3-2 RSL win on Saturday puts them on track to capture a third consecutive Rocky Mountain Cup.
The clubs shift gears on Wednesday, facing off, again at Dick's Sporting Goods Park for a berth in the US Open Cup Quarterfinals. This is a place that neither club has reached in a while. The Rapids last reached the Quarterfinals in 2007, while RSL last got there in 2015. This also marks just the second time that the two teams have met in Open Cup play. The last time they met was back in 2006 when Colorado edged RSL 1-0 in the Fourth Round when Clint Mathis assisted on the game-winning goal by Jacob Peterson in the 61st minute.
This is a matchup between two rivals who have never won the US Open Cup, but both have come close. Real Salt Lake hosted the 2013 US Open Cup Final, but lost to a D.C. United team that had the fewest league wins of any Open Cup champion in the history of the competition. Colorado lost in the 1999 US Open Cup Final in Columbus, Ohio to the Rochester Raging Rhinos.
In league play this year, both clubs are mired near the Western Conference playoff line. RSL sits in 11th place (15 points, 4-6-3), one place ahead of the Rapids (15 points, 2-6-6).
RSL are coached by Rapids playing and coaching legend and Ring of Fame member, Pablo Mastroeni. As a player, he led the Rapids to the 2010 MLS Cup before taking over coaching duties in 2014.  In 2017 he was relieved from his head coaching duties of the Rapids a year after he led the Rapids to the most successful regular season in club history, finishing second in the Western Conference and Supporters' Shield behind Dallas and losing to Seattle Sounders in the MLS Cup Conference Finals.
In Open Cup play this year, RSL moved into the Round of 16 in a seven-goal thriller on the road against the Portland Timbers. Maikel Chang had two goals and an assist. After going down in the fifth minute, RSL's Danny Musovski leveled the score at the half-hour mark, slamming home a Chang cross from close range. Then Andrés Gómez put RSL ahead in the 41st minute. Portland opened the second half with two quick goals to pull ahead 3-2 followed almost immediately by Chang, pulling the game level in the 55th minute. Chang closed out scoring for the night in the 50th minute burying a feed from Musovski from close range.
RSL opened Round 3 with a 3-1 win at Las Vegas Lights FC of the USL Championship in extra time. Damir Kreilach opened scoring in the 106th minute, scoring again to put RSL back in the lead ten minutes later. Musovski closed out the game just before the final whistle. The win was extra special for Salt Lake as it snapped the club's Modern Era-record seven-game winless streak in the competition. They hadn't officially won a game in the tournament (they did have one penalty kick shootout win vs. Wilmington Hammerheads in 2016) since 2015.
With little difficulty the Rapids beat the Northern Colorado Hailstorm of the USL League One, 3-1, at home in the Third Round behind goals by Jonathan Lewis (two) and Max. That set up a road match with 2022 Open Cup finalist, Sacramento Republic FC. Colorado were facing a club that were riding a 14-game home unbeaten streak in the tournament, and the Rapids were also looking to snap the "Curse of the Rhinos." Since the Rapids lost in the 1999 US Open Cup Final to the A-League's (Div. 2) Rochester Raging Rhinos, the Rapids have never won more than one Open Cup match in a single year. Rochester is the last lower-division team to win the Open Cup.
The Rapids broke the curse at Sacramento, winning 4-2. Lewis continued his torrid Open Cup scoring streak, putting the Rapids up in the fourth minute, followed by Michael Edwards in the 15th. Sam Nicholson and Michael Barrios rounded out the scoring for the Rapids.
US OPEN CUP HISTORY

Real Salt Lake (MLS)
13th US Open Cup appearance
Overall: 11-11-2 (1-1 PK)
Away: 2-5-0
vs. MLS: 4-6-1 (0-1 PK)
Best finish: Runner-Up (2013)

Colorado Rapids (MLS)
21st US Open Cup appearance
Overall: 15-19-1 (0-1 PK)
Away: 6-17-0
vs. MLS: 4-9-0
Best finish: Runner-Up (1999)