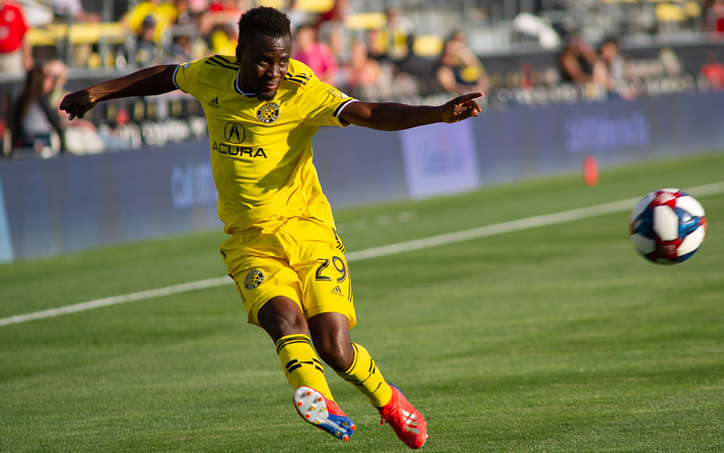 To kick off the Fourth Round of the 2019 Lamar Hunt US Open Cup, the Pittsburgh Riverhounds traveled to the Buckeye State to take on Columbus Crew SC. Columbus would defeat the Riverhounds 1-0, with David Accam getting the only tally of the game.
MAPFRE Stadium was covered in Black & Gold with fans from both teams. On the field, there wasn't much to talk about in the first half. It was a lackluster performance from both teams, with Columbus dominating possession with 69%. Both teams were able to hold their own but made little to no effort on creating good chances.
Columbus outshot Pittsburgh 6-3, and also made almost double the passes in just the first half alone.
Columbus had a little more offense in the second half, gaining more and more momentum to pressure Pittsburgh.
"Normal game like that. When a team sits in and makes it a defensive game, it's difficult," said Crew SC head coach Caleb Porter. "I think we came out fine. We had to be patient, and I think we were in the second half."
It wasn't until the 56th minute that Columbus Crew SC would get the first goal for the home side Black & Gold when he tapped home a cross from Pedro Santos. This would be Accam's first goal for Columbus across all competitions. It was his seventh career US Open Cup goal after scoring a goal during the Philadelphia Union's run to the Final last year, and tying for the tournament lead with five goals in 2016 with the Chicago Fire.
Crew SC came close to getting a second goal when Santos got a shot off of a half volley, but it was deflected out for a Columbus corner kick.
David Accam scored the only goal of the game to see @ColumbusCrewSC past @RiverhoundsSC to become the first team to book passage to the 2019 Round of 16.#USOC2019 | ? Highlights pic.twitter.com/2ZlziywthC

— U.S. Open Cup (@opencup) June 12, 2019
The golden chance to double their lead came in the 68th minute when Patrick Mullins was knocked down in the penalty box, giving Crew SC a penalty kick. Things didn't go well afterward, as Pedro Santos went for the upper 90 but shanked the ball off the crossbar.
Pittsburgh got their first good look on goal in the 83rd minute when Kenardo Forbes, the hero from the Hounds' Third Round win over Indy Eleven, took a shot that just went over the crossbar.
With the win, Columbus Crew SC advance to the Fifth Round of the US Open Cup for the first time since 2016. It was a welcome result after losing their opening round game the last two years.
All ?#CLBvPIT | #Crew96 pic.twitter.com/GsGNvKzZyC

— Columbus Crew SC (@ColumbusCrewSC) June 11, 2019
"Tournament football. That's what it's about. It's about winning and advancing," said an upbeat Porter. "Next week we want to get in the round of eight."
Now that the Open Cup has started, it's fallen within a difficult time, especially for the Columbus Crew. With many injuries, and now dealing with multiple key pieces out due to national team duty, dealing with lineup changes and rotations are now weighing heavy for the Black & Gold.
When asked how he would prioritize this, Porter went on to say with a chuckle, "When you look at how many guys we have injured or gone, I don't know if there was much of a choice."
Columbus now awaits the Thursday drawing to see who their next opponent is in the Round of 16.