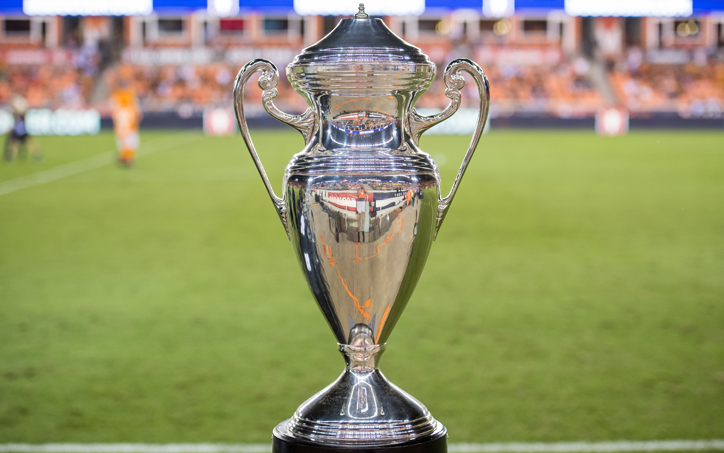 Ever since Major League Soccer (MLS) first entered the Lamar Hunt US Open Cup in 1996, America's top-tier of professional soccer has won the trophy every year except one. On Wednesday night, the Sacramento Republic FC, the underdogs from the second-tier USL Championship, will travel to Florida to take on Orlando City SC. Sacramento will look to replicate the success of the 1999 Rochester Raging Rhinos by winning the 107th edition of the tournament.
Wednesday night will be the fourth time a non-MLS club has ever competed in the Final since 1996 and only the third different team to do so. If Sacramento wins the Cup, they'll do so by also joining the Rhinos in eliminating four MLS clubs en route to the hardware.
On the other side, Orlando City will try to win their first major trophy in front of their home fans. On top of that, they will try to become just the second Florida team in history to lift the trophy.

It also marks the first time that a team from Florida and a team from California will meet in the Final.

In addition to $300,000 in prize money, the winner will also earn a spot in the CONCACAF Champions League. The Final will be broadcast live on ESPN+ beginning at 8 p.m. ET.

Sacramento Republic (USL-C) at Orlando City SC (MLS)
Exploria Stadium; Orlando, FL
Kickoff: 8 p.m. ET
Broadcast: ESPN+
SACRAMENTO SEEKING TO COMPLETE RARE UNDERDOG STORY
By Rich Flemings

After missing out on the 2021 USL Championship playoffs, the Sacramento Republic FC revamped their roster and has reinserted themselves into the playoff discussions. As the postseason looms, Sacramento is flirting with the possibility of even hosting a first-round playoff match. They enter Wednesday night's final having lost two of their last three league matches.
Throughout the 2022 US Open Cup tournament, Sacramento has yet to trail in a single match. Aside from the semifinal match against Sporting Kansas City, Sacramento was able to take an early lead in every match by way of a first-half goal.
Sacramento showed no difficulty in casting aside the Portland Timbers U-23s, taking a 6-0 lead at halftime and not looking back.
In the third round, Central Valley Fuego equalized in the second half, but Sacramento's Rodrigo Lopez scored a penalty kick in second-half stoppage time to dismiss the USL League One club.
The Fourth Round saw Sacramento face a familiar foe in fellow USL-C club Phoenix Rising. The Republic scored an early goal from Luis Felipe and a late goal by Douglas Martinez and added another home victory to their tournament run.
Sacramento was able to exorcise their demons in the Round of 16 by defeating MLS club San Jose Earthquakes for the first time in five attempts.
While playing LA Galaxy in the Quarterfinals, Sacramento was finally able to bring a touch of their home magic with them on the road and defeated their second MLS squad in the tournament.
The Semifinals were decided from the penalty spot and Sacramento was able to outlast Sporting Kansas City in front of a raucous and joyful Sacramento crowd.
Sacramento Republic FC (USL Championship)
7th US Open Cup appearance
Overall: 18-6-2 (1-1 PKs)
Home: 16-1-1 (1-0 PKs)
vs MLS: 4-4-2 (1-1 PKs)
Best finish: 2022 Final

Current Season
12-7-8, 35 GF 29 GA, 4th in USL Championship – Western Conference
Goal scoring leader: Tied – Maalique Foster & Douglas Martínez, 5
Assists leader: Rodrigo López, 7
Goalkeeping leader: Danny Vitiello, 18 games, 1.0 GAA/5 Clean sheets
Last three games
August 13th (USLC): 0-1 loss at Monterrey Bay FC
August 17th (USLC): 3-0 win vs Colorado Springs Switchbacks FC
August 20th (USLC): 1-2 loss at Las Vegas Lights FC

Non-MLS Finalists since 1996:
Rochester Rhinos
Charleston Battery
Sacramento Republic FC
History behind California clubs in US Open Cup
Including this year's Final, there have been 34 Finals with a California-based club vying for the Cup. 15 of those 34 were successful in winning the cup.
5-time champion: Maccabee AC (Los Angeles)
2-time champion: Greek-American AC (San Francisco), LA Galaxy, Los Angeles Kickers
1-time champion: McIlvaine Canvasbacks, CD Mexico, San Francisco IAC, San Jose Oaks
Modern Era: LA Galaxy (2-time winner)
How Sacramento Republic got to the Final:
Round 2: Won 6-0 vs Portland Timbers U23 (USL2)
Round 3: Won 2-1 vs Central Valley Fuego (USL1)
Round 4: Won 2-0 vs Phoenix Rising (USLC)
Round of 16: Won 2-0 vs San Jose Earthquakes (MLS)
Quarterfinals: Won 2-1 vs LA Galaxy (MLS)
Semifinals: Won 0-0 (5-4 PKs) vs Sporting Kansas City (MLS)

ORLANDO CITY: FIVE WINS DOWN, ONE TO GO
by Austin David

Orlando City are chasing their first trophy in their history in MLS as they get the chance to host the US Open Cup Final against Sacramento Republic.
After hosting every match so far in their cup run, the Lions have a chance to cap a historic day by becoming just the second Florida club in tournament history to lift the trophy.
Coming into the match, Orlando have won their last three matches thanks to goals in the 89th minute or later, riding a four game winning streak through the month of August. The team is now hoping that their good fortune and red hot offense will make a difference in the biggest game in club history.
With Sacramento coming in winning their last two of four, Lions Head Coach Oscar Pareja was quick to point out how his side is not taking their opponents lightly.
"It's a very good team," Pareja said on Tuesday, "We have the most respect for them and their coaches and obviously they are here for a reason. Their journey has not been easy to get to this point. So we have been approaching this match and our preparation has been very precise like any other competition, obviously, but this will be in a final. Recognizing what they can do to hurt us and like any other team, what weaknesses we can find and making our game plan clearer for the players."
The two teams have played eachother only once in their history, back when Orlando City was still in USL Pro. Sacramento was just playing their inaugural season as the Lions were primed for an MLS move the next year. That game, played out in Sacremento, ended in a scoreless draw. Rodrigo Lopez played a full 90 minutes in that match.
With Orlando in the final, they become the third Florida team to make it all the way, joining the St. Petersburg Kickers and the Miami Fusion (MLS). This is the first time in 22 years that a Florida team has participated in the final.
Teams from Florida in the Open Cup Final
1989 St. Petersburg Kickers *
2000 Miami Fusion
*-Won US Open Cup
How Orlando City SC got to the Finals
Round 3: Won 2-1 vs. Tampa Bay Rowdies (USL-C)
Round 4: Won 2-1 vs. Philadelphia Union (MLS)
Round of 16: Drew 1-1 vs. Inter Miami CF (MLS) — Advanced on penalties 4-2
Quarterfinals: Drew 1-1 vs. Nashville SC (MLS) — Advanced on penalties 6-5
Semifinals: Won 5-1 vs. New York Red Bulls (MLS)
Orlando opened their 2022 Open Cup run with a 2-1 win at home over the Tampa Bay Rowdies of the USL Championship in the Third Round. Alexandre Pato and Junior Urso scored second-half goals.
The Lions followed the same script in the Fourth Round when they hosted the Philadelphia Union. After a scoreless first 45 minutes, Orlando scored a pair of goals by Ercan Kara, and a 30-yard rocket from Andres Perea early in the second half. And once again, despite giving up a goal in the 77th minute, Orlando held on for the 2-1 win.
In the Round of 16, it was another matchup of teams from the Sunshine State as Inter Miami CF traveled to Orlando. While there were no goals scored in the first half for the third game in a row, there was also no scoring in the second half. In extra time, the game came alive as each team traded goals in the first seven minutes. Jean Mota would open the scoring in the 94th minute, and Facundo Torres would equalize three minutes later for Orlando. The match would end up in a penalty kick shootout and for the fourth time in as many tries in team history, Orlando would prevail, winning 4-2.
The Quarterfinals saw Orlando City going to penalties once again, this time to topple Nashville SC after a 1-1 extra-time draw. After Hany Mukhtar gave Nashville a 1-0 lead in the 52nd minute, Orlando needed every bit of the remaining time to find their equalizer. In the 4th minute of stoppage time, Rodrigo Schlegel sent to game to extra time, scoring from a free kick sent into the goalmouth. After a scoreless extra time. Orlando finally prevailed when goalkeeper Pedro Gallese saved Eric Miller's penalty to give Orlando a 6-5 shootout win.
Heading into the Semifinals, there were a lot of questions surrounding Orlando's offensive output over their last number of games. Oscar Pareja went with a new look front line and it paid off and then some. After the Red Bulls opened the scoring late in the first half, Cesar Araujo tied things up just before the half. That led to four goals unanswered in second half for the Lions, en route to a dominant 5-1 win over New York and a first berth to the Open Cup Final.
Orlando City SC (MLS)
12th US Open Cup appearance (6th as MLS)
Overall: 20-11-5 (5-0 PKs) | as MLS: 8-5-5 (5-0 PKs)
Home: 14-4-3 (3-0 PKs) | as MLS: 5-3-3 (3-0 PKs)
MLS: 6-9-4 (4-0 PKs) | as MLS: 4-3-4 (4-0 PKs)
Best finish: 2022 Final
Current Season
12-6-10 (42 pts.) 35 GF 40 GA, 5th in MLS Eastern Conference
Goalscoring leader: Ercan Kara, 9
Assists leader: Mauricio Pereyra, Facundo Torres, 9
Goalkeeping leader: Pedro Gallese, 27 games, 1.44 GAA / 8 clean sheets
Last Three Games
August 21 (MLS): 2-1 win at Charlotte FC
August 28 (MLS): 2-1 win vs New York City FC
August 31 (MLS): 3-2 win vs Seattle Sounders