A historic ride for San Fernando Valley FC in the U.S. Open Cup ended in the Second Round as California United Strikers dominated the field with its consistent offensive push over the defense which resulted in a 5-0 victory.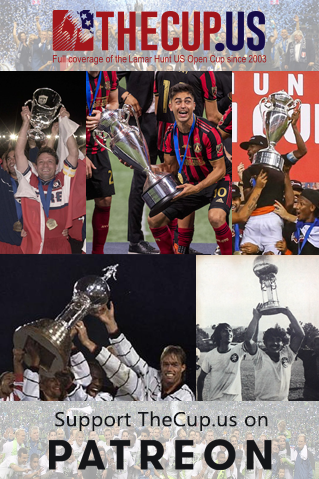 "It was a refreshing performance. We've been struggling, you hadn't scored. So we've all been pressing a little bit to score early. And to score five, I think relieved and relaxed the whole team," Cal United Strikers FC head coach Don Ebert.
There was no hesitation from Cal United Strikers FC and four minutes into the match, 15-year-old, Marcus Lee was able to finish a pass from Omar Nuno to create the 1-0 lead.
"I was really shocked, actually. But I believed in myself, and it was a great pass from my teammate, Omar . So I'm just really happy and All Glory to God," Lee said.
It is very likely that Lee is the youngest player to score a goal in the US Open Cup's Modern Era (1995-present), but TheCup.us is unable to confirm that. The youngest player in recent years to score a US Open Cup goal was 16-year-old San Antonio FC academy player Ethan Bryant who scored a goal against the Colorado Springs Switchbacks in the 2018 US Open Cup.
SFV FC being in a deficit early into the game left them in a position they were not accustomed to from any of the Open Cup matches. SFV FC kept more of a defensive shape as Cal United Strikers FC continued to push their offense higher on the pitch.
"We're normally the aggressor, we're normally the team that's pushing higher up the field and pressing," said SFV assistant coach Kyle Keenan. "So we're not used to playing in a mid-to-low block like this. We're not used to being the team from coming from behind. So it's just something that we haven't done much. And we don't have a lot of experience solving those types of situations in a match.
Cal United Strikers FC created several opportunities to lengthen their lead but SFV FC goalie Steve Acosta Mercado held his backline and in the 12th minute saved a header attempt that was just a few feet away from the five-yard line.
However, his countless saves were short-lived in the 15th minute when Strikers player Gustavo Villalobos was able to find his teammate, Anthony Carillo Lopez's foot and then complete the pass to raise the score 2-0.
Pressure from the growing lead, SFV FC tried to maintain their defensive formation but seemed to slowly break shape on various occasions. The team lacked control with their possession and left Cal United holding the ball most of the first half.
This proved to continue and in the 30th minute, Cal United's Ayden Bowers added a third goal for his team as they took that 3-0 lead into the halftime break.
Entering the second half, SFV FC showed more aggression snd motivation to cut the deficit in any way they could. However, Cal United Strikers FC carried on with their strong offense and kept SFV FC in their backfield for the first 15 minutes of the half.
"We're trying to be a very attacking offensive team. And tonight, we played a lot of the young guys and they came up big. So it was them who the energy to our team," Ebert said.
Breaking away from the backfield, SFV FC finally saw the opportunity to move their offense up but a foul outside of the Strikers penalty area left SFV FC, and reigning TheCup.us Player of the Round Tomas Bosuel being awarded the only yellow card of the match.
The match went on with the same play from both teams but it would be in the 71st minute that Cal United's Lee, would make a run from the deep in the backfield and end with an assist to Guilherme Farias to extend their lead to 4-0.
That momentum would carry on and what seemed to be a foul in the midst of a play halted members from both teams waiting for a call, but Cal United's Lopez would continue with the play and claim his second goal of the match.
With a 5-0 lead with 10 minutes left in the match, SFV FC tried regaining its composure and focused on holding their defense strong,
However, the half would end before SFV FC could finish any chances they made for themselves resulting in Cal United coming out on top and advancing to the next round in their first-ever tournament game.
While Cal United Strikers FC waits to hear word for their next opponent (which will be announced Friday at Noon ET), they will look towards their future games and focus on their training.
"Just take care of us. You know that in a tournament like this, we're gonna play somebody who's a higher seed. We're gonna be an underdog. I don't know where we'll play. Just it's only the beginning for us," Ebert said.
It was announced that Cal United has been put in a group with FC Tucson (USL-1), LA Galaxy (MLS), LAFC (MLS), Orange County SC (USL-C), San Diego Loyal (USL-C)
What were you doing when you were 15? 🤔

Marcus Lee @CalUtdStrikers | #USOC2022 🐣 pic.twitter.com/Mt9AAtBCGu

— U.S. Open Cup (@opencup) April 8, 2022
A few from the man of the moment: 15-year old Marcus Lee

1 ⚽️
1 🅰️#USOC22 | @opencup pic.twitter.com/t0TqYeiuoo

— California United Strikers FC (@CalUtdStrikers) April 8, 2022
78′ | What more can we say? @CalUtdStrikers continue their run against @SFV_FC. Tony Lopez grabs his second of the night with an effortless curler to the back post.

5-0 | #USOC2022 pic.twitter.com/Gx9hC6NvH4

— U.S. Open Cup (@opencup) April 8, 2022
71′ | Marcus Lee's high-school-age friends are going crazy! The 15-year-old is back on the score sheet, this time with an assist to Guilherme Dallagnol Farias, who smashes it home from close range. @CalUtdStrikers continue to dominate @SFV_FC.

4-0 | #USOC2022 pic.twitter.com/E8AZOlfbLn

— U.S. Open Cup (@opencup) April 8, 2022
71′ | Marcus Lee's high-school-age friends are going crazy! The 15-year-old is back on the score sheet, this time with an assist to Guilherme Dallagnol Farias, who smashes it home from close range. @CalUtdStrikers continue to dominate @SFV_FC.

4-0 | #USOC2022 pic.twitter.com/E8AZOlfbLn

— U.S. Open Cup (@opencup) April 8, 2022
15′ | The touch, the shot –– it's brilliant! Tony Lopez bangs one home for @CalUtdStrikers. Still no answer from @SFV_FC.

2-0 | #USOC2022 pic.twitter.com/Iw1daL6ek2

— U.S. Open Cup (@opencup) April 8, 2022
4′ | Right place, right time! 15-year-old Marcus Lee opens his account for @CalUtdStrikers. @SFV_FC are left chasing.

1-0 | #USOC2022 pic.twitter.com/OPyEigOM6T

— U.S. Open Cup (@opencup) April 8, 2022