Scoring a hat trick in the Lamar Hunt US Open Cup in a one-sided contest doesn't always guarantee a player an award. In this case, Tomas Bosuel of San Fernando Valley FC did more than enough to earn TheCup.us Player of the Round.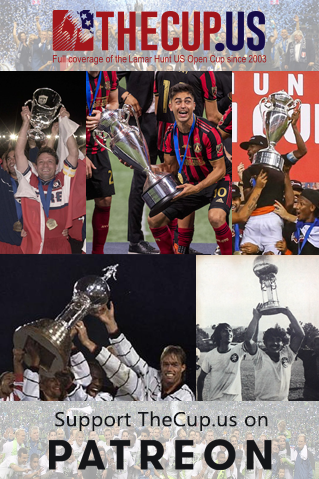 Bosuel was involved in five of San Fernando Valley's six goals in a 6-2 First Round win over fellow UPSL club Escondido FC. The Argentine was the only player in the opening round to score three goals and he added two assists to give his club a win in its US Open Cup debut. Bosuel also becomes the first player from Argentina in the Modern Era to score a hat trick in the tournament.
"To be honest, I'm happy to score three goals, but helping the team win is what really matters," Bosuel told TheCup.us. "I just tried to be as focused as possible, and tried to have fun and do what I know how to do."
The award is voted on by TheCup.us staff, a select panel from the North American Soccer Reporters and select backers (those that pledge $10 or more) of TheCup.us' Patreon team.
In the 30th minute, SFV FC's Bosuel beat a defender for a breakaway. Facing the goalie one on one, he ended with a straight floor shot to the back of the net. Putting SFV FC on the board first, 1-0.
It wasn't long for SFV FC to raise the score again. In the 42nd minute, Bosuel delivered a ball to Irvin Lopez who made a long run cutting in front of the goal, where he slipped the ball past the goalie to make it 2-0.
After Escondido pulled one back just before halftime, Bosuel dished out another assist as he found Giancarlo Ponciano two minutes into the second half to restore the two-goal lead.
Bosuel completed his hat trick with two goals in less than five minutes. In the 62nd minute, a long ball came in from Rivas which was headed by an Escondido defender, and fell to Bosuel who put it into the back of the net.
About four minutes later, Cristo Deras served up Bosuel to complete the 63rd hat trick of the Modern Era.
It was an impressive performance considering it was just the third competitive game that he had played with the club.
Growing up in Argentina, Bosuel's dream was to be a pro soccer player. By the time he was 14 years old, he found himself playing at River Plate, and later suited up for clubs like Tigre, Barracas and Sportivo Barracas. However, some personal issues forced him to walk away from the game at the age of 17. After a couple of years away from the game, he found it extremely difficult to resume his career.
"It's a decision that I have regretted for many years," said Bosuel about his decision to walk away from the game at a young age. "Supposedly in Argentina when you are 19 years old, you are already too old to enter a club."
At the age of 20, he began a new journey, with a renewed motivation. He left his home country with the goal of seeing the world, and playing the game that he loves.
He moved to Mexico where he lived there for six months and then moved to the United States in the fall of 2021, settling in the Culver City area, which is about an hour's drive to get to the club's home field in Thousand Oaks, Calif. where the UPSL club trains five times a week.
" I began to trust myself again and understood that it is never too late to go for your dreams," said Bosuel. "And that was when life, God and the universe began to give me what I was asking for."
Three months ago, he joined San Fernando Valley FC and says he has fit in well with the team's culture and is very thankful to the club for embracing him.
Christine Lam, the President and CEO of San Fernando Valley FC believes Bosuel has fit in well in such a short time.
Aside from being a great athlete and team player, he has such a positive attitude and brings great energy to the club," said Lam. "He initially was not a starter but was subbed in due to an injured player and he just took that opportunity to really give it his all and shined. He is very dedicated to his fitness and training and it shows. And most importantly, he is just a really nice and wonderful young man. You know he will give you his all."
"I haven't seen my family and friends for a year and a half and sometimes it's hard," said Bosuel. "But I feel like is like my family and it helps me continue on the path to my dreams."
Those dreams he had as a teenager are still alive and have been reborn here in Southern California and he hopes that if he can continue to perform well for San Fernando Valley, and in the US Open Cup, he can continue on that journey.
"Of course, I want to be a pro soccer player and I know that I'm going to be," said Bosuel, who credits SFV's head coach and owner Carlos Cortez for helping him adapt to the team and regain his form during his short time with the club. "Everything in life comes when one is prepared for it to come, that's why I'm living this dream and I will continue working 100 percent to continue improving and growing."
With the win, San Fernando Valley FC advance to face a pro team in Round 2. They will travel to Irvine, Calif. to take on the California United Strikers FC (NISA) on April 7. Kickoff is scheduled for 10:30 p.m. ET.