On March 13, the US Soccer Federation announced the 107th edition of the Lamar Hunt US Open Cup, which was scheduled to start at the end of March, was "temporarily" suspended due to the coronavirus pandemic (COVID-19). As more time has passed and league suspensions (MLS, USL, NISA) have extended past their original early April start dates, along with Thursday's news that the National Premier Soccer League (NPSL) will cancel the 2020 summer season, the likelihood of major changes being made to US Soccer's 2020 calendar are becoming more inevitable.
The prospect of the US Open Cup's temporary suspension becoming permanent is now a reality.
At a time like this, it is hard to even consider sports factoring back into the public conscience. The rise of COVID-19 has brought the world to a halt with a lot of uneasy tension as we continue to live through this unprecedented event. If social media is any indication, fans, many of which are coping with a life without sports, and performing their civic duty by staying home, want to see the US Open Cup crown a champion in 2020.
In the interest of preventing the first-ever cancellation in the tournament's 106-year history, we are offering a possible alternative to the US Open Cup that would crown a champion and allow the second-oldest continuously-operating soccer tournament in the world to retain its streak.
According to the USSF, the plan is to play all eight rounds of the tournament from start to finish. However, with the NPSL canceling their summer season, USL League Two likely not far behind, and with the remaining weeks of the pro season dwindling, there needs to be a backup plan.
What follows is a proposed 10-team tournament with the 2019 champions from across US Soccer. Factoring in US Soccer's historical tendencies when it comes to travel while also borrowing elements from other events (USASA's Hank Steinbrecher Cup, the Canadian Championship, and the NCAA basketball tournaments) would allow this event to finish in three to four weeks. Crucially, it would put minimal strain on the MLS and USL schedule with teams only having to play at most two additional games. Another concern for the pro leagues is to have the Open Cup not interfere with the home stretch of their regular season and their season-ending playoffs. This abbreviated schedule would be sensitive to that concern.
Obviously, if the pro seasons are able to resume in early summer, a larger tournament tournament could be planned. This proposal is simply a worst-case scenario.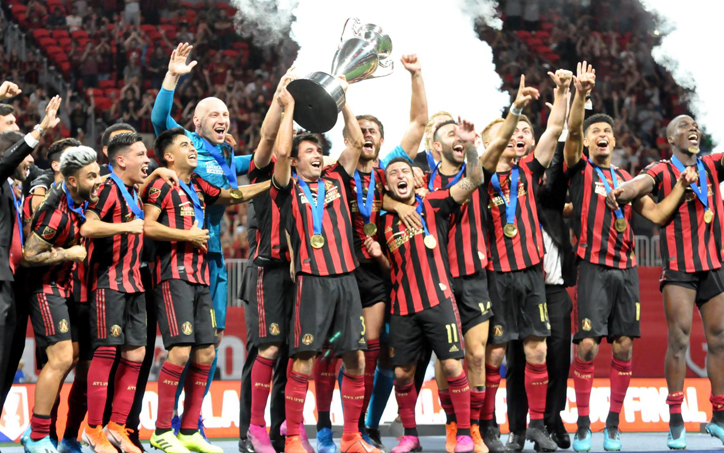 SELECTING THE TEAMS
The biggest hurdle for this proposal was whittling down a Modern Era-record 100-team field into something manageable. With Jeff Reuter's report that USL teams inquired about pulling out of the tournament prior to its suspension are a clear indicator that having the competition's entire field of eligible 62 pro teams would be unlikely.
To combat this, our proposal limited the professional teams to the ones that won a trophy in 2019. A sort of Cup Winners Cup.
Major League Soccer
Atlanta United FC – 2019 Lamar Hunt US Open Cup champions
Seattle Sounders FC – 2019 MLS Cup champions
Los Angeles FC – 2019 Supporters' Shield champions
USL Championship
Louisville City FC – 2019 USL Championship finalist*
Phoenix Rising FC – 2019 USL Regular Season champion
*The 2019 USL Champion Real Monarchs are not eligible to participate in the US Open Cup since they are owned by Real Salt Lake (MLS).
USL League One
Greenville Triumph SC – USL League One Championship finalist**
National Independent Soccer Association (NISA)
California United Strikers FC – NISA West Coast Conference Champions (Fall 2019)
** The 2019 USL League One Champion North Texas SC are not eligible to participate in the US Open Cup since they are owned by FC Dallas.

For Division 3, since both USL League One and NISA have only recently come into existence, awarding them two spots each felt unnecessary. Especially considering the leagues only have six and eight eligible teams, respectively. USL League One finished its regular season with an illegible team in first place, North Texas SC (owned by FC Dallas), followed in second place by a team that folded after only one season in Lansing Ignite FC. Having a spot go to the fourth place Forward Madison FC as "regular season champion" would make little sense. Instead, we decided that Greeville Triumph SC should represent USL-1 on the strength of their third place regular season finish, and finishing as runner-up in the league's playoffs (falling the North Texas SC in the championship game).
NISA is a new Division 3 league that kicked off with a fall season that saw the eight teams split up into a pair of four-team groups. The top two teams from each conference advanced to a single-elimination playoff. Miami FC won the Eastern Conference playoff, while California United Strikers FC won the Western Conference championship game. Since Miami FC left to join the USL Championship, we have tapped the Strikers as the NISA representative for this abbreviated US Open Cup.
National Premier Soccer League
Cleveland SC – 2019 National Premier Soccer League National Semifinalist
USL League Two
FC Golden State Force – 2019 USL League Two National Semifinalist (See below, "The USL League Two Problem")
National Amateur Cup
Newtown Pride FC – 2019 National Amateur Cup Champions
While 38 Open Division teams earned a chance to play for the Lamar Hunt Trophy, that number is once again far too high to realistically stage a tournament. As previously mentioned, the NPSL has already announced the cancellation of the 2020 season and TheCup.us has heard from multiple USL League Two teams that feel the likelihood of their season taking place is slim.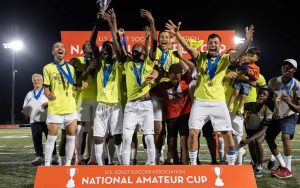 Both teams that competed in the 2019 NPSL national final, Miami FC and New York Cosmos B, pulled out of the league prior to the 2020 season. Between the two semifinalists, Midwest Region champion Cleveland SC and West Region champion ASC San Diego, Cleveland finished the regular season with a better record (win-percentage / points-per-game) and were the team selected by the NPSL to represent the league at the 2020 Hank Steinbrecher Cup.
If we are to assume the NPSL and USL-2 teams are both out, that eliminates 25 of the 38 Open Division teams, leaving 13 Open Division Local teams, and since Newtown Pride are the only one of those teams to win a national trophy (2019 USASA Amateur Cup), we will select them as the Open Division Local representative.
Despite the NPSL's announcement, teams like the Denton Diablos FC and the Fort Worth Vaqueros have claimed on social media that they still want to participate in the US Open Cup even though their league season has been canceled.
The pairings will leave an odd number of Open Division teams in the tournament, meaning one professional team will need to take part in a Play-In Round to even it out. NISA representative Cal United will be this team, as it makes sense both geographically and because NISA is the most recently-sanctioned pro league.
The USL League Two Problem
Picking a team to represent the nation's most secure amateur league was a challenge. USL League Two typically distributes its Open Cup berths according to how teams finish the regular season with the main metric being average points earned. This would contrast with the rest of the tournament field in which each league from Division 3 and lower only has their best finishing (and eligible) playoff team.
Going by a champions-first format would mean Flint City Bucks get in. However the team, which is the most successful Open Division side in the tournament's Modern Era, announced late last year that they would be sitting out the tournament. The proposed March start to the 2020 tournament meant college players would not be able to take part in any competition that begins before May 1. With the virus potentially pushing any sports late into the summer to possibly early fall means college players would once again be at risk of being excluded. If the team's previous response is anything to go by, passing over them again would make sense.
The second-best-finishing team would be the national finalist Reading United AC, another team with a lengthy Open Cup history. United qualified for the club's 11th consecutive tournament last year, a Modern Era record for an Open Division team. 2020 would have been their 12th in a row, but they also declined to take part in the US Open Cup due to player eligibility concerns.
That leaves the two national semifinalists to pick from: Western Conference champions FC Golden State Force and Southern Conference champions South Georgia Tormenta FC 2. Since Golden State finished the year with a better record and higher average points statistic, which can be seen in TheCup.us' original rankings of USL-2 teams, that means the spot goes to the Southern California side. Coincidentally, the Force was also the third choice in terms of average points overall from league teams.
One could realistically make the interpretation that the Des Moines Menace should be the USL League Two team entered since it finished atop TheCup.us' league rankings. Or that ASC San Diego should be in for the NPSL since it was ranked one spot above Cleveland in our NPSL allocations list. The choices made were done using one such interpretation and also factoring in things such as travel distance.
That leaves us with: The Bracket!
Travel Costs
In this layout, a majority of the tournament's games would be centered around the southeastern United States and Los Angeles. The right side of the bracket incidentally comes out to be a pretty good representation of the West Region in a typical Open Cup.
The opening round match between Cal United Strikers and FC Golden State Force (the latter of which already fields a pro team in NISA against the Strikers) would be between teams that are 40 minutes away from each other. The winner of that game would play Los Angeles FC, the MLS power that has its own stadium and plays north of both teams, with a maximum travel distance of a one-hour drive.
The west also holds the matchup with the longest distance between teams (not including the Final) with Phoenix and Seattle clocking in at over 1,100 miles. The saving grace is that this is a common flight route between major hubs. US Soccer has also shown that it would rather have one pairing be between teams spread far apart if it means other matchups are close together. Finally, whichever team wins is guaranteed to play a team from Los Angeles, which is a short flight for Phoenix Rising and a common travel route for the Sounders.
The left side of the bracket, practically the East Region, is a bit more messy. As luck would have it, every professional team in the East is centered around the southeast while the two Open Division sides are up north. A flight between Bradley International Airport in Hartford, Conn. and Cleveland Hopkins International Airport does exist and flies once-a-day so the Play-In Round could be done as normal. The winner of that game would have a one-to-two-hour flight between them and Louisville City FC, who have reached the last three USL Championship finals, winning two of them (2017, 2018).
On the other side, Atlanta to Greenville is either a simple two-hour drive or there are flights between the two cities. If both USL teams win, unless US Soccer would be willing to charter a flight between the two cities, there is no direct route between Louisville and Greensville and driving would be between six to seven hours one-way. So while not the farthest this match-up might be the most costly to set-up. A game between Louisville and Atlanta would also be fairly simple to set up.
Worst case scenario would see Greensville play either Open Division team in the Semifinal since there are no direct flights between those cities.

Scheduling the Tournament
Probably the biggest obstacle to overcome is adding more games to a team's season while the leagues themselves try to complete as many regular season games as possible in order to make up for lost time and revenue. This is, without a doubt, the part that will make or break this imaginary tournament idea.
The key to making this work is to be quick and have a concrete date structure. A roughly four-week tournament would fit in exactly one month. For simplicity, August 2020 will be used since current hopes are that sports will resume at this time and it would be before the scheduled FIFA International Break between Aug. 31 and Sept. 8. Three of the four rounds would be played on either a Tuesday or Wednesday, keeping with typical Open Cup methodology.
Beginning with the Play-In Round contested between three Open Division teams and the NISA representative, these games could either be played on a weekday to keep with the normal structure (Aug. 4-5) or played on the weekend (Aug. 8-9). Not only would these teams have the luxury of being out of league play (NISA Fall season started in late August last year, USL League Two ends in July typically, and the NPSL announced this week that the 2020 season is cancelled due to COVID-19) but even if the games were played on the weekend it would fit with a mentality of Play-In games providing short rest prior to the actual tournament (SEE: NCAA basketball tournaments).
The Quarterfinals and Semifinals (MLS, USL-C, & USL-1 enter) would be played between Aug. 11-12 and 18-19 respectively. The final itself would be played on August 26. Ten games over 25 to 28 days.
Double Booking MLS Matches

While this suggestion is far from ideal, if a late summer edition of this tournament meets resistance from MLS, there is the option to double book league matches.
In this tournament, MLS teams take up a majority of the field when compared to the other leagues (30% of the field) and are obviously the favorites. A total of three unique matchups can occur between MLS teams (Sounders v. LAFC, Atlanta vs. Seattle and Atlanta vs. LAFC). With this being the case, and with MLS definitely needing to restructure its season with a restart later this year (which will be assumed is happening otherwise this tournament is dead), then why not schedule these three potential matches at a point in time where they could double-up as US Open Cup games?
A similar precedent has been used by the tournament in the past as well. In the 1990s, leagues such as the A-League (Div. 2) and Major League Soccer both used regular season matches that doubled as Open Cup qualifiers. This same concept can be used with MLS games. In a three-week span, have Seattle play Los Angeles, then have Atlanta play the Sounders and L.A. in subsequent weeks. Both west coast teams were originally scheduled to play in Mercedes-Benz Stadium later this year and both the Sounders and LAFC have to play home and away against one-another.
Have these games scheduled to play on weekends in August. Seattle vs LAFC scheduled for either Aug. 22-23. For Atlanta, scheduling the team's makeups against Seattle and Los Angeles on Aug. 28-29 and the subsequent game on Sept. 11-12 after the FIFA break. Whichever of the matchups is not used can be played as a standard league game. If the match-up ends up becoming MLS vs non-MLS, it can be played on the regularly scheduled weekday.
If the teams are matched in the tournament, the league games will double up as Open Cup games. If after 90 minutes the score is tied, the game is recorded as a draw in league standings but continues on for the standard extra-time to determine who advances in the tournament.
While this system isn't perfect and should not be used normally, with only a handful of MLS vs. MLS games possible it wouldn't make sense to have an entirely different game scheduled when the year only has so many days in it. The bonus to this is that if MLS is already playing a game then US Soccer has no reason to foot any travel bill.
In terms of broadcasting, both of the LAFC and Seattle games were already set to be played on ABC as was the Aug. 16 match between Atlanta and LAFC. The US Open Cup has a contract with ESPN+, MLS has out-of-market games broadcast on the service, and both ESPN and ABC are owned by Disney. The only wrinkle is that Fox Sports 1 was contracted to host the Seattle match in Atlanta, so if that were to become an Open Cup game it's unclear how that could be changed. The other thing is that come later this year with the potential bottleneck of sports (NBA and NHL resuming, NFL starting, MLB starting late) broadcast contracts will need to be reworked regardless.
Pros of this Tournament
* It means the second longest continuously played soccer tournament in the world continues to keep that title
* Two out of the three Open Division teams are guaranteed to play at least one pro team.
* Open Division teams need to beat just one pro side in order to play a MLS team
* Teams are generally centered in two areas, cutting down on travel costs
* Tournament can be finished in as little as four weeks
* 10 teams represent the best of their respective leagues / divisions as a Champions League, of sorts
Cons of this Tournament
* Not open to every team in the country
* Will still be going up against a lot including a condensed MLS schedule and other sports (shared venues with Atlanta & Seattle)
* Very tight scheduling with little rest (if combined with makeup dates)
* No college players available to three Open Division teams due to dates (Note: This was already a reality by starting the tournament in March)
Conclusion
This variant of the tournament is the bare minimum to be an "Open Cup." To be honest, it's more like a "Slightly Ajar" Cup or "Emotionally Distant" Cup, if anything. But for a tournament that's been played through two World Wars, a Great Depression, the Spanish Flu, and 18 presidents, it's hard to accept that, for the first time, it might not happen.
In the end, health and safety of fans, players, coaches and team officials comes first and in time we shall see how this coronavirus situation plays out. When the time comes for soccer teams to safety get back on the field, hopefully at the end of the year, someone will lift the US Open Cup trophy for the 107th time.