The two teams that reached the 2019 USL League Two championship game are both opting out of the 2020 Lamar Hunt US Open Cup. A day after Reading United AC announced they are declining their spot in the 107th edition of the tournament next spring, the team that edged them in the league title game, the Flint City Bucks, declared they would do the same.
Sorry to say the Bucks have informed @USLLeagueTwo and @opencup @usopencup that we will be forced to pass if given the option to join the 2020 USOC due to lack of venue, players, coaches in Mar/Apr. Not exactly how we anticipated celebrating 25 years. More details to follow

— Flint City Bucks (@FlintCityBucks) December 18, 2019
The United States Soccer Federation's (USSF) announcement that the 2020 US Open Cup would begin the week of March 24-25 delivered a significant blow to National Premier Soccer League (NPSL) and USL League Two (USL-2) teams that rely on college players to fill out their roster.
According to NCAA rules, college soccer players are not allowed to compete in a competition outside of their school prior to May 1.
17.19.8.1.1.2 May 1 Exception. A student-athlete in soccer may compete outside an institution's declared playing and practice season as a member of an outside team in any noncollegiate amateur competition, provided: (Adopted: 1/14/97 effective 8/1/97, Revised: 10/31/02)
(a) Such participation occurs not earlier than May 1;
(b) The number of student-athletes from any one institution does not exceed five;
(c) The competition is approved by the institution's director of athletics; and
(d) No class time is missed for practice activities or for competition.
The new format for the 2020 US Open Cup will see the first three rounds of the competition completed before the month of May. In the Modern Era (1995-present), only 17 Open Division teams have advanced beyond Round 3.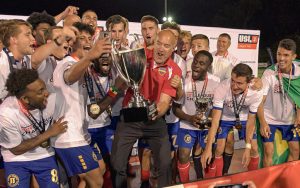 "This is a travesty and a complete disaster for US Soccer and the credibility of the US Open Cup," said Bucks owner Dan Duggan in a press release. "Not only are the teams punished, but the experience for the young college age player to be able to take on pro teams and audition in front of pro coaches is gone. This incentive was one of the most important parts of the tournament and the reason you saw so many motivated young college players want to participate in this great event. Now all that history and motivation is gone by the short sightedness of a few people making decisions without fully understanding the repercussions."
The Flint City Bucks, who will celebrate the club's 25th season in 2020, are without question the most successful Open Division club in the Modern Era of the US Open Cup. Since 1995, no amateur team has more tournament wins (15), games played (30), goals scored (53), and pro team upsets (10). Out of their 10 wins over professional opposition, two of them are against Major League Soccer teams. They remain the only Open Division team to ever eliminate multiple MLS teams.
"We defeated the New England Revolution in 2000 with a roster made up of NCAA players that most of the MLS coaches had never heard of. We defeated the Chicago Fire in 2012 with a roster of players that mostly went on to become pros, many in MLS," Duggan added in the release. "We don't win either of those games or even get to host those kinds of matches without NCAA players."
Their success is not limited to Open Cup play as they hold just about every USL League Two record including four league titles. The club edged Reading United 1-0 to win the 2019 USL-2 title in their first season since relocating to Flint, Mich., after spending the last 16 years in Metro Detroit.
With the Bucks and Reading United both out of the tournament, it changes the landscape of the USL League Two entries for the 2020 US Open Cup. Using TheCup.us projections, which was made with criteria listed in the 2020 US Open Cup Open Division handbook, here is the updated list of teams that will take part. All of the teams listed below have confirmed that they will take part in the competition, with the exception of the Colorado Pride Switchbacks U-23s, who will not be fielding a team next season. The number of teams that USL League Two will be awarded is scheduled to be announced on Jan. 9, 2020.
Bold = confirmed that they plan to participate in #USOC2020 if invited
1. Des Moines Menace
2. Western Mass Pioneers
3. FC Golden State Force
4. Brazos Valley Cavalry FC
5. Reading United AC
6. Colorado Pride Switchbacks U-23s
7. South Georgia Tormenta 2
8. The Villages SC
9. Chicago FC United 
10. North Carolina Fusion U-23s
11. GPS Portland Phoenix
12. SC United Bantams
13. Ventura County Fusion
14. Corpus Christi FC

MORE: Reading United AC declines 2020 US Open Cup entry due to 'abhorrent' schedule change, more teams to follow
MORE: Without college players available, 2020 US Open Cup schedule cripples NPSL, USL-2 teams
MORE: Which NPSL teams will qualify for 2020 US Open Cup?
MORE: Which USL League Two teams could qualify for 2020 US Open Cup?
MORE: 2020 US Open Cup Projections: Possible format and who could play in 107th tournament this Spring