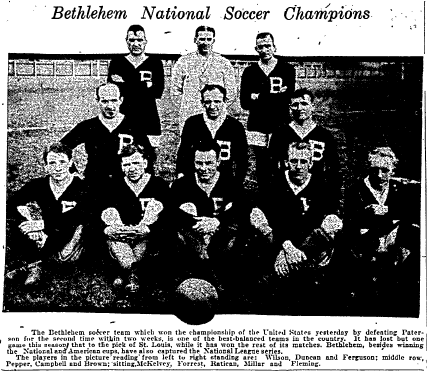 100 years ago, the Lamar Hunt US Open Cup (then known as the National Challenge Cup) crowned its sixth national champion. Prior to Tuesday's 106th edition of the US Open Cup Final, TheCup.us begins a five-part series that jumps in a time machine back a full century to see the challenges that the 1918/1919 tournament faced. The game and the world was very different 100 years ago. World War I was wrapping up and there was an outbreak of the Spanish Flu. The United States and the game of soccer was likely unrecognizable to the modern fan, so we decided to take a look back to see how it all played out.
Editor's note: As you read this, you'll notice a lot of players with just one name. This is not an oversight on our part, but rather, many of the sources of this information (newspapers, publications etc.) only use the last name of players in their stories.
Check out the other entries in this five-part series: Round 1 | Round 2 | Round 3 | Quarterfinals | Semifinals & Final
1918/1919 National Challenge Cup
A mere five years after the inaugural National Challenge Cup, the tournament found itself in a difficult situation. With the United States becoming involved in World War I in 1917, many teams were left short of players due to war enlistments. The 1917 tournament attracted only 54 teams, down from 88 the previous season. For the 1919 edition, only 48 clubs put their names in the hat, and as the competition moved on, a few more teams were forced to drop out due to a lack of players. Of the four semifinalists from the previous season, only one returned for 1919. Joliet Steel Works, Fall River Rovers and West Hudson AA either folded or suspended operations, leaving only defending champions Bethlehem Steel to carry on.
The National Challenge Cup wasn't the only soccer competition in the country affected by the war for the 1918-19 season. The National Association Football League dropped from eight to six teams, and the Southern New England Soccer League cancelled their 1918-19 season due to a lack of clubs. The American Football Association Cup saw only 25 teams enter their tournament. The 1919 tournament would also be the last without teams from St. Louis.
One unique effect of the war on the tournament was that the eastern side of the bracket featured many teams representing shipyards in the New York and New Jersey area, similar to how college (American) football would later feature many strong teams from military training bases during World War II.
On Oct. 6, 1918 the National Challenge Cup Competition Committee made the First Round draw at the Broadway Central Hotel in New York City. For the sake of convenience, the Second Round draw of the Western districts were made as well, so those clubs could try and get the games played before the risk of weather delays set in.
1918/1919 National Challenge Cup Draw
Eastern Division
New York District
Bye: Chinese Students Soccer Club
Clan MacDuff FC vs. New York FC
Morse Dry Dock and Repair Company (Brooklyn) vs. Standard Ship FC (Shooters Island)
Viking FC vs. Tebo Yacht Basin FC (Brooklyn)
Robins Dry Dock and Repair Company (Brooklyn) vs. Longfellows FC (Brooklyn)
New Jersey
Bye: Tietjen and Lang Dry Dock (Hoboken)
Federal Ship FC (East Newark) vs. Babcock & Wilcox FC (Bayonne)
Swedish AC (Passiac) vs. Jersey AC (Jersey City)
Scottish American FC (East Newark) vs. Crescent Ship FC (Elizabeth)
Kinley FC (Harrison) vs. Paterson FC
Connecticut
Swedish AC (Bridgeport) vs. Bridgeport City FC
Northern Massachusetts
Fisk Red Tops (Chicopee Falls) vs. Fore River FC (Quincy)
Boston Rovers FC vs. Merrimac Valley FC (Methuen)
Southern New England
Bye: Olneyville FC (Providence, RI)
Pan American FC (Fall River, MA) vs. J & P Coates (Pawtucket, RI)
Eastern Pennsylvania
Disston AA (Tacony, PA) vs. Merchant Ship FC B (Harriman, PA)
Hog Island AA FC (Hog Island, PA) vs. Merchant Ship FC A (Harriman, PA)
Bethlehem Steel (Bethlehem, PA) vs. New York Ship (Camden, NJ)
Western Division
Western Pennsylvania
Second Round
Homestead Steel FC (Homestead, PA) vs. Pittsburgh FC
Ohio
Second Round
Magyar American FC (Cleveland) vs. Hydraulic Pressed Steel FC (Cleveland)
Goodrich FC (Akron) vs. Goodyear FC (Akron)
Michigan
Second Round
Solvay FC (Detroit) vs. Roses FC (Detroit)
Corinthian FC (Detroit) vs. Detroit FC
Illinois
First Round
Bricklayers and Masons FC (Chicago) vs. American Hungarian FC (Chicago)
Second Round
Harvey FC (Harvey, IL) vs. Scottish American FC (Chicago)
Bricklayers and Masons FC or American Hungarian FC vs. Lincoln Park FC (Lincoln Park, IL)
Before the First Round could kick off, the tournament was dealt another blow. On Oct. 13, a week before the first games were set to be played, the United States Football Association (USFA, now known as the US Soccer Federation) announced they were authorizing the postponement of games in the East and West due to a new outbreak of the deadly Spanish Flu that had already ravaged the United States and many parts of the world.
All told, 12 matches in New England, Michigan, Pennsylvania, Ohio and Illinois scheduled for Oct. 20 were postponed, as large public gatherings were strongly discouraged in those areas. The only places in the East deemed "safe" were New York City and Connecticut. Some of the Second Round games in the West were put off three or four weeks, and the eastern first round wouldn't be completed until three weeks after the USFA's original Oct. 20 deadline.
1919 National Challenge Cup – First Round
New York & Connecticut

As a result of the new Spanish Flu threat in the East and the Midwest, only five games were scheduled for the opening weekend of Oct. 20, and four were played. The contest between Tebo Yacht Basin and Viking FC was cancelled due to Tebo being forced to withdraw for not being affiliated with the New York State Football Association.
Morse Dry Dock posted the biggest rout of the opening week, cruising by Standard Shipbuilding 4-0 at Hawthorne Field in Brooklyn. The core of the newly-founded Morse team included five players (goalkeeper Jack Albion, Frank Booth, John Sullivan, Fred Beardsworth and Holmes) from the Fall River Rovers team that reached the 1918 final, as well as midfielder Holgate (Pawtucket) and forward McNaughton (Pullman FC of Chicago). Holgate opened the scoring in the first half, and Beardsworth followed for a 2-0 halftime lead. Beardsworth added a penalty kick in the second half and Holgate scored his second goal to lock down the victory.
At Todd Field in Brooklyn, Robins Dry Dock cruised by Longfellows FC 3-0. Robertson scored for Robins after 10 minutes from a free kick. Longfellows then had the run of play and were awarded a penalty when Meyers was tripped by Robins' Duffy. Lomas took the spot kick but was saved by Robin's GK Spittle. From this point it was all Robins, with John Laverty putting Robins up 2-0 at the half. Mitchell pushed the lead to 3-0 for Robins.
Unlike their Brooklyn counterparts, New York FC had a tougher time with their opponents, Clan MacDuff FC. Despite playing with just ten men, New York FC managed to jump out to lead after 20 minutes when Petrie scored. Five minutes later, Petrie struck again, this time from 20 yards out. Demby pulled Clan MacDuff to within one shortly before halftime, but that's as close as the Scots got. Twenty minutes into the second half O'Halloran put NYFC back up by two with a long run. Demby headed in MacDuff's second goal, but the rally ended there as NYFC advanced to Round 2.
The final game of the day was a showdown of two Bridgeport, Conn. clubs, Swedish AC and Bridgeport City AFC at The Meadows in Bridgeport. The opening minutes saw Bridgeport City nearly score twice, and City jumped in front ten minutes into the game as Satterwaite passed to Hurst from the center circle. Hurst made his way past the Swedish defenders and fired a long shot past Swedish goalkeeper Larson.
Bridgeport City nearly scored again a few minutes later. On a counterattack from a cleared Swedish corner kick, a shot from Wragg just missed the post by a few inches. In the 25th minute, the Swedish found the tying goal, Santeson scoring off a corner kick, driving his shot to the lower right corner past City goalkeeper Rosenberg. For the rest of the half the Swedes dominated play, although City did have one more chance in the half in which Butterworth sent his shot over the crossbar. A minute before the halftime whistle a series of passes finished with Santeson sending the ball to Lilja, who scored to give the Swedish AC a 2-1 lead.
Five minutes into the second half City equalized through Hurst's second goal. The Swedish made an appeal for offside, but referee Miller stood firm on his decision. Twenty minutes later Hirst completed his hat trick with what would prove to be the winning goal.
New Jersey
Three games kicked off in New Jersey on Oct. 27, and the biggest mismatch, by far, was in Paterson, N.J. between Paterson FC and Kinley FC. Van de Weghe scored twice, and Davey Brown added another to give Paterson a 3-0 halftime lead, but that was only the beginning. Just five minutes into the second half, Rudy Hunziker scored from a Davey Brown pass and soon after Van de Weghe completed his hat trick. Stanholt made the score 6-0 and Davey Brown added two more for his own hat trick to top off the 8-0 rout.
At Clark's Field in Newark, the Scottish American FC faced off with Crescent Ship FC, a new team put together for the 1918-19 season. The teams exchanged goals in the first half, Stout for Scots American and Nugent for Crescent. Eadie and Adamson put the Scots ahead for good in the second half.
The second game at Clark's Field saw Federal Ship take on Babcock & Wilcox. The clubs played to a 1-1 draw, and in the replay a week later in Jersey City, Federal Ship triumphed 3-1.
Eastern Pennsylvania
First Round action began in Eastern Pennsylvania on Oct. 27 with Merchant Shipyard A traveling to Philadelphia to face Hog Island FC. Hog Island took the field minus two of their best players, McMillan and Kevis. To make matters worse, Hog Island were reduced to 10 men early in the second half when center forward Owens had to leave after being kicked in the knee (There were no substitutions in those days). With three minutes remaining, it seemed as though the home side would push the shipbuilders to extra time, but goalkeeper Alf Pearce made the mistake of venturing too far out from his goal to try and clear the ball. This resulted in Merchants center forward Hemingsley having an uncontested shot at goal for a 1-0 victory. One interesting note, Harry Pearce, brother of Alf, was the goalkeeper for Merchants.
On Nov. 2, Disston AA and Merchant Shipyard B engaged in a 12-goal extra time thriller. The first half ended with Disston on top 4-2, but the Merchants rallied to finish the 90 minutes tied 5-5. The shipbuilders continued their momentum in extra time, scoring twice more for the 7-5 victory. The Philadelphia Inquirer described Disstons' Eastwood as having the best goal of the game. Eastwood took a pass from Cleary near midfield and maneuvered past the Merchants defenders Ploegaerts and Cleary to put his shot out of reach of the goalkeeper Kerr.
A week later, the defending champion Bethlehem Steel faced New York Shipbuilding to begin their 1918/19 National Challenge Cup campaign. New York Ship gave Bethlehem a hard time in the opening half, as it took the Steelmen 40 minutes to find the opening goal through George Fleming's fifteen-yard shot. Twelve minutes into the second half Bethlehem extended their lead when a run by Harry Ratican led to a second goal for Forrest. With 15 minutes left Tommy Fleming was awarded a penalty after a foul from Spaulding, but Fleming missed by sending his shot past the post. Fleming redeemed himself a few minutes later by beating New York goalkeeper Ness with a curved shot for the final goal in Bethlehem's 3-0 win.
Massachusetts & New England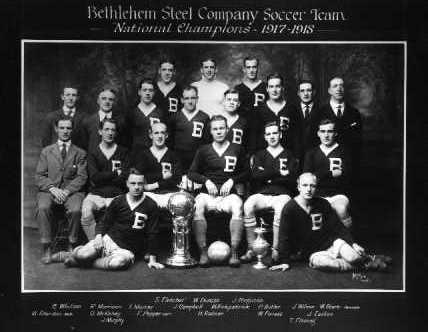 The three opening round games from Massachusetts and New England featured a combined 23 goals between the six teams. Opening the action on Oct. 26 at Lawrence, Mass. was Merrimack Valley hosting Boston Rovers. McLeish scored all three of the Rovers goals, but Merrimack Valley doubled their count with four goals from Butler and two from Morley. Boston was put at a disadvantage when forward Law was sent off.
A week later, Quincy's Fore River FC traveled to Springfield, Mass. and overpowered the Fisk Red Tops 8-2. Fore Rover's Jack Kershaw scored four goals and was involved in the other four. The first half ended favorable for the Red Tops, as Bill Dowdall and Logan scored to match Kershaw's first two for Fore River. In the second half, it was all Fore River as Kershaw and David Page added two goals each, and Brown and Stradan added one each.
The final opening round match in the New England area was a 3-1 victory by J & P Coats over Fall River's Pan American FC at the Bedford Street Grounds in Fall River. Jack Rego gave Pan American the lead after 16 minutes, and the Fall River club held that lead through much of the game. Coats came on strong in the second half, and blew past Pan American in the final 15 minutes. In the 75th minute, Roger Smith got hold of the ball from a scrum in front of the goal and evened the score. Five minutes later, Bennie Taylor headed in a cross from Turner to finally put Coats on top. With just a few minutes remaining, Smith took the ball near midfield and sped past the tiring Fisk defenders to make the final score 3-1 in favor of J & P Coats.
Illinois
The lone first round contest in the West saw Bricklayers & Masons FC get past American Hungarian FC 3-1 on Nov. 10 in Chicago.
1918/1919 National Challenge Cup – First Round Results
October 20, 1918
Morse Dry Dock 4:0 Standard Shipyard
Hawthorne Field – Brooklyn, NY
Scoring Summary
Morse: Holgate 1st Half, 2nd Half
Morse: Fred Beardsworth 1st half, 2nd half (PK)
Robbins Dry Rock 3:0 Longfellows FC
Todd Field – Brooklyn, NY
Scoring Summary
Robins: Robertson 10', John Laverty 1st half, Mitchell 2nd half
New York FC 3:2 Clan MacDuff FC
Lenox Oval – Manhattan, NY
Scoring Summary
New York – Petrie 20' 25', Rodney O'Halloran 65'
MacDuff – Demby (2)
Swedish AC 2:3 Bridgeport City
The Meadows – Bridgeport, CT
Scoring Summary
Swedish: Santeson 25′, Lilja (Santeson) 44′
City: Hirst 10', 50′, 70′
October 26, 1918
Merrimack Valley 6:3 Boston Rovers
Lawrence, MA
Scoring Summary
Merrimack: Butler (4 goals), Morley (2 goals)
Rovers: McLeish (3 goals)
October 27, 1918

Paterson FC 8:0 Kinley FC
Olympic Park – Paterson, NJ
Paterson:
Vandeweghe 1st half, 1st half, 1st half (Hunziker) 60' … Davey Brown (Hunziker) 1st half 2H (Vandeweghe) 2H, Hunziker 50' (Brown), Stanholt 2H (Brown)
Scottish American FC 3:1 Crescent Ship
Clark's Field – Newark, NJ
Scoring Summary
Scottish: Stout 1H, Eadie 2H, Adamson 2H
Crescent – Nugent 1H
Federal Shipyard 1:1 Babcock & Wilcox
Clark's Field – Newark, NJ
Hog Island FC 0-1 Merchant Shipyard A
Hog Island Athletic Field – Philadelphia, PA
Scoring Summary
Merchant Shipyard A: Heminsley 87'
November 2, 1918
Pan American FC 1:3 J & P Coats
Bedford St. Grounds – Fall River, MA
Scoring Summary
Pan American: Jack Rego 16'
J & P Coats: Roger Smith 75' & 2H … Bennie Taylor (Turner) 80'
Fisk Red Tops 2:8 Fore River FC
League Park – Springfield, MA
Scoring Summary
Fisk: William Dowdall 1H, Logan 1H
Fore River : Jack Kershaw 1H, 1H, 2H, 2H … David Page 2H, 2H, Brown 2H, Stradan 2H
November 3, 1918

Disston AA 5:7 (AET) Merchant Shipyard B
Disston Ballpark – Philadelphia, PA
Scoring Summary
Disston: Cleary (2), Ernest Dutcher (PK), Gilmore (Own Goal), Eastwood 1H
Merchant Shipyard B: Taylor (2), Barrett (2), Brown, Graham, Nolan
Jersey AC 1:0 Swedish AC
Olympic Park – Paterson, NJ
Scoring Summary
Jersey AC: Shannon 65'
REPLAY >> Federal Ship 3:1 Babcock & Wilcox
Jersey City Baseball Park – Jersey City, NJ
November 9, 1918
Bethlehem Steel 3:0 New York Shipbuilding
Bethlehem Steel Athletic Field – Bethlehem, PA
Scoring Summary
Bethlehem: George Forrest 40', 58' … Tommy Fleming 2H
November 10, 1918
Bricklayers & Masons 3:1 American Hungarian
Chicago, IL