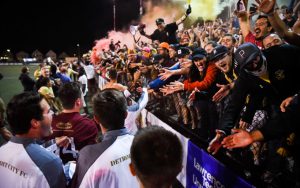 Roddy Green stepped up to the spot, and slammed a ball to his left. Michigan Bucks' goalkeeper Jimmy Hague guessed correctly and dove to his right to get one hand on the ball. Unfortunately for him, he didn't get two, and the ball slammed into the back of the net, giving Detroit City FC a penalty kcik shootout win and a trip into the Second Round of the Lamar Hunt US Open Cup.
It was second year in a row that the two rivals had to decide a US Open Cup game from the penalty spot and for the second year in a row, Le Rouge are headed to the Second Round to take on a professional team from the United Soccer League next week. Detroit managed to advance despite playing the majority of the 30 minutes of extra time shorthanded.
"I'm proud of this group," said Detroit City head coach Ben Pirmann. "I thought we had it won earlier, and then some things happened that were out of our control." Pirmann would soon elaborate. "That's our main issue going forward, making sure to keep our emotions in check and focus on what we can control."
The first shot on target of the chippy game came in the 45th minute, as former Lansing United player Rafa Mentzingen strode into the attacking third, before poking a ball towards the Bucks' net. The Bucks goalkeeper, the reigning Big Ten Goalkeeper of the Year from Michigan State, calmly scooped it up. Mentzingen tried again, this time with a volley, and it gave Hague a little more trouble, but still resulted in a save.
The game got a little dicey in the 56th as Jared Timmer (formerly of Grand Rapids FC) got physical with Detroit's Shawn Claud Lawson during run of play. Timmer, already on a yellow card, wrapped his hands around Lawson, and Lawson responded with a shove. The play was blown dead as a foul for Detroit much to the chagrin of the Bucks players.
"You expect some physicality." Bucks head manager Paul Thomas said. "These guys played together in college, or against each other, or even just growing up with each other…eventually feistiness with show."
That feistiness would pay off for Detroit as in the following minute a ball was crossed into the Bucks' box. Mentzingen rose up to head the ball towards the Bucks' net, and was dismayed as it clanged off the cross bar. That dismay quickly turned to joy as Lawson corralled the shot and fired it in, upper 90 to give Detroit a 1-0 lead. It was their first goal they scored against The Bucks in regulation.
It seemed like smooth sailing for Le Rouge until the 84th minute when Brad Ruhaak was fouled in the box. Subtitle Alfonso Pineirnho stepped up and sent Detroit's Nate Steinwascher the wrong way, in front of the crowd of 3000+ to level it 1-1.
There was no change in score, so extra time was needed, and in extra time, things got worse for Detroit as sub Greg Janicki, who came on for Lawson, was shown a straight red for a challenge on Mitch Guitar of the Bucks.
In the second half of overtime, Roddy Green would come on for Mentzingen, and show flashes of fresh legs when he could get on the ball.
With no goals scored in extra time, the game moved to penalty kicks. Bucks had their first PK saved, as did City. However, Bucks scored on their second when Franc Buhovac slotted the ball past Steinwascher. New recruit Brandon Bartel's spot kick was saved, and it looked like Bucks would see this game out, especially after Giuseppe Barone converted his for Michigan. But Brad Centala scored for DCFC, and Brad Dunwell of the Bucks missed wide left. This left the door open for Omar Sinclair to power a shot to the right. Hague got a hand on it but could not push it out. Elliot Bentley (former of Midland-Odessa FC) stepped up and tied the score at 4-4. This left the door open for Steinwascher to come up with one more huge save before Green scored the winning kick.
With the win, Detroit moves on to play FC Cincinnati at Gettler Field on University of Cincinnati's campus. Before that though, Le Rouge will travel to Skyline High School to take on AFC Ann Arbor, who crashed out in the first round of the US Open Cup by way of the Ocean City Noreasters.
"The biggest thing for us is health." Pitman affirmed. "We need to make sure we are ready to go for Sunday, as well as next week. So we're going to have to make some lineup movements to make that work."
MADNESS!!! @DetroitCityFC wins it in PKs and the crowd. goes. WILD. pic.twitter.com/K5MncGjfb3

— U.S. Open Cup (@opencup) May 10, 2018