After a two and a half month pause, the 108th edition of the Lamar Hunt US Open Cup is back.
Wednesday night will feature a Semifinal doubleheader with the first game taking place in Cincinnati and the second in Houston.
Since the Quarterfinals in early June, a lot has changed. The inaugural Leagues Cup took place with Inter Miami CF winning their first trophy armed with one of the greatest players to play the game. Miami will now try to bring a Open Cup title to South Beach for the first time in the Open Cup's 107-year history. Their opponent, FC Cincinnati, are trying to be the first team from the Queen City to lift the trophy.
Meanwhile, down south, the only remaining team with an Open Cup title under their belt, the Houston Dynamo (2018), will host Real Salt Lake, who are looking to be the first team from Utah to win the tournament.
The winners of Wednesday night's final four matchups will advance to the US Open Cup Final on Sept. 27. If Real Salt Lake wins, they will host the Final. If Houston wins, the winner of Inter Miami and FC Cincinnati will get home field advantage in the title game.
You can find in-game updates on TheCup.us' Twitter account (@USOpenCup)
You can find a preview of both Semifinal games below:
Inter Miami CF (MLS) at FC Cincinnati (MLS)
TQL Stadium – Cincinnati, OH
Kickoff: 7 p.m. ET
ENGLISH BROADCAST: Paramount+, CBS Sports Golazo Network
SPANISH BROADCAST: Telemundo, Peacock
By Wendy Pintor & James Knowles 

Inter Miami has come from out of nowhere in the US soccer landscape. Lionel Messi has somehow managed to live up to the hype since signing with Miami last month. Messi, along with Sergio Busquets and Jordi Alba, have made the team instant contenders for trophies. They already lifted one by winning the revamped Leagues Cup this past Sunday in Tennessee, with a 10-9 penalty kick shootout win over Nashville SC. Messi scored Miami's lone goal in the final and converted his PK in the shootout. The World Cup winner has scored 10 goals and dished out four assists in his first seven games leading Miami to seven straight victories (including PK shootouts). His countless remarkable moments finding the back of the net in every game so far, has captivated American fans, making Inter Miami tickets a hot commodity.
Now, Inter has another trophy in their sights as they take their new-look roster on the road to Ohio to resume US Open Cup play.
Miami faces a tough test with FC Cincinnati, a team that has the best record in MLS (15-3-6). Inter began Leagues Cup play with the league's worst record (5-14-3) and the second-worst goal difference (-14). However, those 22 games were in the Pre-Messi Era. As a result, Wednesday's Semifinal is difficult to handicap.
Miami's journey to the club's first US Open Cup Semifinal appearance has been a challenge. The club's four games were all decided by a single goal and one penalty kick shootout. Their opening game in Round 3 nearly saw a one-and-done performance at the hands of a Vice City rival. After an own goal by DeAndre Yedlin put The Miami FC (USL Championship) up 2-1 in the 116th minute, Inter found a late equalizer (118th min.) by Ryan Sailor to send the match into a PK shootout. Inter won win the shootout 5-3 to survive and advance.
Another USL Championship team gave the MLS side a scare in Round 4. The Charleseton Battery scored the lone goal of the game, but it was a ball that ended up in the back of their own net. In the Round of 16 at home, Nicolas Stefanelli scored a 73rd minute game-winner to send them past Nashville SC, 2-1.
Stefanelli was the hero again in the Quarterfinals when he scored the lone goal in a narrow 1-0 road win over the Birmingham Legion FC.
Officially speaking, Inter Miami have never lost a US Open Cup game (5-0-2, 1-1 PK). This is just their second tournament appearance and last year, they were eliminated by eventual champion Orlando City SC in a penalty kick shootout, which is officially listed as a draw.
A team from Miami has never lifted the trophy in the 107-year history of the US Open Cup. In fact, when Orlando City SC won the tournament last year, it was just the second time a team from the Sunshine State had won. The only Miami team to have success in the competition was the now-defunct Miami Fusion, who reached the 2000 Final only to lose to the Chicago Fire in the championship game.
Leading the Eastern Conference in MLS, FC Cincinnati come into the US Open Cup on Wednesday hoping to snap a recent funk. After bowing out of the Leagues Cup competition with a disappointing, but still laudable, penalty kick loss to Nashville SC, Cincy kicked off their return to MLS play with an embarrassing defeat to intrastate rivals, the Columbus Crew.
Cincinnati's Major League Soccer campaign in 2023 has been downright stupendous. They lead the overall table by at least seven points and their own conference by eight. Pushing for a good run in the playoffs wasn't necessarily their only shot at a trophy, though, with their Open Cup exploits looking just as good so far. Cincy entered the competition in the Third Round, like most MLS clubs, and squeaked past local former rivals Louisville City 1-0. A late goal from homegrown Quimi Ordonez was all they needed.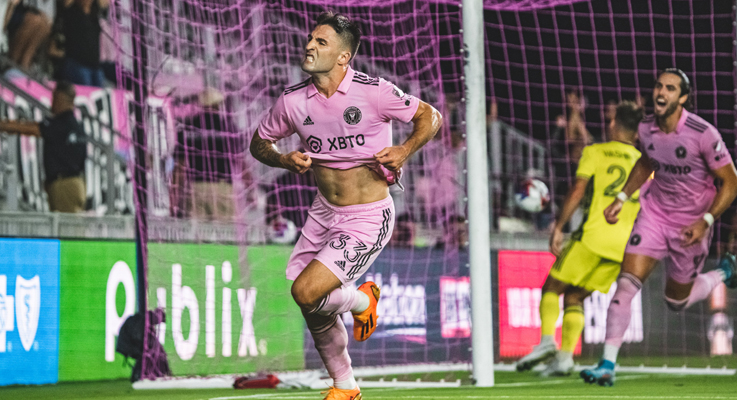 In the Round of 32, they drew fellow MLS team New York City FC. Another 1-0 result was sufficient here, even if the standard in opposition had gone up. It was US international Brandon Vasquez who scored the lone goal that night.
Cincy moved on to the Round of 16, where they drew the other New York (area) team, the Red Bulls. This one was another cagey affair, with the hosting Red Bulls scoring an equalizer in second half stoppage time. Their goal scorer, Dante Vanzeir, had his attempt saved in the penalty kick shootout as Cincinnati advanced to the Quarterfinals, 5-3. Alvaro Barreal fired home the winning PK.
Cincinnati went back as hosts in early June, facing another club from the USL Championship, the Pittsburgh Riverhounds. FC Cincy won 3-1 as their cross-border rivals were unable to muster the necessary spirit and gave up three goals in the second half before finding a consolation goal of their own.
Starting July 21, the Leagues Cup, a creation of MLS and Mexican top division Liga MX, got going with all the teams in each league taking part. Cincinnati's first involvement was two days later, when they drew Sporting Kansas City and then beat them on penalties. A 3-1 win over Mexican side Chivas of Guadalajara put them through to the another Round of 32 game. In this one, they would not be able to overcome Nashville in a shootout.
That game was on August 4, the last day Cincinnati kicked a ball in a competitive game until Sunday August 20. The derby loss to Columbus Crew left one opponent saying Ohio was yellow now. The ability of the Orange and Blue to take that insult and use it for fuel becomes all the more necessary when one sees their opponent is newly crowned Leagues Cup champions Inter Miami.
While Cincinnati has never lost a home game in the Open Cup as an MLS franchise (5-0-0), this could possibly be their biggest test yet. It should be noted, of course, that Miami is now home to the biggest scoring threat in the history of the sport. Lionel Messi descends on the Buckeye State with visions of his second trophy in his new colors. Containing him will be a massive task.
Nashville SC, who beat Cincinnati in that shootout on the way to the Leagues Cup final, gave up just two shots on target against Miami in that game. Both were to Messi, who managed to score one and hit the post with the other. Nashville also has the best goals against stat in the entire league, giving up only 22 all season, six fewer than Cincy. Keeping a shutout may be as close to impossible as it can get in soccer. But, Cincinnati will be hoping to take advantage of one of the MLS's worst defenses as well. Without their recent additions, Miami gave up 36 goals in league play.
While other signees Sergio Busquets and Jordi Alba help form a formidable wall, Brandon Vazquez will be looking to pick up his goalscoring exploits again. With five goals in his three Leagues Cup games before the break, his tag team with Cincy's own recent signing, Aaron Boupendza, will need to be firing on all cylinders to get this club past the Herons. If they can beat this opponent, all signs will point to them winning just the second Open Cup title for the state of Ohio in the tournament's 107-year history (2002 Columbus Crew). Then, they could hope to repaint the state in Orange and Blue.
MORE: Cincinnati's forgotten US Open Cup history (2017)
US OPEN CUP HISTORY
FC Cincinnati (MLS)
6th US Open Cup appearance (3rd as MLS team)
Overall: 12-4-3 (2-1 PK) | 5-2-1 (1-0 PK) as MLS
Home: 10-1-2 (1-1 PK) | 5-0-0 as MLS
vs. MLS: 2-2-3 (2-1 PK) | 1-1-1 (1-0 PK) as MLS
Best finish: Semifinals (2017)

Inter Miami CF (MLS)
2nd US Open Cup appearance
Overall: 5-0-2 (1-1 PK)
Away: 2-0-2 (1-1 PK)
vs. MLS: 1-0-1 (0-1 PK)
Best finish: Round of 16 (2022)
---
Real Salt Lake (MLS) at Houston Dynamo FC (MLS)
Shell Energy Stadium – Houston, TX
Kickoff: 9:30 p.m. ET
ENGLISH BROADCAST: Paramount+, CBS Sports Golazo Network
SPANISH BROADCAST: Telemundo, Peacock
By Andrew Mosier
There are a lot of unknowns going into Wednesday's U.S. Open Cup semifinal between the Houston Dynamo and Real Salt Lake at Shell Energy Stadium in Houston.
In the 75 days since the Quarterfinal round, both sides have played only a handful of matches as MLS took a nearly month-long hiatus for the Leagues Cup. Both clubs made Round of 16 exits. Houston played one game since a 5-0 win against the Portland Timbers in return to league play last Saturday, while RSL hasn't played a competitive game since August 8 when it was eliminated from the Leagues Cup by LAFC, 4-0.
Houston has conceded only one goal in four Open Cup matches this year, earning clean sheets in the first three matches of the tournament: 1-0 at the Tampa Bay Rowdies (USL-C), 1-0 at home against Sporting Kansas City, and 4-0 against Minnesota United. Houston earned a berth in the Semifinals June 6 with a 4-1 win at the Chicago Fire, extending the club's home Open Cup win streak to four matches dating back to the 2022 tournament.
However, Houston is going to have to contend with RSL captain and USOC scoring co-leader, Damir Kreilach, who has four goals in Open Cup play this year. He was also last round's TheCup.us Player of the Round. He is joined by the newly-acquired, Chicho Arango, who has one goal for RSL since his July transfer from Pachuca.
Corey Baird and Aliyu Ibrahim both have three goals for Houston in Open Cup play this year. Baird also scored on Saturday in league play.
Prior to this year's tournament, RSL set a modern-era record with a seven game Open Cup winless streak dating back to 2014. RSL broke the streak with a 3-1 extra time win at Las Vegas Lights (USL-C), followed by road wins at Portland (4-3) and Colorado (1-0) before beating the struggling LA Galaxy 3-2 in the Quarterfinals at home.
This is Houston's third trip to the Open Cup semifinals. In 2009 the Dynamo lost in extra time on the road to Seattle and beat LAFC in penalty kicks in en route to its only Open Cup title in 2018, steamrolling a heavily favored Philadelphia Union 3-0 in the final.
RSL have one US Open Cup semifinal appearance, in 2013, beating the Portland Timbers 2-1 before falling to D.C. United 1-0 in the club's only USOC final appearance.
The two clubs have met once this year in league play, a scoreless draw at Shell Energy Stadium on May 6. Coincidently, the next scheduled league match for the two clubs is next Saturday, August 26, at America First Field in Sandy, Utah. In league play, RSL (10-7-7) sits in third place in the western conference. Houston (9-10-5) is in sixth.
Houston Dynamo FC (MLS)
15th US Open Cup appearance
Overall: 23-12-2 (1-1 PK)
Home: 18-5-1
vs. MLS: 9-10-1 (1-0 PK)
Best finish: 2018 US Open Cup champions

Real Salt Lake (MLS)
13th US Open Cup appearance
Overall: 13-11-2 (1-1 PK)
Away: 3-5-0
vs. MLS: 6-6-1 (0-1 PK)
Best finish: Runner-Up (2013)