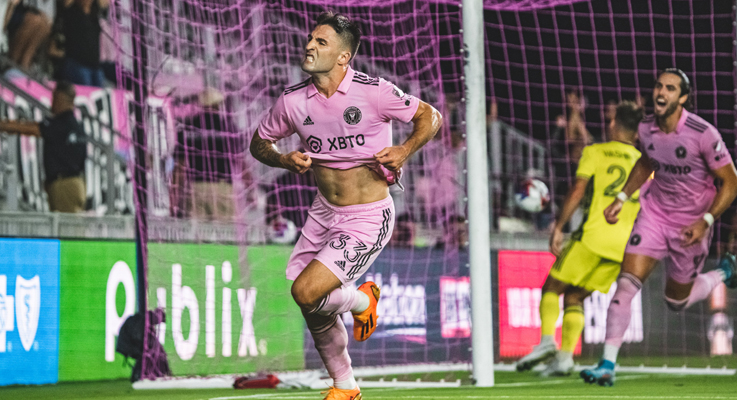 After getting through a lightning delay, Inter Miami CF came back with a pair of second half goals to defeat fellow MLS side Nashville SC. Nicolas Stefanelli scored what would prove to be the game-winner in the 73rd minute to send Miami into the Quarterfinals for the first time in the club's short history.

With the win, Inter Miami will travel for their next match. They will play at the winner of Birmingham Legion FC (USL Championship) and Charlotte FC (MLS). 


Taylor ➡️ Negri to put us in the lead ???? #MIAvNSH | 1-0 pic.twitter.com/y1eEptxIf2

— Inter Miami CF (@InterMiamiCF) May 24, 2023
The weather couldn't have fit the occasion any better. A rainy night at DRV PNK Stadium was the perfect backdrop for a match which has been marred by controversy before the game. Embattled Inter Miami manager Phil Neville had more than a cup tie in mind, as supporters have voiced their displeasure with the season so far after a bitter defeat against in-state rival Orlando City on Saturday. Nashville looked to continue their eight-game unbeaten streak on the road.

Inter Miami fielded an "A" squad with most regular starters on the pitch. Ian Fray makes his first start since his unfortunate injury during last year's preseason. Nashville started what would be considered a "B" squad. U.S. international center back Walker Zimmerman didn't make the trip while star player Hany Mukthar was on the bench.
An instant game changer ????

Stefanelli comes on and puts us back in the lead.#MIAvNSH | 2-1 pic.twitter.com/yk9rQPB6TO

— Inter Miami CF (@InterMiamiCF) May 24, 2023
The first half saw both teams have fair chances to take the lead. Nashville had multiple counter-attacking chances but couldn't capitalize. Taylor Washington received the first yellow card of the night in the twenty-ninth minute. They also had a goal called offside in the thirty fourth minute, which was to the relief of Inter Miami who looked disjointed until the end of the half. The front pairing of Josef Martinez and Leonardo Campana kept working on their chemistry as they created a few one-two chances. The lack of a "#10" is quite evident as there is a disconnect between the midfield and the forwards.

The second half started  with two yellow cards for Nashville; Jack Maher and Jan Gregus. Then, what seemed out of nowhere, Inter Miami had a counter attack opportunity which saw Robert Taylor assist Franco Negri to open the scoring in the 57th minute. Taylor sent a well-timed through ball into the penalty area on the left side where Negri beat the onrushing goalkeeper to the ball and chipped it over him and into the back of the net. 

Up to this point, the metrics favored Nashville and they were thunderstruck. In response, they brought on their usual starters from the bench which included Hany Mukhtar and Alex Muyl.

Not even a minute in, and Muyl was able to equalize for Nashville. Laurence Wyke delivered a cross from the right wing and Alex Muyl scored on a diving header less than a minute after entering the game.

Nashville were able to pick up momentum and started to pressure Inter Miami. The siege was stopped by a lightning strike within three miles of the stadium, which caused a 33 minute delay.

Once play restarted, any sense of urgency from Nashville was gone and Inter Miami were able to catch them off guard again with another goal.

It took Alex Muyl about 50 seconds to score after subbing on ????

Instant. Impact. @opencup | #EveryoneN pic.twitter.com/61clkouzVI

— Nashville SC (@NashvilleSC) May 24, 2023

Nicolas Stefanelli was subbed on after the break and was able to capitalize on another counter attacking chance for Inter Miami. A ball was volleyed over the top from midfield by Corentin Jean. Stefanelli ran onto it and dribbled to the right side of the penalty area. Once he hit the edge of the box he fired a shot that beat the goalkeeper to the near post.

From here on, Inter Miami parked the bus and Nashville had multiple close calls to equalize.

In the end however, Inter Miami weathered the storm and eliminated Nashville SC from this year's edition of the Open Cup. They now await to see if they have to face Birmingham Legion or Charlotte FC in the Quarterfinals. The roller coaster season continues for Phil Neville.

At the post-game press conference, it seemed like a huge weight was lifted off of everyone's shoulders. The now viral video of Phil Neville sparring with a reporter was joked about and it seems that bridges have been mended. In regards to the fans not turning up, "I honestly love our fans. I understand their frustration." He added on that he wants to perform and bring results for them.

It is worth keeping in mind that Inter Miami are still dealing with the roster sanctions brought upon them and injuries to key midfielders Gregore and Jean Mota. Additionally, the club are in a holding pattern with future acquisitions until a certain someone of Argentine descent decides on what they're going to do next. For the moment however, Inter's cup run stays alive and Neville has a lifeline as long as it keeps going.