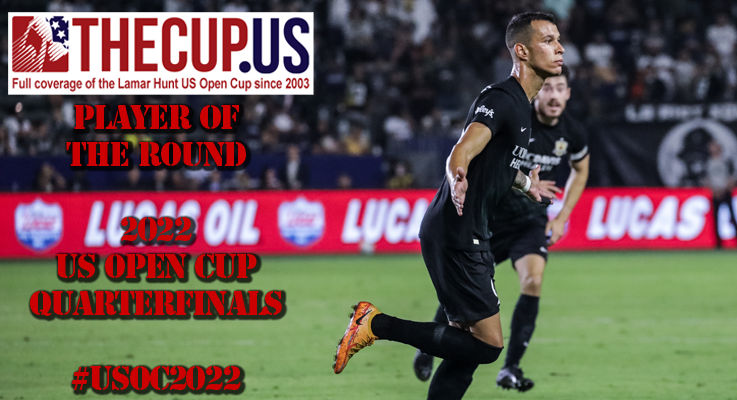 Sacramento Republic's Luis Felipe scored one of the goals of the tournament to send his club into the Semifinals of the 2022 Lamar Hunt US Open Cup. Felipe's 70th minute strike was good enough to eliminate LA Galaxy from the competition and earned Felipe the title of TheCup.us Player of the Round for the Quarterfinals.
The Player of the Round award is voted on by TheCup.us staff, a select panel from the North American Soccer Reporters and select backers (those that pledge $10 or more) of TheCup.us' Patreon team.
The match was Sacramento's for the taking, as they went ahead 1-0 in the fourth minute on a Rodrigo Lopez goal. The MLS side got a goal back in the 18th minute when Sacremento's Conor Donovan scored an own-goal, which kept the match level until the 70th minute.
It was then that Luis Felipe became the man of the round. The ball had been played around and eventually found Felipe on the left flank. Sacramento's number 96 took a few dribbles and unleashed a left-footed strike from 30 yards that bounced twice while crossing the face of goal and beat Los Angeles' keeper Jonathan Klinsmann into the far corner, securing his side's quarterfinal victory.

"It was huge. We needed that goal at the moment, with it being 1-1," said Felipe. "I felt really happy, not for just me but for the team. Especially how we came together at the end. It was huge for the team."
Born in Mineola, New York, Felipe has been playing in the professional ranks since joining Fort Lauderdale Strikers in 2016. He is no stranger to playing the role of the underdog in the US Open Cup. With the Strikers in 2016, he played every minute of the NASL (Div. 2 pro) side's cup run that saw them upset two MLS teams (D.C. United, Orlando City SC) en route to the Quarterfinals. The following year, he joined the USL's Reno 1868, and reached the Third Round where they were eliminated by his future club, the Sacramento Republic. He faced Sacramento again in 2019 when he was in his second season with the San Jose Earthquakes. In the Fourth Round, he played all 90 minutes in the Quakes' 4-3 home win over the Republic. He would play three more seasons with San Jose before signing with Sacramento in 2021. Before turning pro, Felipe was a member of Cruziero's youth academy from 2007-2015. Felipe was also called up to the United States' Under-20 National Team in 2014 under Tab Ramos.
Felipe's Sacramento Republic will host Sporting Kansas City on July 27 in the Lamar Hunt U.S. Open Cup semi-final, with the match kicking off at 10:30 Eastern.