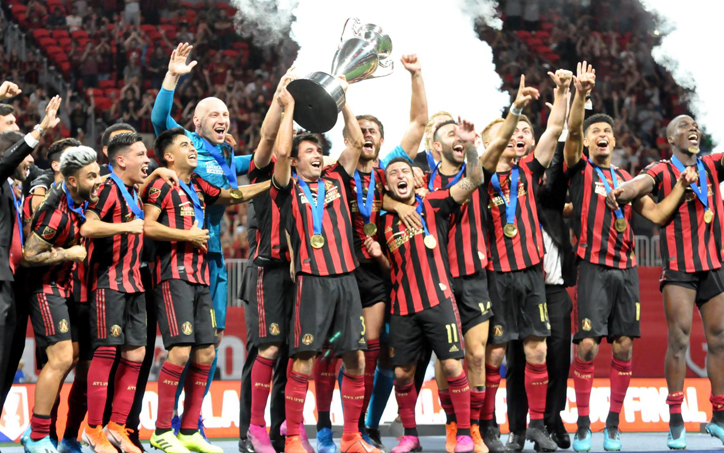 The US Soccer Federation held the Third Round Draw for the 2022 Lamar Hunt US Open Cup today, the largest draw ever shown on a live broadcast in the tournament's history. The 31 Second Round winners from this week will be joined by 17 lower seeded MLS teams in this draw for a total of 48 teams.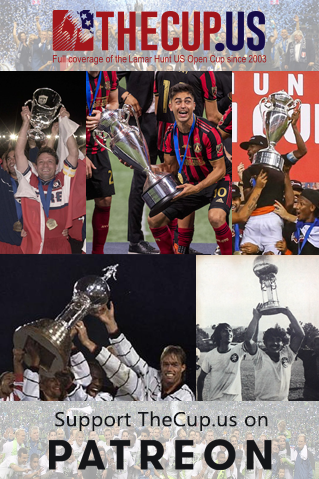 The teams were divided into groups of 4 or 6 based on geography. In instances where geography was not apparent or conflicted, a random draw was held to decide which team went into what group. MLS teams were spread out as evenly as possible within the groups, ranging from one MLS team in a four-team group to three MLS teams in a six-team group. Teams were then drawn within each group, with the restriction that MLS teams could not be drawn against each other. This is the same rule as previous rounds where other qualifying pools also could not be drawn against each other (D2 vs. D2, D3 vs. D3, Open Division vs. Open Division).
During the draw, teams were announced that either did not apply to host the match or could not meet venue standards. These teams therefore could not be drawn into any match where they were the home team.
FC Motown
Charlotte FC
New Mexico United
Northern Colorado Hailstorm
Central Valley Fuego
Bay Cities FC
California United Strikers
San Diego Loyal
South Georgia Tormenta FC
For matches involving a MLS team in this round, starting this year, a $6,000 hosting fee is assessed to the host, regardless if the MLS team is home or away. The hosting fees for the whole tournament help pay for the travel reimbursements US Soccer give to the visiting teams, up to $13,000 per match for all travel costs (a $1,000 increase from the previous tournament).
The Third Round will be played on April 19-20, with the Round of 32 draw the next day on April 22. The remaining eight MLS teams (CCL participants and the next best two teams teams from each MLS conference) will enter, and will be prevented from playing each other in that round as well. 8 groups of 4 will be formed geographically with each one having one team from that group of 8 MLS teams. Teams will then be drawn randomly within those groupings.
MORE: Things you should know about the Third Round of the US Open Cup (Modern Era)
MORE: Notable upsets in the Third Round of the US Open Cup (Modern Era)
Seven of the 17 MLS teams will be on the road for this round. This is the most MLS teams on the road against lower division teams in their round of entry since the 2013 tournament, when 9 out of 16 MLS teams were on the road.
More facts regarding these Third Round matchups.:
The draw is as follows:
NORTHEAST
| | | | |
| --- | --- | --- | --- |
| Date | Game (home team listed first) | Time | Venue |
| 4/19 | Flower City Union (NISA) vs D.C. United (MLS) | 7 p.m. ET | Rochester Community Sports Complex; Rochester, N.Y. |
| 4/20 | Rochester New York FC (MLSNP) vs FC Motown (NPSL) | 6 p.m. ET | Monroe Community College; Rochester, N.Y. |
| 4/20 | Hartford Athletic (USLC) vs New York Red Bulls (MLS) | 7 p.m. ET | Dillon Stadium; Hartford, Conn. |
PIEDMONT
| | | | |
| --- | --- | --- | --- |
| Date | Game (home team listed first) | Time | Venue |
| 4/20 | Richmond Kickers (USLL1) vs North Carolina Fusion U23 (USLL2) | 6:30 p.m. ET | City Stadium; Richmond, Va. |
| 4/20 | Greenville Triumph SC (USLL1) vs Charlotte Football Club (MLS) | 7 p.m. ET | Triumph Stadium at Legacy Early College; Greenville, S.C. |
SOUTHEAST
| | | | |
| --- | --- | --- | --- |
| Date | Game (home team listed first) | Time | Venue |
| 4/19 | Birmingham Legion FC (USLC) vs South Georgia Tormenta FC (USLL1) | 7 p.m. CT | Alabama Soccer Stadium (Univ. of Alabama); Tuscaloosa, Ala. |
| 4/20 | Atlanta United FC (MLS) vs Chattanooga Football Club (NISA) | 7:30 p.m. ET | Fifth Third Bank Stadium; Kennesaw, Ga. |
FLORIDA
| | | | |
| --- | --- | --- | --- |
| Date | Game (home team listed first) | Time | Venue |
| 4/19 | Miami FC (USLC) vs Inter Miami CF (MLS) | 7 p.m. ET | FIU Stadium; Miami, Fla. |
| 4/20 | Orlando City (MLS) vs Tampa Bay Rowdies (USLC) | 7 p.m. ET | Osceola County Stadium; Kissimmee, Fla. |
CENTRAL
| | | | |
| --- | --- | --- | --- |
| Date | Game (home team listed first) | Time | Venue |
| 4/19 | FC Cincinnati (MLS) vs Pittsburgh Riverhounds SC (USLC) | 7 p.m. ET | TQL Stadium; Cincinnati, Ohio |
| 4/19 | Detroit City FC (USLC) vs Columbus Crew SC (MLS) | 7:30 p.m. ET | Keyworth Stadium; Hamtramck, Mich. |
NORTH
| | | | |
| --- | --- | --- | --- |
| Date | Game (home team listed first) | Time | Venue |
| 4/19 | Chicago Fire FC (MLS) vs Union Omaha (USLL1) | 7 p.m. CT | Soldier Field; Chicago, Ill. |
| 4/20 | Forward Madison FC (USLL1) vs Minnesota United FC (MLS) | 6 p.m. CT | Breese Stevens Field; Madison, Wis. |
| 4/20 | Louisville City FC (USLC) vs St. Louis CITY 2 (MLSNP) | 7:30 p.m. ET | Lynn Family Stadium; Louisville, Ky. |
TEXAS
| | | | |
| --- | --- | --- | --- |
| Date | Game (home team listed first) | Time | Venue |
| 4/19 | FC Dallas (MLS) vs FC Tulsa (USLC) | 7:30 p.m. CT | Toyota Stadium; Frisco, Texas |
| 4/19 | Houston Dynamo FC (MLS) vs Rio Grande Valley FC Toros (USLC) | 7:30 p.m. CT | PNC Stadium; Houston, Texas |
| 4/20 | San Antonio FC (USLC) vs Austin FC (MLS) | 7:30 p.m. CT | Toyota Field; San Antonio, Texas |
MOUNTAIN
| | | | |
| --- | --- | --- | --- |
| Date | Game (home team listed first) | Time | Venue |
| 4/20 | Real Salt Lake (MLS) vs Northern Colorado Hailstorm FC (USLL1) | 7:30 p.m. MT | Rio Tinto Stadium; Sandy, Utah |
| 4/20 | Phoenix Rising FC (USLC) vs New Mexico United (USLC) | 7:30 p.m. MST | Phoenix Rising Stadium at Wild Horse Pass; Chandler, Ariz. |
NORTHERN CALIFORNIA
| | | | |
| --- | --- | --- | --- |
| Date | Game (home team listed first) | Time | Venue |
| 4/19 | San Jose Earthquakes (MLS) vs Bay Cities FC (NISA) | 7:30 p.m. PT | PayPal Park; San Jose, Calif. |
| 4/20 | Sacramento Republic FC (USLC) vs Central Valley Fuego FC (USLL1) | 7:30 p.m. PT | Heart Health Park; Sacramento, Calif. |

SOUTHERN CALIFORNIA
| | | | |
| --- | --- | --- | --- |
| Date | Game (home team listed first) | Time | Venue |
| 4/19 | FC Tucson (USLL1) vs California United Strikers FC (NISA) | 7:30 p.m. MST | Kino North Stadium; Tucson, Ariz. |
| 4/19 | LA Galaxy (MLS) vs San Diego Loyal SC (USLC) | 7:30 p.m. PT | Dignity Health Sports Park; Carson, Calif. |
| 4/20 | Los Angeles Football Club (MLS) vs Orange County SC (USLC) | 7:30 p.m. PT | Banc of California Stadium; Los Angeles, Calif. |