USL League One side FC Tucson beat USL Championship team Las Vegas Lights 3-2. All but one goal was scored in the second half in the match at Tucson's Kino North Stadium.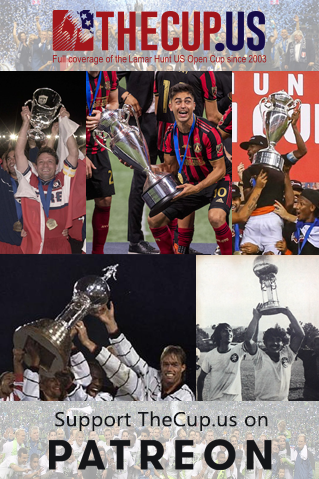 For FC Tucson, they were making their first appearance in the tournament as a professional team after previously qualifying five times (and eliminating two pro teams) as a member of USL League Two. It was the club's first Open Cup win since 2018.
Las Vegas' offensive trio of Daniel Trejo, Danny Musovsky and Cal Jennings were left off the starting roster. FC Tucson's Kaelon Fox and Deri Corfe were out with injuries.
Los Tucsonenses had the lion's share of possession, but Las Vegas kept them hemmed in. FC Tucson keeper Carlos Merancio had a couple of big saves that helped keep the teams level at zero goals until the final moments of the first half.
In minute 45, FC Tucson's Daniel Bedoya launched a corner kick into the box that eventually found the head of Luca Mastrantonio. He settled the ball at the foot of Austrian-born winger Jacob Crull. He poked it past Lights keeper Abraham Romero to open the scoring as the first half ended.
Mohammed Traore evened it up for Las Vegas in minute 66. The lead was short lived as FC Tucson kept threatening goal and earning corner kicks with, it seemed, every sally up field. Daniel Bedoya's 71st minute corner was a near Olimpico, as his kick ended up in the back of the net after the otherwise strong Romero bobbled the ball.
Tyler Adams extended the lead in the 77th minute with an oblique rocket that ended up at the top of the goal. It should have locked the game down right there, but with Traore on the field and a late substitution by league leading scorer Daniel Trejo, two goals wasn't necessarily a safe lead.
An 80th minute shot from Daniel Christomo caught Merancio off guard with a bit of marksmanship from the edge of the box. Tying it up was tantalizingly close, but the Lights weren't able to do it.
Often a lower division will score a lucky goal against an upper division team and sit on the lead to earn a "cupset." That wasn't the way FC Tucson chose to play.
"We never really had the mindset to sit back and absorb pressure," said Jacob Crull after the match. "Not having that mindset allowed us to score three goals."
Another banger? Are you surprised? 😏

Tyler Allen buries one into the back of the net for @FCTucson!#WeAreOne // #USOC2022 pic.twitter.com/wcyKBscrld

— USL League One (@USLLeagueOne) April 7, 2022
FC Tucson moves on to the next round and will possibly face Phoenix Rising FC, who owned the team from 2017-2021. The draw will be announced on Friday at Noon ET.