There's an honest debate to be had regarding the best run from FC Motown's 1-0 Second Round win against professional side AC Syracuse Pulse on Wednesday. On one hand there's Federico De Oliveira who charged into the box to strike home a pass from former Portuguese professional Samuel Pompée in the 96th minute to win the game in extra time. The other option is Motown co-owner Dan Karosen who sprinted down the bleachers at MSU Soccer Park after the ball went in the net, arms fully raised in the air and screaming his lungs out.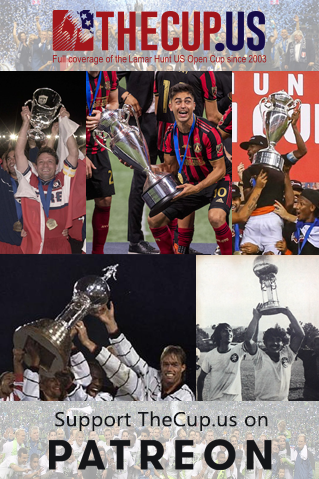 With the win, FC Motown — based in Morristown, N.J., and certainly not Detroit — moved on to the Third Round for the first time in its history. The result is also the team's first win over a professional side in the competition. It's previous attempt was a 3-1 loss against Penn FC in 2018's Second Round.
After the match, De Oliveira was eager to credit every member of the team for the result. From goalkeeper David Greczek who punted the ball down field to start the scoring play, to Pompée who was a key attacking defender all game.
"It's not about individual things here," the Portuguese expat explained. "Motown is all about family and we're very, very proud. Very proud of ourselves, the coaching staffs, the presidents, and yeah … it was a great goal."
Officially, this is the second straight shutout for Motown and a clean sheet for Greczek in this year's tournament. Head coach Šaćir Hot knows this team is no stranger to good defensive outings. His group that reached the 2018 NPSL National Final was led by a stout backline that earned multiple league honors.
"I always say that championship teams have to have great defense," said Greczek, a former New York Red Bulls homegrown player. "To hold West Chester and Syracuse back-to-back zeros is a good start. It keeps me very optimistic about this team because, again, when you have a great defense you can always do something."
The team's third tournament match at Montclair State University in three weeks opened up as a sluggish affair. Misty conditions became light rain over the course of the game, making the field slick and hampering both teams. Even before that though, neither side looked convincing in their attacks. The first 45 minutes produced two "shots" for each side but none were on target or, frankly, convincing.
The visiting Pulse, a first year outfit in the National Independent Soccer Association (NISA, Div. 3 pro), had the size advantage but struggled to build up through the middle of the field. Syracuse focused any chance it got by trying to out-physical the home team while passing up the wings. Head coach Peter Fuller wasn't surprised though considering his team had only started training together less than three weeks ago.
"I would've liked to have had a little bit more time under our belt," the coach admitted afterwards. "Obviously we've been together for 18 days and had one other game. In a way, it's a little bit almost preseason for us."
"I thought our play was real disjointed. We gave away a lot of balls that we shouldn't have given away. We were passing when we probably should have been shooting. We were not passing when we've opened space, like driving at guys. I think it was a team that hasn't been together long enough."
That one other game was a 1-0 win against fellow NISA expansion team Flower City Union two weeks ago in the season opener. The team's game last weekend against Chattanooga FC, which Fuller previously coached, was postponed due to snow in upstate New York. Fuller went back and forth on how much that missed extra 90 minute played into Wednesday's result saying he and his staff had talked about it a little. In the end, he lamented that it was open for debate.
Both of Syracuse's first half shots came from forward Alexander Satrústegui and both were blocked. If his name sounds familiar, his father Jesús María Satrústegui was a legendary player at Real Sociedad and Spain national team striker. On this night, his son worked the right wing of the field. He and right back Kyle Nuel, both former teammates at Michigan Stars FC, had great chemistry all game. But it didn't translate into looks on the net.
Motown was similarly stuffed up during the first 45. Haitian youth international Nerlin Saint-Vil was the focus of the offense early on. His speed worked both wings and allowed him chances to cut into the middle of the field. However the former Carribean pro wasn't able to connect on any follow-up passes due to Syracuse's heavy pressure. On the left side, Ryan Peterson looked lost all match. Following his dramatic game-winning goal against West Chester last Friday, most attacks that went through him fizzled out quickly. By the 42nd minute, his frustration boiled over after Pulse forward Stephen MacDonald picked the ball off him. Peterson fiercely pulled back on the opposing player's jersey to hinder the attack, earning himself a yellow card.
Feel good, Federico De Oliveira? | 🥰 #USOC2022@fc_motown got that Through-to-Third Round feeling pic.twitter.com/qJBDvv8m4E

— U.S. Open Cup (@opencup) April 7, 2022

Outside of this moment though, Motown succeeded in not getting pulled into a physical game. Syracuse finished the match with 28 fouls and the New Jersey sideline was visibly frustrated early on with the lack of cautions shown to them. That itself resulted in Motown head coach Šaćir Hot getting a card in the 33rd due to dissent, one minute after Fuller was shown yellow for use of "colorful language."
"I think that our guys showed very, very good maturity and very good composure," said Hot. "I think that it could have got real chippy if they lost their heads in the first half. They're warriors, man. These guys are warriors."
De Oliveira pointed out their maturity was helped by how much experience Motown has. With players like international Gidean Baah on the sideline it's easy to see how that mentality flows through the close knit unit.
"We're not rookies," the forward said with a smile on his face. "We've been here, we've been at the pro level. We have a lot of ex pros at Motown. So we knew what to expect. AC Syracuse have a great team. They started a really strong game. Physical, but we didn't let ourselves down actually. We have big guys, we have physical guys, and it was just a 50-50."
The second half opened up for both teams despite the worsening weather. Syracuse kept Motown in their own end to start but eventually the home side took more control. The offense moved the ball and kept it at midfield and in the Pulse's end. Still, a handful of mixed-bag attempts from Saint-Vil and Peterson in a six minute span (52nd to 58th minute) were the only shots toward Macklin Robinson. Meanwhile the fouls continued to build up for the visitors with three players going into the book.
The biggest chance for both teams came back-to-back in the final three minutes. In the 86th, Min-jae Kwak fed charging second half substitute Molley Karpeh a ball following a run down the middle. The forward had open space on the right side with Motown's Kian Alberto caught out. His right footed shot to the opposite post got past Alberto and a diving Greczek but rolled inches to the left of the post. On the subsequent play, Motown passed around the Michigan defense in the 88th minute. A long pass to Joe Fala on the edge of the box was chested down towards De Oliveira, who sliced the ball inches right of the post and off the back advertisements.
For his part, from the moment Karpeh set foot on the field in the 80th minute the game shifted. The former Maryland Bobcat had a majority of his team's best chances for the rest of the game. Coach Fuller called him the most dangerous player on the field.
In extra time, the intensity from both teams kicked up. After De Oliveira's goal, Syracuse nearly tied the game twice in the first extra time half. Kwak demolished a shot from the penalty arc in the 101st minute that was going upper right. Greczek managed to just get a hand on it with a jumping dive and forced it up off the crossbar. The subsequent corner was sent in by Kwak and needed a Motown defender to head it out after it was heading towards the goal line.
Syracuse had one more chance to tie the game during stoppage time of the first extra time period that will be on many of the players' minds. A low corner kick was headed over the Motown defense by Nuel and looked to be going in. In an odd moment, Karpeh raised his leg as the ball neared the goal line, inadvertently redirecting it out of play as the whistle blew.
It's the defining moment that goes back to what coach Fuller said; this team had only known each other for 18 days. Karpeh may have not trusted Nuel enough to let the ball go in, tried to steal the goal stat for himself, or any number of other things. But it was something a team wouldn't do if it had chemistry.
"I'm really hoping once we get to that break (in May) and get through it I'm almost looking at that as our preseason in a lot of ways," Fuller said. "So I'm hoping once we get to the 1st of June, I'd like to believe we're starting to click a little bit."
For coach Hot and his team the reaction to the win is the same as any other cup game. The chance to move and possibly play the Red Bulls, a team he and many of the Motown staff have connections to, is big. But the bigger result for the team is the sense of joy and accomplishment they give one another by doing their best. That includes their teammate Sainclair Tueno, who continues to recover in hospital following an accident last month.
"I told the guys before the game that 'nothing's better than making someone else happy. There's nothing better in the world than making others happy,'" he said. "I told them today that if we battle and fight and we win, regardless of who it is, we're gonna make each other happy. And that's what we did today. Obviously for our guy Sainclair, he saved us a couple of times today, he was there with us. Some goal line clearances. Some close calls that could have fallen their way. I think the power of our guy up there was with us."
Please see: Tueno's family is currently raising money on GoFundMe to help cover medical expenses.


Scoring Summary
95' – FC Motown – Federico De Oliveira
Lineups
FC Motown: David Greczek (GK), Hermanus Achterkamp, Mike Da Fonte, Zach Perez (Jean Voltaire 59'), Mardochée Samuel Pompée, Daniel Cordeiro, John Casey (Hayden Criollo 90'), Kian Alberto, Joseph Fala, Nerlin Saint-Vil (Marcus Hackett 108'),  Ryan Peterson (Zachary Knudson 59'), Federico De Oliveira 74')
Manager: Šaćir Hot
AC Syracuse Pulse: Macklin Robinson (GK), Morian Moussi, Kaio Dasilva, Shaun Russell (Christian Waegelin 108'), Kyle Nuel, Min-Jae Kwak, Michael Kafari, Evan Waldrep (Alec McKinley 72′), Stephen MacDonald (Molley Karpeh 80′), Kaleb Jackson (Juan Louis 59'), Alejandro "Alex" Satrústegui Lopetegui (Bruno Rendón (59′)
Manager: Peter Fuller
Yellow Cards
Hermanus Achterkamp, Motown 4'
Ryan Peterson, Motown 42'
Kaleb Jackson, Syracuse, 51'
Kaio DaSilva, Syracuse 75'
Shaun Russell, Syracuse 82'
Federico De Oliveira, Motown 90+3'
Alec McKinley, Syracuse 120+1'
Referee: Luis Arroyo
Assistant: Joseph Paolini
Assistant: Bomer Fierro
Fourth official: Caleb Firl
Attendance: 50