FC Motown forward Ryan Peterson is the only person who truly knows whether his game winning goal was a cross or a shot. Ultimately, the goal in the 90th minute won FC Motown its First Round replay against West Chester United SC, 1-0, on Friday night in Montclair, N.J. This is the first time West Chester United, who won the original game 3-2 in extra time, have ever lost in the tournament's first round.
Motown moves on to play National Independent Soccer Association (NISA) side AC Syracuse Pulse in the next round. That game is this week, April 6, back at Montclair State University.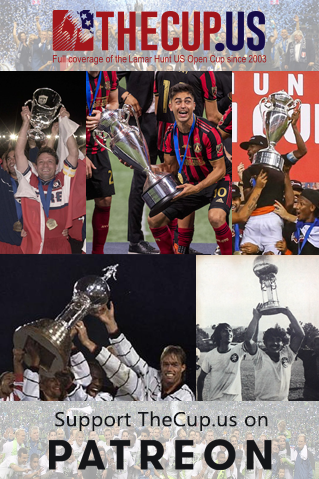 The team's win wasn't easy physically or emotionally. The Motown players took the field knowing one of their teammates is currently battling for his life. Defender Sainclair Tueno, who came on in the original Round 1 match last week as an extra time substitute, was hit by a speeding car last weekend near Pittsburgh. He is currently in a coma and on life support.
In the days since, teammates and members of the soccer community have come together to rally around his team.
Tueno's family is currently raising money on GoFundMe to help cover medical expenses, something Motown has helped raise funds for in the last few days.
Even after his game winning goal, surrounded by his teammates near the corner flag, Peterson knew someone was missing.
"I was just thinking about Sainclair the entire time," Peterson said. "You know, how he'd be out there with us celebrating. So I just wanted to get it for him.
"We wanted to come get this game for him because what he brings to the table, every practice, every game, is just raw emotion and heart and we wanted to bring that out and show that even without him we could still bring out the best of our team."
The crowd of 176 braved frigid and windy weather for the historic match at MSU (Montclair State University) Soccer Park. Motown's successful protest regarding an illegal West Chester substitute in last week's original game meant the two teams played in the first protest replay in the tournament's Modern Era since 1995. In a testament to how evenly-matched both clubs were, Friday's game was nothing like last week's original match. Motown head coach Šaćir Hot didn't seem surprised.
"Whoever got that one breakthrough was always going to win," the former New York Red Bulls homegrown player explained. "That's how all of our games versus them are. It's never a blowout, it's never a game that you can be complacent in and just relax. It's always tough versus West Chester."
That breakthrough would have to come without some key players on both sides. West Chester was missing Blaise Milanek, the goal scorer from last game who was at the center of the protest, as he continues to deal with a concussion. For Motown, former Ghanaian national team player Gideon Baah did not suit up either. The former RBNY defender cited lung issues ahead of kickoff and was kept out of the lineup. He was the team's best defender in the original game. Combined his absence with Tueno's and the home team was lacking in natural center back talent for the night.
Like last week, Motown came out fast to start off. The first 15 minutes saw a string of Celtic attacks against the opposing backline and goalkeeper Cameron Sanders. Last week's goal scorer Joseph Fala nearly opened the scoring in the 11th minute after tipping at a West Chester pass near midfield. Breaking through a sliding defender, the former USL Championship player beat Sanders to the ball and recovered it on the left side of the box with the keeper out of place. His shot from a tight angle rolled past the open goal, not coming close to the line with no one there to tap in either.
That quick start is where the similarities ended. The original match was defined by each team controlling one of the two halves. Motown, with arguably more high-end talent, controlled that game's first 45 minutes and took a 2-0 lead into the break. West Chester, a squad of depth and fitness, had the endurance to control the second half and extra time to win, 3-2. The replay, however, was far more evenly contested.
Hit and hope | ?

Ryan Peterson of @fc_motown lets loose from a wild angle in the dying seconds of the game to score a wacky goal that will likely seal the win over @WCUSCPredators and a place in the Second Round.

1-0 | #USOC2022 pic.twitter.com/nR4uTpBPtZ

— U.S. Open Cup (@opencup) April 2, 2022
After the home team's surge, Motown had trouble maintaining a consistent offensive attack. Haitian youth international Nerlin Saint-Vil, the star goal scorer from last week, had two to three players on him whenever he got the ball. It was rare for him to break and use his speed like he had done in the original game.
"We didn't want to hurt us, so we just put pressure on him and we figured if we close him we keep them from getting a counter. He actually didn't get up the field too much on us. We actually made him turn back a lot," said West Chester head coach Blaise Santangelo. "We just want to close stuff quicker. So that we're defending just in that grid."
His best chance of the game was in the 15th minute. A long Motown cross from the right side headed for the opposite post. As one of his teammates extended a leg to keep it in the air, Saint-Vil went for a bicycle kick just outside of the goal area. Not able to fully connect, the ball went wide of the net.
For its part, West Chester was able to garner a lot of possession time. The USL League Two representatives found a ton of success moving along Motown's sidelines. Carter Burris was a constant annoyance in the first 45 minutes on the right, making space and crossing into the seemingly wide open penalty area. On the left, Troy Amspacher duel threatened with the ability to cut into the middle at nearly a whim.
"We thought that if we got wide we could get up and exploit them – especially on Troy's side," Santangelo explained. "I don't think we changed the point of attack quick enough. The three goals that came last week were all quick changes, attack and backside goals. We weren't successful doing that, but we created opportunities that should be finished in the game."
Those chances were only stopped by man of the match David Greczek. The Morristown keeper made two critical saves in the first half to keep the game scoreless. In the 25th minute, Amspacher attempted to pass up the ball just outside of the penalty area. The pass to Charles Wilson was tipped, allowing Amspacher to recover the ball away from a diving Jean Voltaire. One-on-one from the penalty spot, the Rutgers University alum extended his leg out to save what should have been the opening goal.
Seven minutes later, Burris' right side crossing ability came into play again. His long pass into the box initially missed a jumping Wilson but reached a charging Spencer Burkhardt. The Seton Hall star was uncovered and his header in the goal area was somehow kept out. Greczek leaped up and caught the ball with his extended right arm, moving quickly to get under it and catch it inbounds to negate a possible corner.
Both coaches threw praise at the former Swope Park Rangers goalkeeper. Coach Hot was visibly holding back emotions when speaking about his performance after the game.
"He was due for a big one and he knows how special this game was for Sainclair," Hot said. "He came into the locker room, actually, after the game to give us a big hug to say; 'Thank you for trusting me'."
The biggest takeaway from the first half was that West Chester didn't need to wait for Motown to slow down. The original game broke down for the home side after Saint-Vil and Dilaver "Dilly" Duka came off. In the replay, the visitors were challenging consistently almost immediately.
Following the break, the game fell into a deadlock. If there was a heatmap available for this game, the second half would have its biggest reading at midfield – possibly just inside of the West Chester side. When asked about it after the match Peterson said he and his teammates just needed to play simple. As he put it, they needed to "stick to the X's and O's."
"What we've been lacking is in the second half, we've been coming out too flat, too unprepared," explained Peterson. "We wanted to make sure that coming into the second half we were on top of things. We knew the game plan. How to go forward. How to defend them."
Celtic was able to do that even after its best players had to leave the field. Despite being his team's best attacking option, Fala was subbed off in the 65th minute. Three minutes later, Saint-Vil went down after an attempted cross to Duka and left the game not long after. Then, almost cruelly, the former Columbus Crew player aggravated a previous injury. In the 77th minute, Duka seemingly slipped on the ball and attempted to turn while going down. He immediately grabbed his left leg and needed help getting off the pitch.
After the game, it was mentioned by team staff that Duka probably won't be available for a few weeks.
In terms of chances, Peterson led the way in the final 45. It looked as though the striker scored the game winner in the 73rd minute. Kian Alberto's corner kick found his head and got past Sanders before a West Chester player dove into the goal to keep it out. The linesman ruled no goal and play continued.
In terms of offense, outside of that one chance neither team had real looks on goal. West Chester especially lacked a convincing drive into the Motown end. Despite how different this game was to its predecessor it seemed destined that both teams were heading to overtime.
In the final minute, Motown made one final charge up the left side. Voltaire played the ball up to Johannes Pieles, who had come on in place of Duka. Under pressure, the second half sub jumped and headed the ball forward to Peterson who chested the ball down and ran along the penalty area's left line. With defender Clay Moyer right next to him, the striker lifted the ball towards the goal where it dinged off the right post, deflected off Sanders, and into the back of the net.
The goal was eerily similar to another big-time score by Peterson. The former Detroit City FC player's talent for long shots from the left side earned his former team its first-ever league title in late 2020. That game-winning goal against the Oakland Roots SC won DCFC the NISA Fall Championship at historic Keyworth Stadium in Hamtramck, Mich.
Having previous experience on a NISA team, including a Fall 2021 stint with San Diego 1904 FC (now Albion San Diego), Peterson knows the challenge that lies ahead for Motown.
"We know that going into the next round it's a NISA team, they're going to bring it obviously representing the pro ranks," he said. "We're not afraid of anybody. We know what we're capable of doing. They're coming to us, we have the home field advantage. They're a new NISA team, we've been together for years. We're not scared, we're up for the challenge."
While it may not have been the action that determined the outcome, what happened after the final whistle could be the most impactful moment of the night. It isn't rare to see a head coach talking to his players in the locker room after a match. Win or lose, usually the man in charge will take a few moments to speak to the tired group. They'll congratulate them, console them, prepare them for what's to come and so on. That isn't anything new.
What is special is when the opposing coach does it to the other team. After the game, both head coaches took time to speak to the opposing players in their respective locker rooms. For two teams that compete against one-another constantly, in multiple leagues and regional tournaments, the situation surrounding the game was harder than actually playing it. Coach Hot wasn't didn't hold back his feelings even after seeing his team win the game.
"I hate it. I don't like it at all. It sucks. It's always going to be a lose-lose," he said. "For Blaise and I it's always going to be bittersweet. If Blaise and them went through, I'd put on a West Chester jersey right after the game and I'd cheer for them. Under these circumstances no one ever wants to win.
"Truthfully I don't feel great about the win but hey it's soccer, it's sports, that's what happens … If you get put in that position you can never be happy. It sucks to see your friend, who came over here down 2-0 and ended up winning 3-2 in a spectacular game, gets thrown out the window for something that was small. It is what it is and we have to accept it, they have to accept it and move on."
It's a sentiment Santangelo shared as well. The West Chester coach noted the whole event, from win to protest to loss, is a learning experience for his young players.
"The respect is there for the players and their coaching staff. Those guys work just like we work," Santangelo said. "It's difficult. I think people saw West Chester and what we did last week and they know the real outcome of that game. I'm just glad that the adjudication committee at least heard our side of it."
While the result might be hard, what comes next is easy – moving on to the next challenge. The team has a date with another northeast powerhouse, US Open Cup darling Christos FC, next Sunday in the USASA Region I Amateur Cup. That's included with continued state league games and the upcoming summer seasons in both the NPSL and USL-2. For them, the story doesn't end in a controversy-filled game at Montclair State.
"When you play it at this kind of level and these are high stake games – you're gonna win some, you're gonna lose some," he said. "But we always go back to just getting on the training pitch. That's most important for us."

Scoring Summary
90' – FC Motown – Ryan Peterson
Lineups
FC Motown: David Greczek (GK), Mardochée Samuel Pompée, Mike Da Fonte, Zach Perez, Jean Voltaire, Daniel Cordeiro, Kian Alberto, Dilly Duka (Johannes Pieles 76′), Joseph Fala (Hayden Criollo 64′), Ryan Peterson,  Nerlin Saint-Vil (Federico Deoliveira 69′)
Manager: Šaćir Hot
West Chester United SC: Cameron Sanders (GK), Shane Bradle, Clay Moyer, Levi Maruca, Ryan Fincher (Justin Jaime 90+1′), Spencer Burkhardt (Derek Ramirez 79′), Conor Bradley, Michael Gonzalez, Charles Wilson (Jacob Gosselin 40′), Troy Amspacher, Carter Burris (Samuel Brown 79′)
Manager: Blaise Santangelo
Yellow Cards
Kian Alberto, Motown 54'
Attendance: 176
Link to match broadcast (Subscription to ESPN+ required): https://www.espn.com/espnplus/player/_/id/e924f18e-60fe-4d88-bb0b-b3ceacfc91e9#bucketId=2