They say Virginia is for lovers. While that may be true, it is also for some pretty good football as well.
For decades, the region has played host to some of the top sides across the footballing spectrum. Perhaps no side displays that level of quality, persistence, and passion for developing top-level players than Northern Virginia FC (NoVa FC), who will face fellow Virginia side Lynchburg FC in the First Round of the 2022 Lamar Hunt US Open Cup on Wednesday (7:30 pm EST, YouTube).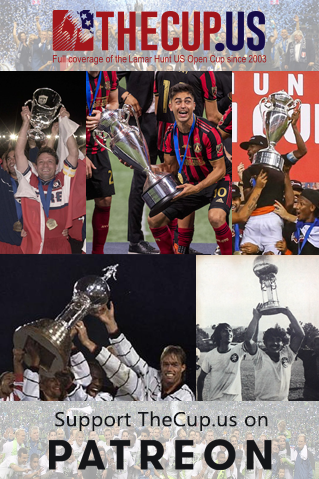 Now, those reading at home might be wondering Wait, didn't this match already happen? The answer to that question is sort of. The two sides squared off last Wednesday at Lynchburg Stadium. NoVa FC took the lead in the 16th minute thanks to a brilliant goal from KJ Nadeau. Lynchburg tied it up on a goal from Mitch Reed in the 41st minute, setting off potentially a very enticing second half.
Then … the rain and lightning happened. While the first band of lightning and downpour delayed just before halftime, the second stopped the match completely at around the 61st minute. According to the US Open Cup rules, since both sides were unable to complete the match within 48 hours of stoppage, the game is required to be played in full. In case one is wondering why two sides couldn't make up the match in that short of time: the distance between Lynchburg and Leesburg, where NoVa FC are based, is about a three hour drive with massive congestion along all major roads.
For NoVa FC head coach Kareem Sheta, the opportunity for a second chance at Lynchburg in better weather is worth it.
"Last Wednesday was the first time that we had ever played against Lynchburg so we are really taking this opportunity to learn from that game," said Sheta. "While we were obviously pleased with taking the early lead, they are a very talented side. So for us, and in particular for our younger players, this a great chance for them to learn and take what they saw and apply it to the next match in hopefully much better weather."
PHOTOS: Northern Virginia FC vs. Districtonia Futbol (2022 US Open Cup Qualifying)
As opposed to Lynchburg, who just started up in the Virginia area, NoVa FC have a long storied history within Virginia soccer. Since it's founding in 1998 under the name the Northern Virginia Royals, the side has been a family operation with Kareem's father being one of the original owners. His son, Kareem's brother, Ahmed still plays for the team and is the club's Director of Soccer.
Kareem's father, Mo, was in charge of the Royals team that last qualified for the US Open Cup as a pro team in 1999 and 2000. In both years, they lost their opening round game, falling to the PDL's Cocoa Expos 5-3 at RFK Stadium in their debut, followed by a 3-2 road loss to the Hampton Roads Mariners (A-League, Div. 2) in 2000.
Since 1999, the club has made a reputation of being one of the top sides in Virginia, winning multiple state and national titles.
After playing in the USL's D-3 Pro League (later known as the Pro Soccer League and the USL Second Division) from 1998-2005, the Royals joined the Premier Development League (now known as USL League Two) where they remain to this day. For a brief time between 2015 and 2020 the team rebranded into Evergreen FC before falling back to it's roots. That un-rebrand coincided with the club expanding into the then-newly created Eastern Premier Soccer League (EPSL), which is the league it qualified through for this year's US Open Cup. This past winter, they joined the third division of the Major Arena Soccer League and will be playing in the finals of that competition on Saturday at the Winchester SportsPlex. The club has a 60-player roster with a first and second team. They have also added a women's program with the side kicking off play in the inaugural season of the USL's re-launched W-League this May.
NoVa's EPSL team began their journey to the US Open Cup by entering the Open Division Local qualifying tournament. They began with a 2-0 home win over Springfield FC, followed by a 2-1 road victory over former league-mates Virginia United FC. NoVa qualified with a convincing 5-0 win over Districtonia Futbol, despite finishing the game with just nine players.
"As a club, we essentially made a decision to go year-round about three years ago. From 2007 to about 2019 we were just USL-2 team," said Kareem Sheta. "So we would just get guys to come out for the summer, play the USL-2 season, and then send them back to college and all of the local guys would just scatter and go play for their local teams. At a certain point, we made a decision to focus on the development of the local guys and so we put some resources in time into a group that can compete year-round. I think that has been the difference as to why we have done so well in USL 2. We have a core group of players that have played year-round consistently and I think that has made a big difference."
NoVa's core group of players is one that many in the region should be familiar with given their strong ties to both youth, college, and professional soccer. Nadeau, who scored the goal in the washed out game against Lynchburg, was the club's top scorer in qualifying, scoring four goals in three games. Nadeau played college soccer at Lenoir-Rhyne University. Goalkeeper Calle Brown was a standout in net for the University of Virginia before going on to play professionally for the Seattle Sounders and the Houston Dynamo. Midfielder Brandon Williamson (pictured) was a D.C. United Youth Academy product who went on to play college soccer at Duke University and later at Loudoun United (USL Championship). Midfielder Tyler Clegg is a redshirt senior at James Madison University, and is the younger brother of Brandon Clegg who, after a strong season with NoVa last year, signed a professional contract with the Maryland Bobcats FC.
The club also has two younger players that have broken through into the first roster that are primed to make a difference both in the Open Cup and in league play this year: forward JP Ayolmbong (who scored twice in the final round of qualifying) and Illiass Lagjhibi, an 18 year old that Sheta described as having "an endless motor."
2022 Meet the Underdogs: Lynchburg FC 
While winning the Open Cup is obviously a dream goal for Sheta and NoVa FC, winning the club's first-ever US Open Cup game and getting into the next round where they would host the Richmond Kickers (USL League One) would be another huge marker for the club. So too is providing greater opportunities for their players to play at the highest level. Last year, the club had four players move on to professional teams, an accomplishment the club takes a lot of pride in. The club is also looking forward as well to continuing their success in both the EPSL, which started play again this month, and the USL League Two season which starts in May.