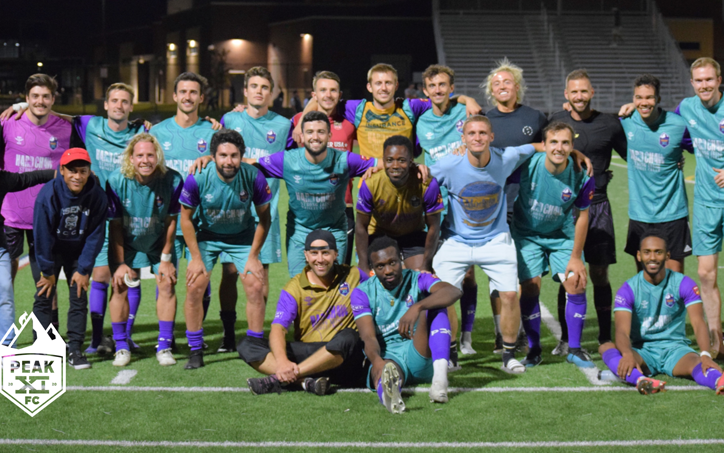 2022 Open Division Local Qualifying Schedule / Results
After missing their first two attempts in the penalty kick shootout, it appeared as though Peak Eleven FC were going to crash out of their opening game of the Local Open Division qualifying tournament for the 2022 Lamar Hunt US Open Cup. However, Peak Eleven (XI) converted their next four to win the shootout 4-3 and eliminate fellow Colorado Super League team FC Denver.
The shootout followed 120 minutes of scoreless soccer at Northfield High School in Denver. This was the first meeting in any competition between Peak Eleven and FC Denver. Both teams did compete for the 2021 National Amateur Cup earlier this year with Denver falling in the USASA Region IV First Round to fellow USOC Qualifier Harpos FC. Peak opened their tournament resume with a win over Guadalajara Denver before falling to eventual national finalist Cal FC in the regional semifinals.
Peak XI, which received a first round bye, now advances to the Third Round of the competition against an opponent that has yet to be determined. In an effort to minimize travel costs, the likely opponent will be another Colorado-based club. There are eight other Colorado-based clubs still remaining in the tournament. Two of them (Harpos FC vs. FC Union Jerez) will square off on Sept. 15, but the remaining games of the tournament will take place over the weekend of Sept. 18-19.
Peak XI FC keeper Joey Vella saves Max Mirner's second round penalty kick attempt during his team's 2022 US Open Cup Second Qualifying Round match against FC Denver. Video: Joey Vella
The first half was mostly one-sided, with FC Denver (FCD) controlling large stretches of the game. FCD, who has competed in the last five qualifying tournaments, and has punched their ticket to the US Open Cup twice (2018, 2019), had more quality chances, but failed to capitalize. Forward Cesar Castillo had two early chances during the opening stages as did Juan Torres who forced the Peak keeper into a save. Late in the half, Peak's offense picked up some momentum but not enough to break the deadlock.
In the second half, Peak continued to play a majority defense especially in the early minutes. However the visitors began to catch Denver off with spells of offensive control. These became more frequent as the half progressed but not enough to fully take command of the match. Both teams finished the second 45 with chances including Castillo going just wide in the 74th minute and both teams missing opportunities in stoppage time.
With regulation gone, the first US Open Cup qualifier in two years would need at least two extra time halves to determine a winner. While Denver riled it's home fans by pushing the offense right after the whistle, the match again became a tick-for-tack affair. Again Castillo, who has previously played for the United States national arena soccer team, and has five career US Open Cup goals, had one of the best chances to score a goal. His run down the right side met little resistance but after turning in there was no one to capitalize on his cross towards goal. After the second half saw more chances for both teams, including two Denver misses in the final three minutes, the game headed to penalty kicks.
Denver opened the shootout with Castillo finally finding the back of the net while Peak's Kevin Schulte had his attempt saved. After each team failed in Round 2, JoJo Schmidt (FCD) and Jakub Rys (PXI) scored. Then Alex Bernhardt scored to put FCD up 3-1 before Cornelius Henry brought Peak XI back to within one.
Denver's Brian Roddy stepped up to the spot with a chance to advance his team but his attempt went wide. Peak's Almoutaz Badawi scored to convert his fifth round attempt to force sudden death.
The Peak keeper Joey Vella made his second and most critical save against Denver's Alex Stephan next, allowing Frankie Veiga to step in and score the winning attempt for his team.
Peak Eleven FC managed to advance in their first qualifying game. For many members of the club, it's a reunion with the competition as some of them were part of the FC Boulder club that competed in three previous qualifying tournaments (2016, 2017, 2018) before merging with Harpos FC in 2019.
Penalty kick shootout
FCD: Cesar Castillo – GOAL
PXI: Kevin Schulte – SAVED
FCD: Max Mirner – SAVED
PXI: Malcolm Jeffris – MISSED (high)
FCD: JoJo Schmidt – GOAL
PXI: Jakub Rys – GOAL
FCD: Alex Bernhardt – GOAL
PXI: Cornelius Henry – GOAL
FCD: Brian Roddy – MISSED (wide)
PXI: Almoutaz Badawi – GOAL
FCD: Alex Stephan – SAVED
PXI: Frankie Veiga – GOAL
Peak XI FC players watch and celebrate as Frankie Veiga scores his sixth round, game-winning penalty kick against FC Denver during their 2022 US Open Cup Second Qualifying Round match. Video: Lucca Akiau (Instagram Story)
Michael Battista also contributed to this report