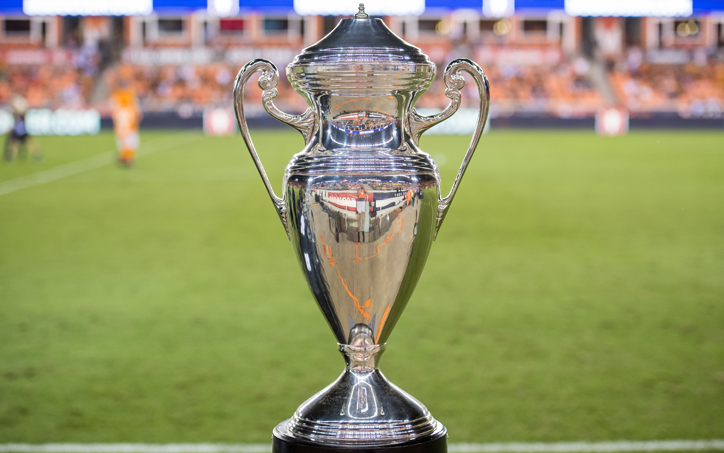 The teams in the Second Round of the 2019 Lamar Hunt US Open Cup now know who they could play in Round 3.
The United States Soccer Federation announced the potential pairings for the Third Round of the 106th edition of the tournament that will take place May 29. In Round 3, 22 winners of Round 2 will pair off in 11 matches.
The hosts for the First Round, and all future rounds, are determined by random selection. If both teams apply to host and both teams meet the federation's minimum venue standards, then the home team is decided by random draw.
The winners from Round 3 will advance to the Fourth Round which is scheduled to be played June 12. Major League Soccer teams will join the tournament in Round 4.
All games will be broadcast live on ESPN+ as part of the tournament's new media rights agreement.
#USOC2019 NEWS
2019 US Open Cup qualifying schedule/results
2019 US Open Cup Qualifying Round 1 game-by-game review
2019 US Open Cup Qualifying Round 2 game-by-game review
2019 US Open Cup Qualifying Round 3 game-by-game review
2019 US Open Cup Qualifying Final Round game-by-game review
Every US Open Cup game to stream on ESPN+ in multi-year media rights deal
Florida Soccer Soldiers qualify for first time after America SC withdraws
More pros, less amateurs, an extra sub in 2019 US Open Cup format
Chattanooga FC qualifies for 2019 US Open Cup, but opts out
Bavarian SC qualify for 2019 US Open Cup by winning Amateur Cup title
| | | | |
| --- | --- | --- | --- |
| Date | Game (home team listed first) | Time | Venue |
| May 29 | North Carolina FC (USLC) vs. Charlotte Independence (USLC)/Florida Soccer Soldiers (Fla.) winner | 7 p.m. ET | Koka Booth (Field 2) at WakeMed Soccer Park; Cary, N.C. |
| |   -or- | | |
| | Richmond Kickers (USLL1) vs. Charlotte Independence (USLC)/Florida Soccer Soldiers (Fla.) winner | 7 p.m. ET | City Stadium; Richmond, Va. |
| May 29 | Pittsburgh Riverhounds SC (USLC) vs. Indy Eleven (USLC)/Lansing Ignite FC (USLL1) winner | 7 p.m. ET | Highmark Stadium; Pittsburgh, Pa. |
| |   -or- | | |
| | Indy Eleven (USLC) vs. Dayton Dutch Lions (USLL2) | 7 p.m. ET | Sellick Bowl (Butler Univ.); Indianapolis, Ind. |
| |   -or- | | |
| | Dayton Dutch Lions (USLL2) vs. Lansing Ignite FC (USLL1) | 7 p.m. ET | DOC Stadium; West Carrollton, Ohio |
| May 29 | Louisville City FC (USLC) vs. Birmingham Legion FC (USLC)/West Chester United (Pa.) winner | 7 p.m. ET | Lynn Stadium (Univ. of Louisville); Louisville, Ky. |
| |   -or- | | |
| | Reading United AC (USLL2) vs. Birmingham Legion FC (USLC)/West Chester United (Pa.) winner | 7 p.m. ET | Gurski Stadium (Wilson H.S.); West Lawn, Pa. |
| May 29 | Saint Louis FC (USLC) vs. El Paso Locomotive FC (USLC)/Forward Madison FC (USLL1) winner | 7 p.m. CT | World Wide Technology Soccer Park; Fenton, Mo. |
| |   -or- | | |
| | Des Moines Menace (USLL2) vs. El Paso Locomotive FC (USLC)/Forward Madison FC (USLL1) winner | 7:30 p.m. CT | Drake Stadium; Des Moines, Iowa |
| May 29 | Nashville SC (USLC) vs. Greenville Triumph SC (USLL1)/Charleston Battery (USLC) winner | 7:30 p.m. CT | Dean A. Hayes Track & Soccer Stadium (Middle Tennessee State Univ.); Murfreesboro, Tenn. |
| |   -or- | | |
| | Greenville Triumph SC (USLL1) vs. South Georgia Tormenta FC 2 (USLL2) | 7 p.m. ET | Legacy Early College Field; Greenville, S.C. |
| |   -or- | | |
| | Charleston Battery (USLC) vs. South Georgia Tormenta FC 2 (USLL2) | 7:30 p.m. ET | MUSC Health Stadium; Charleston, S.C. |
| May 29 | Tampa Bay Rowdies (USLC) vs. NTX Rayados (Texas) | 7 p.m. ET | Al Lang Stadium; St. Petersburg, Fla. |
| |   -or- | | |
| | NTX Rayados (Texas) vs. The Villages SC (USLL2) | 7:30 p.m. CT | Mountain View Community College; Dallas, Texas |
| |   -or- | | |
| | OKC Energy FC (USLC) vs. Tampa Bay Rowdies (USLC)/The Villages SC (USLL2) winner | 7:30 p.m. CT | John Crain Field (Univ. of Oklahoma); Norman, Okla. |
| May 29 | Memphis 901 FC (USLC) vs. Hartford Athletic (USLC)/New York Cosmos B (NPSL) winner | 7 p.m. CT | Mike Rose Soccer Complex; Memphis, Tenn. |
| |   -or- | | |
| | New York Red Bulls U23 (USLL2) vs. Hartford Athletic (USLC)/New York Cosmos B (NPSL) winner | 7:30 p.m. ET | Montclair State University; Montclair, N.J. |
| May 29 | Tulsa Roughnecks (USLC) vs. San Antonio FC (USLC)/Laredo Heat SC (NPSL) winner | 7 p.m. CT | Case Soccer Complex (Oral Roberts Univ.); Tulsa, Okla. |
| |   -or- | | |
| | Austin Bold FC (USLC) vs. San Antonio FC (USLC)/Laredo Heat SC (NPSL) winner | 7:30 p.m. CT | Bold Stadium; Del Valle, Texas |
| May 29 | Phoenix Rising FC (USLC) vs. Colorado Springs Switchbacks FC (USLC)/FC Denver (Colo.) winner | 7:30 p.m. MST | Casino Arizona Field; Tempe, Ariz. |
| |   -or- | | |
| | Colorado Springs Switchbacks FC (USLC) vs. New Mexico United (USLC) | 7 p.m. MDT | Weidner Field; Colorado Springs, Colo. |
| |   -or- | | |
| | FC Denver (Colo.) vs. New Mexico United (USLC) | 7:30 p.m. MDT | TBD |
| May 29 | El Farolito (NPSL) vs. Sacramento Republic FC (USLC)/Reno 1868 FC (USLC) winner | 3 p.m. PT | Boxer Stadium; San Francisco, Calif. |
| |   -or- | | |
| | Sacramento Republic FC (USLC) vs. Fresno FC (USLC) | 7:30 p.m. PT | Papa Murphy's Park; Sacramento, Calif. |
| |   -or- | | |
| | Reno 1868 FC (USLC) vs. Fresno FC (USLC) | 7:30 p.m. PT | Greater Nevada Field; Reno, Nev. |
| May 29 | Las Vegas Lights FC (USLC) vs. Orange County SC (USLC)/Orange County FC (NPSL) winner | 7:30 p.m. PT | Cashman Field; Las Vegas, Nev. |
| |   -or- | | |
| | Orange County SC (USLC) vs. Cal FC (Calif.) | 7:30 p.m. PT | Orange County Great Park – Championship Soccer Stadium; Irvine, Calif. |
| |   -or- | | |
| | Orange County FC (NPSL) vs. Cal FC (Calif.) | 7:30 p.m. PT | L.A. Harbor College; Wilmington, Calif. |
Second Round – May 14-15
Northeast Region
| | | | |
| --- | --- | --- | --- |
| Date | Game (home team listed first) | Time | Venue |
| May 14 | Pittsburgh Riverhounds SC (USLC) vs. Dayton Dutch Lions (USLL2) | 7 p.m. ET | Highmark Stadium; Pittsburgh, Pa. |
| May 14 | Hartford Athletic (USLC) vs. New York Cosmos B (NPSL) | 7:30 p.m. ET | Al-Marzook Field (Univ. of Hartford); Hartford, Conn. |
| May 15 | Indy Eleven (USLC) vs. Lansing Ignite FC (USLL1) | 7 p.m. ET | Sellick Bowl (Butler Univ.); Indianapolis, Ind. |
| May 15 | North Carolina FC (USLC) vs. Richmond Kickers (USLL1) | 7 p.m. ET | Sahlen's Stadium at WakeMed Soccer Park; Cary, N.C. |
| May 15 | Louisville City FC (USLC) vs. Reading United AC (USLL2) | 7 p.m. ET | Lynn Stadium (Univ. of Louisville); Louisville, Ky. |
| May 15 | Memphis 901 FC (USLC) vs. New York Red Bulls U23 (USLL2) | 7 p.m. CT | AutoZone Park; Memphis, Tenn. |
| May 15 | Birmingham Legion FC (USLC) vs. West Chester United (Pa.) | 7 p.m. CT | BBVA Compass Field; Birmingham, Ala. |
Southeast Region
| | | | |
| --- | --- | --- | --- |
| Date | Game (home team listed first) | Time | Venue |
| May 14 | Charlotte Independence (USLC) vs. Florida Soccer Soldiers (Fla.) | 7 p.m. ET | Mecklenburg County Sportsplex; Matthews, N.C. |
| May 14 | Tampa Bay Rowdies (USLC) vs. The Villages SC (USLL2) | 7 p.m. ET | Al Lang Stadium; St. Petersburg, Fla. |
| May 14 | Nashville SC (USLC) vs. South Georgia Tormenta FC 2 (USLL2) | 7:30 p.m. CT | Dean A. Hayes Track & Soccer Stadium (Middle Tennessee State Univ.); Murfreesboro, Tenn. |
| May 15 | Greenville Triumph SC (USLL1) vs. Charleston Battery (USLC) | 7 p.m. ET | Legacy Early College Field; Greenville, S.C. |
Central Region
| | | | |
| --- | --- | --- | --- |
| Date | Game (home team listed first) | Time | Venue |
| May 14 | OKC Energy FC (USLC) vs. NTX Rayados (Texas) | 7:30 p.m. CT | John Crain Field (Univ. of Oklahoma); Norman, Okla. |
| May 14 | Austin Bold FC (USLC) vs. Tulsa Roughnecks (USLC) | 7:30 p.m. CT | Bold Stadium; Del Valle, Texas |
| May 14 | San Antonio FC (USLC) vs. Laredo Heat SC (NPSL) | 7:30 p.m. CT | Toyota Field; San Antonio, Texas |
| May 15 | Des Moines Menace (USLL2) vs. Saint Louis FC (USLC) | 7:30 p.m. CT | Cownie Soccer Park; Des Moines, Iowa |
| May 15 | Colorado Springs Switchbacks FC (USLC) vs. FC Denver (Colo.) | 7 p.m. MDT | Weidner Field; Colorado Springs, Colo. |
| May 15 | El Paso Locomotive FC (USLC) vs. Forward Madison FC (USLL1) | 7 p.m. MDT | Southwest University Ballpark; El Paso, Texas |
| May 15 | Phoenix Rising FC (USLC) vs. New Mexico United (USLC) | 7:30 p.m. MST | Casino Arizona Field; Tempe, Ariz. |
West Region
| | | | |
| --- | --- | --- | --- |
| Date | Game (home team listed first) | Time | Venue |
| May 14 | Las Vegas Lights FC (USLC) vs. Cal FC (Calif.) | 7:30 p.m. PT | Cashman Field; Las Vegas, Nev. |
| May 15 | El Farolito (NPSL) vs. Fresno FC (USLC) | 2:30 p.m. PT | Boxer Stadium; San Francisco, Calif. |
| May 15 | Sacramento Republic FC (USLC) vs. Reno 1868 FC (USLC) | 7:30 p.m. PT | Papa Murphy's Park; Sacramento, Calif. |
| May 15 | Orange County SC (USLC) vs. Orange County FC (NPSL) | 7:30 p.m. PT | Orange County Great Park – Championship Soccer Stadium; Irvine, Calif. |
Fourth Round Draw – May 30
Fourth Round – June 11-12*
Round of 16 Draw – June 13
Round of 16 – June 19* (also June 18-23 if home team chooses and visiting team has at least three non-game days on each side of chosen date, with any overlap of U.S. MNT Gold Cup games on June 18 and June 22 disallowed)
Quarterfinals – July 10*
Semifinals – August 7*
Final – August 27 or 28