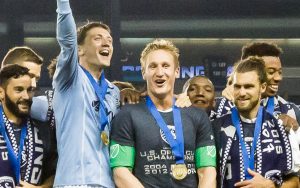 Sporting Kansas City goalkeeper Tim Melia has been named the TheCup.us Player of the Round for his performance in his club's 2-1 victory over the New York Red Bulls in Wednesday's Lamar Hunt US Open Cup Final.
Melia's six saves helped Sporting KC lift its third Open Cup trophy in the last six years and fourth overall. For Melia, this is the second time he has won the award, the first was for his performance in the 2015 Final in helping Kansas City win the club's third title.
A close second in the voting was midfielder Roger Espinoza. Midfielder Benny Feilhaber (assisted Daniel Salloi's game-winner), defender Graham Zusi (assisted on the first goal) and forward Latif Blessing (scored the first goal) also received solid support.
The award was voted on by the staff of TheCup.us and a select panel from the North American Soccer Reporters.
In the locker room after the game, captain Matt Besler talked about Melia's importance to the club.
"He's been a rock all year long," Besler said. "We have had to lean on him for so many games. Tonight was another game we had to lean on him. He is a confident presence back there for us. I'm just very happy for him because he deserves all the credit he is going to get and I just hope he can continue winning championships for us. I hope I can continue playing with him behind me."
The first time the club leaned on Melia in the final came in the 14th minute. After Melia went down to stop a Kemar Lawrence shot that ended up getting blocked by Ike Opara, he had to get right back up for a stop to his left on Sacha Kljestan.
Melia's other big save came in the first minute of the second half. Fidel Escobar played a long ball across the pitch to Alex Muyl from left to right, and Muyl headed it toward Bradley Wright-Phillips. Wright-Phillips then chested it down to volley it with his right foot, but Melia went down to his left to punch it away.
In fact, the only mistake Melia made came just as the match went into second-half stoppage time. After Gonzalo Veron took a shot just outside the penalty area, Melia went down to his right to stop it. He made the save, but allowed a rebound, which Wright-Phillips pounced on for New York's only tally of the contest.
While Melia is arguably one of the best goalkeepers in MLS, it took him a long time to get there. His first taste of the Open Cup USOC came in 2007, while playing for the Long Island Rough Riders of the PDL. His side, which included current Red Bulls midfielder Mike Grella and MLS veteran (and former Red Bulls defender) Steve Jolley, fell 1-0 to the Rochester Rhinos that day.
The following season, Melia joined the Rhinos and began his professional career. In the two years he played for Rochester, Melia appeared in three USOC matches (1-1-1) with 13 saves and a 1.10 goals against average en route to the 2009 semifinals.
After Rochester, Melia found his way to Real Salt Lake as a backup for Nick Rimando. RSL loaned Melia to the Charleston Battery, where he again played well in the USOC. He made eight saves to shut out the Chicago Fire and saw the Battery through to the quarterfinal round. That 3-0 loss to the Columbus Crew is the last time Melia lost an Open Cup match.
After the 2011 season, Melia joined Chivas USA, where he served as a backup to Dan Kennedy. In two and a half seasons with Chivas, Melia made three starts in the Open Cup, helping the Rojiblancos to the 2012 semifinals.
In the second half of 2014, Melia served as an MLS pool goalkeeper. He earned emergency call-ups to playoff participants Sporting KC (August), FC Dallas (October), and D.C. United (November). He appeared on the bench for three MLS matches at then-Sporting Park and made a Champions League road trip to a match in Nicaragua.
Since signing with Sporting KC to begin 2015, Melia has lifted the US Open Cup trophy twice (2015, 2017) and extended his own unbeaten run in the competition. Since that quarterfinal loss to Columbus in 2010, Melia is 11-0-2 (2-0 in PKs). In his career, he is 13-3-4 (4-0 in PKs).
Melia also joined former club goalkeepers Tony Meola and Jimmy Nielsen as having won two major trophies with the club. After the match, he was asked why he doesn't like talking about that yet.
"I still consider myself young enough in the goalkeeper world and I hope I'm here for a very long time," Melia said. "I have a lot of years to play still and I'll think about that when I'm starting to get ready to stop playing."