Bradley Wright-Phillips has constructed a long list of accolades in his four-plus years with the New York Red Bulls, and the Englishman's latest achievement has his side on the brink of their first Lamar Hunt U.S. Open Cup title in franchise history.
The Red Bulls knocked off FC Cincinnati in a thrilling 3-2 comeback win at Nippert Stadium courtesy of Wright-Phillips' brace. Both finishes came after the 75th minute off of headers, with the winner occurring in the first half of extra time.
His performance against Cincinnati earned him a unanimous winner of TheCup.us Player of the Round award. Wright-Phillips received every first-place vote after his two-goal performance propelled the Red Bulls into their second-ever Open Cup final — their first since 2003. He beat out Sporting Kansas City goalkeeper Tim Melia for the honor. Melia helped Kansas City reach the championship game for the fourth time after a strong performance, including a 5-4 win in a penalty kick shootout (after a 1-1 draw). The award is voted on by the staff at TheCup.us and a select panel from the North American Soccer Reporters.
"It's been a very long time," said Wright-Phillips, the first Red Bulls player in franchise history to win the award. "I read things all the time that Red Bulls don't win trophies or even some of the fans were saying we were going to choke when we get to the Semifinals. It's good to get over this hurdle here and prove to people that we're learning and we're getting better."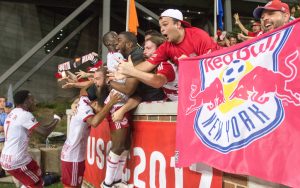 The Red Bulls have never won a tournament and have a history of underachieving in the Open Cup, aside from their run to the 2003 Final where they lost 1-0 to the Chicago Fire in front of their home fans at Giants Stadium. They have the unfortunate distinction of going nine consecutive tournaments (2004-15) without advancing more than one game (second-longest streak in Modern Era). They have been eliminated by a lower division team eight times, the second-most among all MLS teams (Colorado Rapids – 9).
Wright-Phillips and the Red Bulls have been a perennial MLS playoff team since the striker joined the club in 2013, and prior to that, however, when it has come down to the big moments the Harrison-based club has fallen short. Despite winning the Eastern Conference on four occasions since 2010, the Red Bulls haven't reached an MLS Cup since two years prior.
"We're all confident in this team and what we can accomplish," Wright-Phillips said ahead of the Sept. 20 final. "Most of us have been together for several years now, and we know what we're capable of. We're facing a very talented team, but that doesn't stop our expectations of winning this tournament."
The 32-year-old has amassed 94 goals in all competitions for the Red Bulls since joining the club, and while he's had his share of hat tricks, MLS Golden Boot awards and other memorable moments, helping his club reach the tournament finale is among his greatest achievements.
Since head coach Jesse Marsch took over with the Red Bulls, the former MLS player has made it a habit of taking the Open Cup seriously, and Wright-Phillips believes it's his manager that has really helped him rise to another level.
"I've learned to try and take the chances I get. I used to squander a lot," Wright-Phillips said. "I think I squandered a couple, not easy chances, but I should've gotten them on target. Jesse, since he's been here has challenged me to be the guy that if you get one chance, score it and if you get three chances, score them all. I'm still working on it. It's a player I'm trying to transform into."
The Red Bulls will meet three-time Open Cup winners Sporting Kansas City in the 104th US Open Cup championship game on Sept. 20 at Children's Mercy Park in Kansas City. The match will be televised nationally on ESPN2 and ESPN Deportes. While Wright-Phillips and Red Bulls will enter the match wearing the underdog label, the striker remains confident in his side's chances.
2017 TheCup.us Player of the Round winners
Round 1: Pete Caringi III (Christos FC, USASA)
Round 2: Phil Saunders (Christos FC, USASA)
Round 3: Fabian Cerda (Tulsa Roughnecks, USL)
Round 4: Stefano Pinho (Miami FC, NASL)
Round 5: Mitch Hildebrandt (FC Cincinnati, USL)
Quarterfinals: Djiby Fall (FC Cincinnati, USL)
Semifinals: Bradley Wright-Phillips (New York Red Bulls, MLS)
HIGHLIGHTS: New York Red Bulls 3, FC Cincinnati 2 (AET)