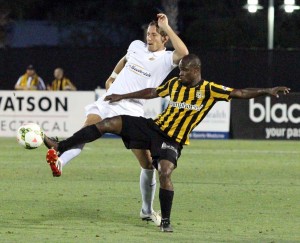 Charleston Battery winger Dane Kelly earned TheCup.us Player of the Round honors for the Lamar Hunt US Open Cup Third Round thanks, in part, to his 80th minute goal to complete a 3-2 comeback win against North American Soccer League (NASL) side Fort Lauderdale Strikers. Kelly also supplied a clinical cross to teammate Zach Prince for the equalizer just three minutes earlier.
The goal helped him earn another honor as he scored in his fifth consecutive Open Cup, which ties the Modern Era (1995-present) record currently held by JT Noone and Kelly's former Battery teammate Nicki Paterson.
The award is voted on by TheCup.us staff and a select panel from the North American Soccer Reporters.
"For me, I think it's the best game I've had for this year so far.", Kelly said afterwards.
Although he does have four goals in his first 11 USL league games, it might be hard to argue with his assessment. Kelly's speed gave Fort Lauderdale fits all night, especially on counterattacks later in the second half as fatigue began to set in on both sides.
"I have to say the game really picked up in the last 25 minutes when Prince and (Dante) Marini were introduced in the game," said Kelly. "They bring a lot of energy to the game."
It wasn't easy for Kelly to take home the award though. His Jamaican countryman, Asani Samuels, came within just a few votes of overtaking him. Samuels came off the bench just before the end of regulation and scored twice and assisted on a third goal in extra time in the Rochester Rhinos' 3-1 victory over Harrisburg City Islanders. Third place in the voting went to Sacramento Republic's Abnan Jebelnic, who scored a hat trick in his team's 7-3 demolition of amateur side Chula Vista FC.
The goal was Kelly's sixth career Open Cup goal, which leaves him just one shy of the Charleston team record held by Paul Conway. His next chance to catch Conway will come on June 17 when Charleston hosts Major League Soccer (MLS) newcomers Orlando City at Blackbaud Stadium.
Kelly becomes the third Battery player to win the award. The last was goalkeeper Tim Melia in 2010 when he shut out the Chicago Fire and won a penalty kick shootout. The first was in 2009 when Randi Patterson scored a pair of goals in a 3-1 upset of Major League Soccer's Chivas USA. He is just the second Jamaican player to win the award, joining last year's Round 4 winner DeShorn Brown of the Colorado Rapids.
Highlights: Fort Lauderdale Strikers at Charleston Battery

Full match replay: Fort Lauderdale Strikers at Charleston Battery