Lamar Hunt US Open Cup debutants Harpo's FC celebrated their first tournament berth with a Preliminary Round win over the Kansas City Athletics by a score of 2-0. Second half goals from midfielder Dan Campbell and forward Shane Wheeler pushed the home team to victory in front of a small crowd at one of the practice fields at Dick's Sporting Goods, home of the Colorado Rapids.
The Boulder, Colo.-based USSSA squad will now travel to Utah to face the BYU Cougars (PDL) in the First Round on May 13. It will be just the third matchup between the state of Colorado and Utah in the tournament's modern era (1995-present).
The first half was a cagey midfield battle between the familiar foes. The two teams had met twice in last month's USSSA Open Cup qualifying tournament with Harpo's winning 4-1 in the group stage and the Athletics winning in the USSSA Final.
"Both sides wanted to attack, so it turned into a bit a chess match in the first half," said Harpo's FC owner and head coach Johnny Freeston. "Both teams had their chances."
Kansas City's fullbacks Oran Andrew and Skelly Kellar, along with former Colorado Rapid & Denver native Steven Emory provided the visitors with some of their best opportunities in the first half. None the less, neither Andrew's long throw-ins, Kellar's marauding left-sided runs nor Emory's consistent midfield passing were able to find forward Bryan Williams in the Harpo's penalty box.
In the second half, the home team took control of the game producing more sustained possession and composed attempts on net. The deadlock was broken in the 50th minute when a Harpo's forward got a hold of a loose ball and calmly dropped it into the bottom right hand corner of Kansas City's net. The goal energized the small but lively contingent of Harpo's FC fans and families as well as the eleven players on the field. After the goal, Harpo's FC had a number of quality shots on net from forward Shane Wheeler and midfielder Edgar Olivas.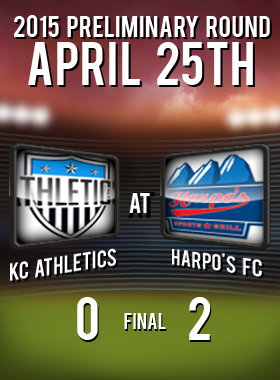 In an effort to retake control of the game, player-coach Kyle Perkins took matters into his own hands and entered the game in the 60th minute. Perkins, who has scored a goal in each of the Athletics' last two Open Cup runs, reenergized the KC attack expanding the field of play. The Athletics' high line and eagerness to attack eventually provided opportunities for Harpo's forward Shane Wheeler to repeatedly test the KC back line on the counter attack.
After multiple quality attempts, Shane Wheeler got his goal in the 70th minute after pushing KC's high line at the back all game. Moments after shooting a 20-yard free kick inches over the crossbar, Wheeler broke through the KC backline and found himself one-on-one with goalkeeper Steve Grow.
"I knew what I was going up against," said Wheeler about his familiarity with the Athletics having played against them recently. "I wanted to give them a hard time and I knew I would get my chance, and when I got it, I took a deep breath, took the goalie on, duked him and I knew it was in."
In the closing 20 minutes, Kansas City's final attempts were handled by fullback Sawyer Frank and goalkeeper Zac Gibbens. After the game, KC right back Oran Andrews denied that neither the altitude nor travel were an issue in their performance.
"It was (Harpo's FC's) cohesion," said Andrews. "You could tell they have played together for a while … it was a pretty even game. We made a couple mistakes and they were able to capitalize."
After the match, beers in hand, the players, fans and families celebrated true to their beer league roots.
"We take this seriously," said Freeston. "Everyone wants to win but at the end of the day, we are all best friends … it was great for everyone, I am really proud of the guys and I couldn't have asked for anything more."
Harpo's FC returns to Colorado Amateur Soccer League play the next day, and they don't want to overlook a league game, but a May 13 tie with the PDL's BYU Cougars is certainly on their mind.
"We are going to train hard and come out for the next game," said Wheeler.
"Since the draw came out, our goal has always been to get to (a second round matchup with) Colorado Springs (Switchbacks – USL) and face the Switchbacks in their stadium, but until then it's one game at a time – now Utah," said Freeston.
Robert L. Wilson covers Colorado-based US Open Cup games for TheCup.us and occasionally contributes to DenverUrbanism.com because he loves everything Colorado. He can be reached on twitter at RLW2020
Highlights: KC Athletics vs. Harpo's FC
Harpo's2, KCA 0 Prelim Open Cup from Patrick Shea on Vimeo.