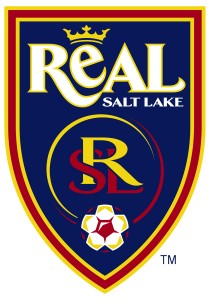 On a rainy, gloomy day at Rio Tinto Stadium, it appeared Real Salt Lake would avoid a repeat of last year's upset loss to Minnesota with a 1-0 lead only to see the visiting Atlanta Silverbacks tally a late equalizer to send the contest to overtime where the MLS side would eventually prevail 3-2 to move onto the Fourth Round.
The game started off quickly with a clear RSL chance in the second minute.  The Silverbacks back line had trouble clearing the ball and it came to wide-open Robbie Findley in front of goal, forcing Silverbacks keeper Joe Nasco to make a brilliant save that forced a corner.
On the resulting corner, Real Salt Lake took the early lead when an unmarked Kyle Beckerman finished at the near post.  Javier Morales was credited with the assist.
After that early goal, the game slowed down a bit in the wet and rainy conditions.  When there were chances, Real Salt Lake's were the most threatening.   Nasco made many quality saves to keep the underdogs in the match.
After a few great chances in the second half for Real Salt Lake were saved by Nasco, Atlanta turned on the pressure.  For about 25 minutes, the Silverbacks were the team with the majority of the ball and chances.  Still, with minutes left, the Silverbacks were looking for the equalizer.
That equalizer came in the 86th minute on a fast counter.  Danny Barrera had the ball in midfield and slotted a gorgeous through ball to Ruben Luna on the wing.  Luna found Kellen Gulley who chipped the ball over the stranded keeper for a nice goal that would force extra time.
As extra time began, both teams were showing signs of fatigue and frustration.  Real Salt Lake scored in the 98th minute when Devon Sandoval scored on a dangerous cross through the box.  Minutes later, Real Salt Lake would add another goal for insurance with an absolute rocket from Khari Stevenson from over 25 yards out.  With the score now 3-1 in favor of Real Salt Lake, the Silverbacks were scrambling to get back into the game.
Atlanta looked to have a miracle of a chance when they scored in the 121st minute when Pablo Cruz made a nice finish in the box, but that wound up being the last kick of the game.  With the 3-2 victory, Real Salt Lake will host the Charleston Battery of USL Pro in the Fourth Round of the US Open Cup on June 12.
RSL: Kyle Beckerman 3
ATL: Kellen Gulley 86
RSL: Devon Sandoval 98
RSL: Khari Stephenson 101
ATL: Pablo Cruz 121
Discipline
RSL: Yordany Alvarez (caution) 4
ATL: Daniel Barrera (caution) 44
ATL: Milton Blanco (caution) 65
RSL: Javier Morales (caution) 68
ATL: Borfor Carr (caution) 80
RSL: Ned Grabavoy (caution) 117