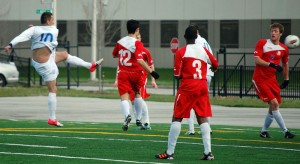 USASA Region II submitted their two teams into the 100th edition of the Lamar Hunt US Open Cup with two semifinal matches on Sunday, April 21. RWB Adria are back in the Open Cup for the fourth time in the Modern Pro Era with a 2-1 extra time victory over FC Indiana. The Chicago-based club got a stunning game-winning goal from Semir Mesanovic in the 110th minute to clinch a spot in the tournament for the first time since 2008. The two-time national semifinalists (1978, 1991), will begin play in Round 1 on May 14.

So will the KC Athletics, as their player-manager Kyle Perkins came off the bench to score a 90th minute game-winner to break a scoreless deadlock against Michigan's Dearborn Stars. The Athletics are back in the Open Cup for the second year in a row, and the third time in the last four years. However, a protest was filed by the Dearborn Stars prior to the match kicking off, so the result is currently under review.

RWB Adria (IL) 2:1 (AET) FC Indiana (IN)
Kroc Center (Chicago, IL)

By Scott Fenwick (OnTheFire.com)

After his first goal on a penalty kick in the 13th minute that put his team up 1-0 on the FC Indiana Lions, RWB Adria midfielder Semir Mesanovic never would have thought his next one would come in the 20th minute – of extra time. But come it did, as a valiant, gritty Lions defense finally broke in the face of a relentless Adria attack that couldn't finish an astounding number of scoring chances on the afternoon.
With a one-time volley off teammate Vlad Baciu's hard-fought header,Mesanovic ripped a shot from inside penalty area past Lions goalkeeper Nick Barber, and sent his storied club back to the US Open Cup for the first time since 2008 with a 2-1 victory at the Kroc Center on Chicago's south side.
Before the match, Lions' head coach Eric Castro lauded Adria, but hinted his game plan, if executed, would give his squad a fighting chance.
"They have a talented, experienced team," said Castro. "Our strength is being organized. If we stay organized, we can probably stay with these guys."
And stay with them they did.
Surprisingly, Castro employed an unorthodox, defensive 2-4-4 to limit long balls to Adria's wings and forwards. For the better part of 110 minutes, the tactic worked. FC Indiana stayed compact, withstood a barrage of shots on goal, and frustrated the veteran Chicago side long enough to give themselves a fighting chance at a win.
In particular, the Lions' wingbacks, Robert Kiernan and Stuart Mitchell, stood out on the defensive side of the ball. The Irish duo worked hard all afternoon up and down the flanks to disrupt Adria's attack and keep them honest in defense.
But the Lions generated only one scoring chance as time wound down during the first half. Otherwise, Adria snuffed out their counterattacks without much trouble.
Adria dominated possession during the first 45 minutes and spent most of it parked in the Lions' half of the pitch. Nonetheless, aside from the penalty kick awarded by referee Marc Lawrence in the 13th minute, the Chicago side couldn't finish a number of good scoring chances. Adria forwards Vlad Baciu and Taylor Bond were harassed by a spirited Lions' defense and had no answers for 'keeper Nick Barber.
Barber would continue his excellent play in the second half, keeping his squad in the match with save after save as Adria's forwards managed to break through and get behind the Lions defense. His squad, only down a goal, Barber hung tough in the face of countless Adria corners, direct free kicks, and crosses, and inspired the men in front of him to keep working hard.
As time wound down, the match opened up a bit, and the Lions caught a gassed Adria on the counterattack with an 81st minute equalizer from center forward Alex Sangsuwangul, assisted by his counterpart on the right, Kevin Amazio.
Adria continued to press during the last ten minutes of regulation time, but the organized, determined Lions defense again held firm.
Extra time was marked by more of the same. Adria created chance after chance, and the Lions bent, but did not break. As the minutes ticked up, incredulously, it seemed the match was destined to go to penalty kicks. But then the dam broke. Barber had no chance to save Mesanovic's laser beam winner as Adria qualified for the Open Cup for the fourth time (1996, 2007, 2008, 2013) in the Modern Pro Era.

——————

Quote Sheet

FC Indiana head coach Eric Castro

On the match and his squad's effort: "We battled hard. We made a couple mistakes with the goals that happened. You can't make mistakes experienced teams. Our guys are young. is well-equipped. They're experienced beyond belief. Not too many people give us chances, but our guys fight. We won't give up against anybody."

"It was a team effort today. That's all I ask for from my guys. Everybody's working together. There are no individuals on this team."

RWB Adria manager Ante Loncar

"I didn't think it would be such a low-scoring game. To their credit, they played good defense. They surprised me a little. Down 1-0, they stuck with the game plan to defend the whole time. I thought they might try to open up a little bit. But to their credit, they got a goal. They put some life back in their side after that, but then we hit a nice goal in overtime. Then they opened up a little, but at that point there were only about ten minutes left. They defended really well. I give them credit for that."

On advancing to the 100th Lamar Hunt U.S. Open Cup: "It feels good, but we'll have some anxiety until the draw. I think all USASA sides will be matched up against in the first round, which will be helpful."

"We need to work on our fitness and get our numbers . We've got a couple injuries, and other commitments, but we have to work on fitness."

RWB Adria midfielder Igor Stijepic

On going into extra time: "We didn't expect it, but I think we played better than them and we tried to score."

On the match overall: "It's tough to play with this weather. The competition was good. But we all give 100% for this team. It was good. We won."

On advancing to the100th Lamar Hunt U.S. Open Cup: "We feel great. The guys are excited. We're looking forward to it."

RWB Adria midfielder Semir Mesanovic

On his game-winning goal in extra time: "I just got a nice bounce, took a clean shot, and hit it."

On Adria not putting away scoring chances during regulation: " not our best game. But we're glad we're through to the next round and we'll see if the next game will prove to be better. We were sloppy today."
On preparation for the US Open Cup: "Fitness. We'll try to get some practice in. Today showed a little bit. Hopefully, we can fix that."

2013 USASA Region II semifinals
RWB Adria (IL) 2:1 (AET) FC Indiana (IN)
Kroc Center – Chicago, IL
Scoring Summary
RWB: Semir Mesanovic (PK) – 13th min.
IND: Alex Sangsuwangul (Kevin Amazio) – 81st min.
RWB: Semir Mesanovic – (Vlad Baciu) – 110th min.

Booking Summary
IND: Kevin Amazio (Y) – 72nd min.
IND: Patrick Kelly (Y) – 118th min.

Lineups

RWB Adria: Igor Dimov (GK), Piotr Kolasinski, Charlie Trout, Aaron Nichols, Johnny Morris, Mladen Bajamic, Admir Ljeljak, Semir Mesanovic, Igor Stijepic, Vlad Baciu, Taylor Bond (Derek Huffman 74th)

FC Indiana:  Nick Barber (GK), Ricardo Ruiz, Patrick Kelly, Stuart Mitchell, Robert Kiernan, Kevin Issac, Phil Gase, Kevin Amazio, Jeff Gorman, Victor Martinez, Alex Sangsuwangul (TJ Oliveres 113th)

Attendance: 50 (Approx.)


KC Athletics (KS) 1:0 Dearborn Stars (MI)
Olathe North (Olathe, KS)

By Anders Aarhus (@sportsviking)

As a player-coach, subbing yourself on is a gutsy move, but Kyle Perkins is glad he did.
Perkins' 90th minute goal gave his KC Athletics a 1-0 win over the Dearborn Stars, clinching the team a spot in the US Open Cup for the second year in a row and the third time in four years.
"I always plan to come on," said Perkins. "I just try to make as much of an impact as I can."
With the score tied 0-0 and extra time and penalties looming, the Athletics forced a turnover thirty yards from goal. Left-winger Peter Kariotis picked up the ball, surged forward into space and played a pass in behind the Dearborn backline to release Perkins in on net. With the keeper rushing out, Perkins kept his composure and hit a simple chip to break the deadlock.
"We got a ball to Pete and I saw the through run, he saw it and slotted it in," said Perkins. " keeper was coming out low. I just flipped it over him and scored."
It was a thrilling culmination to a match that saw plenty of action.
Dearborn came out looking hungry and nearly took the lead after just 10 minutes of play. A corner kick to the back post was headed down by Daniel Vitu and cleared off the line by KC, resulting in another corner. On the ensuing set piece, the Stars hit the bar with a header and had a follow-up shot cleared off the line.
"We had numerous opportunities, especially early on in the game," said Stars head coach Mo Hijazi. "Vitu just couldn't find the back of the net. That would have changed the game, I believe. It really would have."
The Stars finished the game with five shots on goal and nine shots overall, but couldn't find a way to beat KC 'keeper Steven Grow, whose best save came on the stroke of halftime. A cross from the right flank found a Dearborn player unmarked in the KC penalty area, but Grow made an acrobatic stop to keep the game scoreless.
"It's a difficult job sometimes," said Grow. "You don't get a lot of action but when you do you have to really step up and keep your head in the game. All credit to the team. I made a couple stops, but they kept the ball, kept hounding at them all 90 minutes."
The Athletics' best first-half chance came in the 17th minute when forward Michael Ferguson chased down a long goal kick from Grow and managed to get a shot off that was saved by Dearborn 'keeper Vito Lonigro.
At the break, it was Dearborn holding the advantage in possession and shots thanks to a three-man midfield that overwhelmed KC's 4-4-2. To start the second half, Perkins changed to a 4-3-3 and the results were immediate as the Athletics controlled the opening 10 minutes of the period.
Despite the good start to the half from KC, Dearborn had another golden opportunity to go ahead in the 51st minute. Former Michigan state standout Cyrus Saydee beat the offside trap and was in alone on goal, but Grow narrowed the angle and did just enough, forcing the forward to screw his shot wide of the post. It was Saydee with another chance in the 65th minute, as he cut inside two KC defenders and shot from the top of the arc only to see his effort parried by Grow.
From there the game really opened up as both teams threw players forward in search of a winner. Perkins subbed on in the 62nd minute and his movement and one-touch passing helped create some good opportunities for the Athletics. In the 80th minute, KC left back John Mackey made a nice overlapping run and was played into the box by Kariotis, but Lonigro saved his point-blank shot.
It was the best chance for either team until Perkins' dramatic winner.
"I felt like we dominated most of the play," said Hijazi. "I didn't count them, but I thought had one shot on goal, maybe two. The field size was a little more conducive to their play."
The field size was the subject of some controversy before the game when officials determined the width of the pitch to be 62 yards, three yards shorter than the minimum of 65 required for USASA National Cup play.
"I do. I think so," said Hijazi when asked if he thought the narrow field affected his team. "We're a technical team. With it being so congested I thought it played to their strengths, more of the tackling aspect of the game."
Prior to the game, the Dearborn Stars filed a protest based on the field size. Match commissioner Rich Kaminsky said he thought the game might have to be replayed if the Stars' protest is upheld.
For now, the Athletics head into the Region 2 final against RWB Adria knowing they've already secured a place in the Open Cup.
"It's our goal to get to the Open Cup," said Perkins. "Three out of four years is not too bad for our first four years as a club. We're excited and ready to go back out and start training a little harder so when we do come up against the PDL, USL maybe MLS teams if we go far enough, we'll be in a little better shape than we have been the past two games."
2013 USASA Region II semifinals
KC Athletics (KS) 1:0 Dearborn Stars (MI)
Olathe North – Olathe, KS
Scoring Summary
KCA: Kyle Perkins – 90th min.
Booking Summary
KCA: Matt Kuhn (Y) – 13th min.
DEA: Hamoody Saad – 30th min.
DEA: Nik Djokic (Y) – 42nd min.
DEA: Unknown (Y) – 54th min.
DEA: Unknown (Y) – 77th min.
KCA: John Mackey (Y) – 85th min.
Game Stats
Dearborn
Shots: 9 | SOG: 5 | Fouls: 8 | Cards: 4 (all yellow)
Kansas City
Shots: 9 | SOG: 3 | Fouls: 8 | Cards: 2 (both yellow)
Attendance: 50 (Approx.)
USASA REGION II OPEN CUP TOURNAMENT
First round (Saturday, April 6)
FC Indiana (IN) 1:3 KC Athletics (KS)
Croatian Eagles (WI) 0:2 RWB Adria (IL)
Cincy Saints (OH-South) 0:5 Dearborn Stars (MI) – RECAP
Semifinals (Sunday, April 21)
FC Indiana (IN) 1:2 (AET) RWB Adria (IL)
Dearborn Stars SC (MI) 0:1 KC Athletics (KS)
Semifinal winners earn berths in Lamar Hunt U.S. Open Cup
Final (Saturday, June 29)
RWB Adria (IL) vs. KC Athletics (KS)
Overland Park, Kan.
Winner advances to USASA Open Cup, July 19-21 at Star Complex, San Antonio, Texas

Past USASA Region II entries in US Open Cup
2013: KC Athletics (KS), RWB Adria (IL)
2012:  Croatian Eagles (WI), KC Athletics (KS)
2011: AAC Eagles (IL), Iowa Menace (IA)
2010: Detroit United (MI), KC Athletics (KS)
2009: Bavarian SC (WI), 402 (NE)
2008: AAC Eagles (IL), RWB Adria (IL)
2007: Bavarian SC (WI), RWB Adria (IL)
2006: Chicago Lightning SC (IL), Croatian Eagles (WI)
2005: AAC Eagles (IL), Reggae Boyz (IN)
2004: Bavarian SC (WI), SAC Wisla (IL)
2003: Bavarian SC (WI)
2002: AAC Eagles (IL)
2001: Chaldean Arsenal (MI)
2000: Bavarian SC (WI)
1999: Bavarian SC (WI)
1998: SAC Wisla (IL)
1997: Mequon United (WI)
1996: RWB Adria (IL)
1995: AAC Eagles (IL)