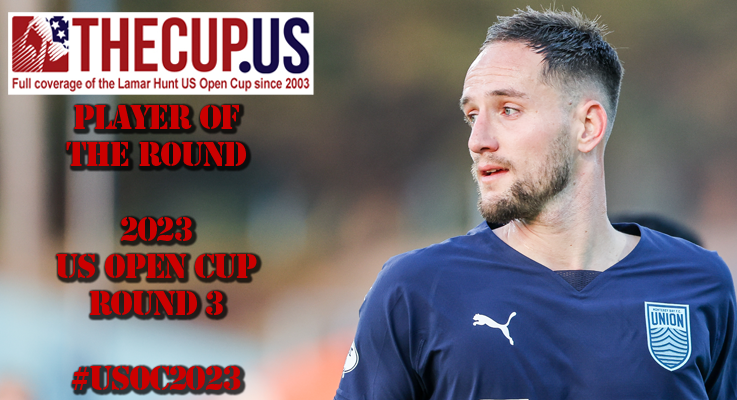 Christian Volesky, the talented striker from Monterey Bay FC, has truly made his mark in the world of the USL Championship this calendar year. As a USL journeyman in the past, Volesky has finally found his home in Monterey Bay FC, and his performances have been nothing short of exceptional. And he had another exceptional performance in his team's Third Round upset of the San Jose Earthquakes (MLS) in the 2023 Lamar Hunt US Open Cup. By scoring the lone goal in that 1-0 win, he was voted TheCup.us Player of the Round.
Throughout the season, Volesky has displayed remarkable skills and dedication, earning him two well-deserved USL Player of the Week honors. His consistent performances and influential presence on the field have propelled his team to being a playoff contender.
One of the standout moments of Volesky's career came in that US Open Cup match against the San Jose Earthquakes. In a thrilling encounter, Volesky's brilliance shone through as he led his team to victory, scoring the decisive goal that secured the win. His composure and precision in front of goal were key to Monterey Bay earning the club's first win over a MLS team.
That's a GOOOOOOOAL for @MontereyBayFC! ????

Christian Volesky capitalizes on a @SJEarthquakes bobble and puts his club in the lead halfway through the first half‼️

1-0 | #USOC2023

B/R App » https://t.co/N1von4IZCE
B/R Football YouTube » https://t.co/kneATRtOwM pic.twitter.com/QL3Ggga2S2

— U.S. Open Cup (@opencup) April 26, 2023
Recognizing his outstanding performance, Volesky narrowly edged Joe Corona (San Diego Loyal) for the award and Jonathan Lewis (Colorado Rapids) finished third. The Player of the Round award is voted on by TheCup.us staff, a select panel from the North American Soccer Reporters and select backers (those that pledge $10 or more) of TheCup.us' Patreon team. 
In the game against the Earthquakes, Volesky's defensive pressure disrupted their rhythm and caused the opposing center back, Rodrigues, to lose concentration and make a crucial mistake. Capitalizing on the opportunity, Volesky seized the loose ball and expertly slotted it past the goalkeeper, securing what would prove to be the game-winning goal in the 26th minute.
Monterey Bay FC will need another stellar performance from Volesky as they host the defending MLS Cup champions in LAFC in the Fourth Round. Dennis Bouanga, one of the MLS MVP front-runners up against Volesky, who is a nominee for USL Championship Player of the Month, is the best possible matchup for the neutrals. 
Christian Volesky's journey from a USL journeyman to a key player for Monterey Bay FC has been remarkable. His exceptional skills, leadership, and ability to perform under pressure have propelled his team to success in the US Open Cup, and has his team on a six-game unbeaten streak in all competitions.