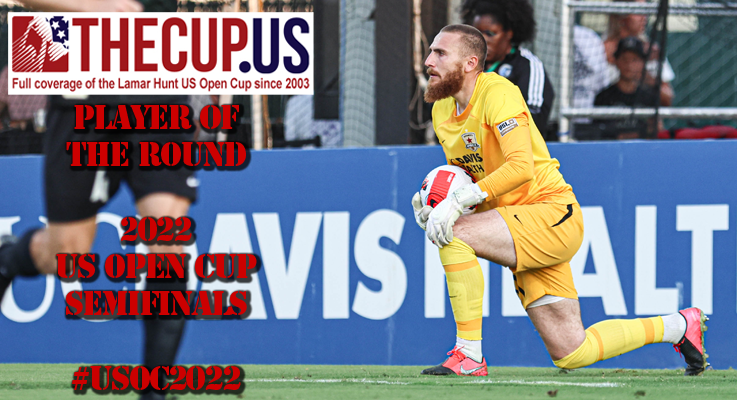 After 120 minutes of a scoreless draw had passed, the only remaining form of defense left against Sporting Kansas City was Sacramento Republic's goalkeeper Danny Vitiello. Tied at 4-4 in penalty kicks, only 12 yards separated him from glory and it came down to the last kick. Sporting veteran Graham Zusi stepped up to the dot with the hopes of securing his club's entry into the Lamar Hunt US Open Cup Finals, but Vitiello had other plans.

As Zusi shot the ball to his right, Vitiello reacted quickly to his left and parried the ball wide of the goal. Moments later, Vitiello's teammate and team captain Rodrigo Lopez sealed their tickets to the Final. Having already saved eight shots on goal from Kansas City and then saving that crucial penalty kick, Danny Vitiello has been voted as TheCup.us Player of the Round for the Semifinals of the 2022 Lamar Hunt US Open Cup.

The Player of the Round award is voted on by TheCup.us staff, a select panel from the North American Soccer Reporters and select backers (those that pledge $10 or more) of TheCup.us' Patreon team.
"It's a great honor. Especially because all 11 guys, along with the subs who came on the pitch, worked their tails off for 120+ minutes," said Vitiello. "I think a lot of people could've been rewarded with it. Defensively, everybody put their bodies on the line and showed tremendous toughness to get the result we did. I'm proud of the whole group."
At 26 years old, Vitiello night in the spotlight is a drastic change from only a few years ago. Back then, the young goalkeeper was struggling to find a club to really call home. During his time at the State University of New York at Albany (SUNY Albany), he spent three seasons with three different Premier Development League clubs, now known as USL League Two. By the end of 2018, Vitiello had amassed a collegiate career line of 60 appearances, earning 24 clean sheets, and a 0.98 goals-against average. In 2019, he signed a professional contract with USL Championship (USL-C) club Nashville SC, only to be loaned out to New Mexico United (also of the USL-C) nine months later. Spending more time on the bench than ever, Vitiello would soon find traction and made good use of his time.
From 2020 to 2021, Vitiello played for his third USL-C club, the Pittsburgh Riverhounds where things began to take off slowly. In his professional debut on Aug. 19, 2020 he earned a clean sheet against reserve side Loudon United. Later that same season, he was named to the USL Championship Team of the Week. With eight games under his belt, Vitiello had displayed impressive stats: 0.778 save percentage and a 0.50 goals-against average. At the end of the 2020 USL-C season, he was awarded the Golden Glove, which honors the goalkeeper with the lowest goals-against average during the regular season.
On Dec. 21, 2021, Vitiello signed a contract with Sacramento Republic FC and put himself on course for this epic US Open Cup performance.
"He was someone that we followed for a while," said Sacramento Republic head coach Mark Briggs about his keeper. "He was recommended to us last year from his previous seasons at Pittsburgh and with our new goalkeeper coach having worked with him previously, it's just made a lot of sense."
"He's a fantastic shot stopper, but for me how he commands his box and relieves pressure by coming for crosses is irreplaceable. On top of that, he's a top human and wants to win."
Fast forward to the penalty kicks against Sporting Kansas City. Before the first shot was taken, Vitiello already felt he had the advantage.

"I always go into penalties with the mindset that all the pressure is on the shooter," said Vitiello. "So knowing that, as a goalkeeper, you just do your best to try and get into their heads before they take their shot and hope they give you a chance at making a save. You always tell yourself all you need is one save and you go from there."

While describing the team huddle before the penalty kicks, he said, "During the team talk beforehand, guys kept saying that I'd put us in a position to win it and that meant the world to me. But I also have a lot of confidence in my team and know that my teammates hit them really well."
When Vitiello was told that head coach Mark Briggs was quoted as saying, "We knew that Danny would save one," it just reminded him of how much trust the group puts in him.
"It just gives you confidence. Mark and the whole coaching staff do a great job showing their belief in every single player that steps on the field and when you have that kind of support, it lets you play more freely and with more fight than ever," Vitiello explained. "That is what you see from us on a daily basis – a group that puts in a shift no matter the day, whether it be training or a game. That's the type of team we have. We play for the name on the front of the jersey and everything/everyone it represents."
With Vitiello saving Zusi's shot and Lopez scoring the winning goal, the sold-out crowd at Heart Health Parkr erupted into pure jubilation. One moment, the players celebrated together with a dogpile. The next moment, the players embraced the fans by completing a full lap of high-fives with each outstretched hand. So what will Vitiello remember most about this night?
"It has to be the celebrations, everybody embracing each other knowing we accomplished something so special for our city," Vitiello said. "From the dog piles, to all the hugging with my teammates, chatting with the Tower Bridge Battalion, seeing my wife on the field and share a moment with her, and the champagne shower in the locker room. It was one of the most special nights of not only my career, but my life."
"Sacramento, that night was for you," Vitiello added to the fans. "Without your guys support, we wouldn't be going to the Cup Final. But the job is not done! And we're going to need your support more than ever these next couple weeks in the league, as well as September 7th in Orlando. Let's keep showing why the Sacramento Republic have the best fans in not only USL, but in America!"
Seeing Vitiello use "our city" let's you know one thing is for sure: he's found a home.