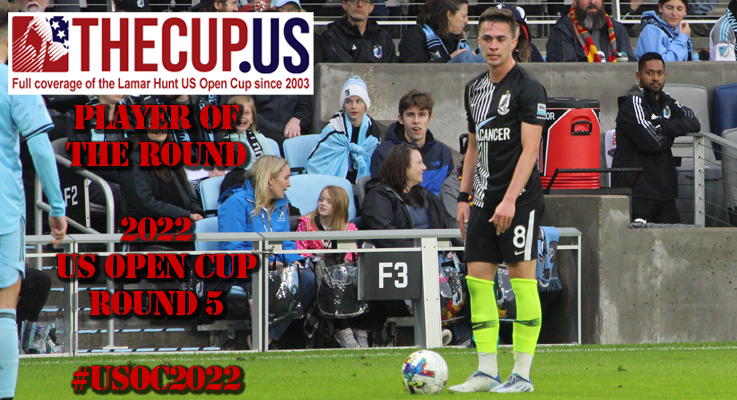 "We can start to taste it at this point. We're a couple of games away from making history."
Soccer fans in America, meet Joe Brito. That quote came from a recent interview with US Soccer, where he also shared, "I think we can do it."

This man has inspired hope for Union Omaha fans, especially with his recent performance against MLS side Minnesota United in the Fifth Round (Round of 16) of the 2022 Lamar Hunt US Open Cup.

His goal in the 51st minute edged the Owls past the Loons and into the Quarterfinals, a first for a third-division club since Orlando City in 2013. That same goal earned him Player of the Round honors from TheCup.us.

The Player of the Round award is voted on by TheCup.us staff, a select panel from the North American Soccer Reporters, and select supporters who have pledged $10 or more to TheCup.us's Patreon team.

The voting was essentially a two-man race with Brito barely edging Sacramento Republic's Rodrigo Lopez, who had a goal and an assist as the USL Championship side's upset of the San Jose Earthquakes.

This has been Joe Brito's first experience with the US Open Cup — and what a maiden voyage it has been.

It began in the Second Round against the Des Moines Menace of USL League Two.

"I remember being really nervous for our first game against Des Moines Menace because it was my first official game for Union Omaha and I knew the pressure was on us since we're the pro team," Brito told TheCup.us.

Never one to look back too long, he immediately shifted his gaze to the future.

"Now it's nice because the pressure has been on the MLS teams and we've been able to take advantage of that," Brito said.

That same confidence was needed to make his second-half goal in Minnesota.


In the 51st minute of the match, with the score tied 1-1, Union Omaha advanced up the field, along the right sideline, and into the attacking third. The ball was crossed into the box and a poor headed clearance brought the ball right to Brito's chest, where he used every millisecond to wait for the ball to fall into place for a volley. What followed was a thunderous right-footed shot that sent the ball into the roof of the net. That confidence, that ability to play uninhibited, came from the belief that he, and his Union Omaha teammates, were playing without any pressure on them.

Next up is the Quarterfinals, where Union Omaha takes on Sporting Kansas City — the club that has billboards in Omaha, plenty of fans, and even a youth affiliate in their own backyard.

Brito doesn't seem bothered.

"I'm also equally excited to get the opportunity to play another MLS team," he said. "That's the level I want to play at one day, so I enjoy trying to prove that I belong and can be successful at that level."

He echoed these same sentiments in a recent interview with USL League One, saying: "I think the gap is a lot smaller than people think. Here in America, especially with no promotion and relegation, it's a lot tighter. Now that there are more leagues, more teams, the talent is very spread out. Our mentality stays the same because it's gotten us this far. There's no point in changing it. I think that that mentality is an advantage to us that most teams don't have because they are expected to win. I think that's a big advantage for us."

So what is Joe Brito most excited about leading up to the Quarterfinals? The fans.

"I'm most excited to see all of our fans out in Kansas City. I know our supporters' section is already sold out, so it's going to be an incredible atmosphere and I love playing in those kinds of games. When I first came to Omaha, I heard good things about the fan base, but didn't know what to expect. The fans have certainly blown me away with their support and passion towards the club and hopefully we can give them a show in Kansas City."

He's having a lot of fun right now and he's living in the moment, making an impact in meaningful competition in his first season as a pro.

"I'd definitely be happy to hear that I'm having a big impact in my first professional season," Brito said. "I've worked hard for these moments, so it's nice to see all the sacrifice and dedication pay off."

With 259 minutes under his belt, one goal, and two assists, Brito is seeing the payoff.

As the team prepares for the Wednesday's Quarterfinal against Sporting Kansas City, Brito is focused on winning the match, but smiling every step of the way.

"Some of my favorite memories, and moments from my soccer career, has come from this cup run, so I'm extremely grateful for it," he said.

Union Omaha travels to Children's Mercy Park on Wednesday, June 22, to take on Sporting Kansas City. Kickoff is scheduled for 7:30 PM (CST) and will be broadcast on ESPN+.