If you look at the statistics, it makes zero sense that the Greenville Triumph defeated the Oakland Roots in yet another USL League One over USL Championship "cupset" on Thursday night. But the Triumph, now in their fourth season, always seem to find a way to win matches like this, especially at home.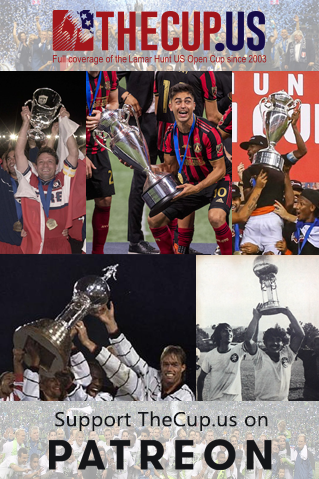 Greenville defeated a pro team in their opening round game at home for the second tournament in a row, defeating Oakland, 2-0.
It was a tough draw for the Roots' first US Open Cup game. The team traveled over 2,600 miles, cross-country, to face the three-time League One finalists and put up quite the test for John Harkes's boys. Oakland dominated possession, managing to have the ball for 71% of the match. They outnumbered the Triumph with 602 total passes to Greenville's 248. They took 17 total shots, nine of those on target. But unfortunately for the team from The Town, none of those shots found the back of the net.
The key for Greenville was the thing that has been the bedrock for this team from day one of their existence: defense. With 12 interceptions, two blocks, 27 clearances, and an incredible nine saves, the back line did their job in limiting the quality of shots from Oakland. And when the Roots were able to get a good shot off, Triumph goalkeeper Paul Christensen, who put in a man of the match performance, was able to make some incredible saves to keep the clean sheet.
The first goal for Greenville came in the 29th minute when midfielder Lucas Coutinho was able to chip a ball over the back line onto the foot of striker Jake Keegan. Oakland's keeper, Taylor Bailey, came out to meet Keegan, but Jake's quick thinking led to a cheeky chip over the top of Bailey.
The insurance goal would not come until the dying seconds, with most of the Roots team pushed up field. Forward Don Smart was able to get in position thanks to a two to one advantage to set up the final strike.
After Friday's draw, Greenville learned that they will host a Major League Soccer team for the first time. MLS expansion side Charlotte FC will travel to Greenville for Round 3. The date, time and venue are still to be determined.