Chattanooga FC made history Thursday night with the club's first-ever US Open Cup victory as a professional club, taking down in-state rivals Memphis 901 FC, 3-1 in front of more than 2,000 fans at Finley Stadium in the competition's second round.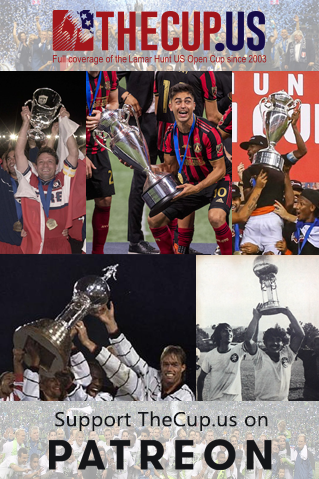 The match was only the second time that two Tennessee clubs had faced off in the history of the Cup (2018 Round 2: Inter Nashville vs. Nashville SC) and the first time Chattanooga FC had entered the competition since 2017 when they were members of the National Premier Soccer League (NPSL).
Chattanooga struck first early in the game with a goal from Alex McGrath, capping an immediate, high-tempo pressure that forced a turnover high up the pitch and allowed Brett Jones to thread a through ball into the box that McGrath lashed into the opposite corner just 56 seconds into the game.
The goal marked just the 20th time in the Modern Era (1995-present) that a goal was scored in the first minute of an Open Cup game.
After conceding early, Memphis 901 took control of the game territorially, seeing large swaths of possession in Chattanooga's half but with little to show for it. Chattanooga relied on the counter attack to generate threats, and that it did; a solo run from Jones won a corner, which led to a cross from Ian Cerro that Nick Spielman tapped towards the frame. Memphis goalkeeper Drew Romig saved Spielman's effort, but parried the ball into the path of Travis Ward, who poked the ball home to double Chattanooga's advantage, 2-0.
Memphis continued to box in Chattanooga, and eventually found a reward for their continued pressure in the 39th minute. That's when Patrick Seagrist struck a beautiful effort from the top of the box into the opposite corner of the net, bringing Memphis back within a goal.
But lazy defensive work on the other end allowed Taylor Gray to beat Romig to the ball from Ian Cerro's cross and tap in a third goal for Chattanooga in first-half stoppage time.
The second half saw few clear-cut chances, with Memphis controlling possession but failing to get the ball into dangerous areas. Chattanooga never really looked like conceding, and held firm to full time to advance to the Third Round of the Cup, becoming the fourth NISA side to advance.
Chattanooga's opponent for Round 3 will be announced on Friday at Noon ET. They are in a group with defending US Open Cup champ Atlanta United (MLS), Birmingham Legion (USL-C) and South Georgia Tormenta FC (USL-1).
The goals from another history-making night in Finley Stadium. Were you there? #BetterTogether pic.twitter.com/S4Q0fuTC7z

— Chattanooga Football Club (@ChattanoogaFC) April 8, 2022