In a rescheduled game played in front of an empty stadium, South Georgia Tormenta FC left South Carolina in the early afternoon with an upset win over the Charleston Battery, scoring early through Arthur Bosua before holding on for a 1-0 road win.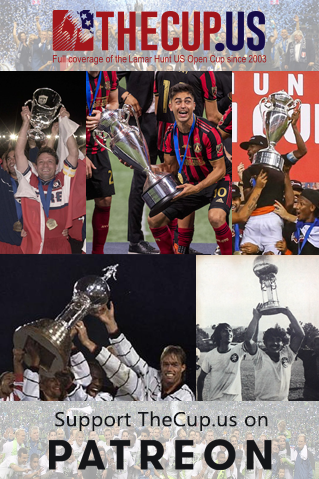 The Second Round game for both teams was played behind closed doors after being originally scheduled to be played on Wednesday night. However, due to storm damage to the Battery's stadium at Patriot's Point, the game was moved to an 11 a.m. kickoff with no fans in the stands. The weather would keep even the players off the grounds that evening, It was an unusual time for a professional soccer game and the first morning kickoff in the US Open Cup since 2016.
The game remained tied until the 61st minute when 2019-2020 Battery player Bosua blasted in a header against his former team from a corner kick taken by Adrian Billhardt, giving the USL League One side a lead they would not relinquish.  The goal was South Georgia's first-ever U.S. Open Cup goal as a professional side.
Despite Charleston having greater possession and taking more shots, they were unable to get the ball into the back of the net in a game that saw 11 yellow cards distributed between the two teams.
The result was the first opening round loss by the Charleston Battery in the Open Cup since 2005, and ending what was the second-longest opening-round win streak at 14 games.  Rochester currently holds the longest win streak with 17 opening round wins. The loss also brought the Battery's nine-game home unbeaten streak in the tournament to an end. It tied a club record and was tied for the fourth-longest such streak in the Modern Era.
Tormenta head coach Ian Cameron had praise for his side and how they can use this experience going forward in league play.
"A strong, professional performance from the side today," Cameron said. "We are going to play against Omaha in a couple of days, but today's match helped us prepare because both clubs share similarities. Both teams are excellent on the field: they are direct, and we have to adjust to their style of play."
"We didn't adjust to NCFC, and we lost," Cameron added about his club's previous league performance. "Today we adapted and won, and we will do the same two Saturdays from now."
Sleep well tonight, Tormenta Nation.

We're sure this will be on loop in most of our dreams tonight 🤩 pic.twitter.com/VDxhIRIxeS

— Tormenta FC (@Tormenta_FC) April 8, 2022
With the win, South Georgia Tormenta FC advances to the Third Round of the US Open Cup, scheduled to be played April 19-21.  They will learn their opponent in the Round 3 draw Friday at noon ET.