The Rio Grande Valley FC Toros beat North Carolina FC 2-1 to advance to the Third Round of the US Open Cup at WakeMed Soccer Park in Cary, North Carolina.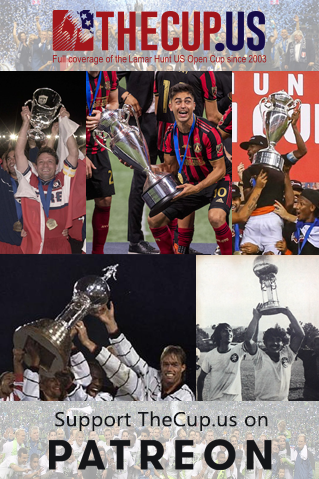 NCFC took a lead into the halftime break thanks to a rocket of a shot from Jaden Servania, but the Toros came roaring back after the break, with an SportsCenter Top 10 contender of their own from Frank Nodarse Chaves giving the visitors a 79th minute winner.
"It was an even game, especially in the first half," said RGV head coach Wilmer Cabrera. "I thought we started off well, but then we gave the other team the chance to get comfortable with their plan and then, at the end of the first half, they, in a counter attack, created a problem and they scored and it was a better half for them at the end."
The win marked the USL Championship side's first appearance in the Open Cup. While the club is new to the competition, Cabrera is no stranger, winning in 2018 with the Houston Dynamo and losing against the then-Carolina RailHawks in 2014.
"It's been good." Cabrera said. "Coming back to the US Open Cup is a great opportunity. And it's my second time coming over here to North Carolina. I remember I came in 2014 and we lost against the team in PKs, so it's great to be back and it's now even better for us because we have the opportunity to win. But it feels good to be back in the US Open Cup, especially for our club, which is the first time in franchise history."
Capping off a chippy and physical first half, Servania blasted NCFC into the lead in the 45th minute. Capitalizing on a poor clearance, Servania's first touch gave him enough time and space to line up a rocket off a shot off the bottom of the bar.
TOP BINS! Jaden Servania rips one in the back of the net to close out the first half and give @NorthCarolinaFC the lead.

1-0| #USOC2022 pic.twitter.com/0UhdStyqhy

— U.S. Open Cup (@opencup) April 7, 2022
"For him, anytime it's on his left foot and when he's on that inside kind of right position formation wise, we want him to be aggressive," said NCFC head coach John Bradford. "We want him to create goals, and I think he's gonna have a lot more of those as the season goes on."
The hosts took that lead into the break, but the Toros didn't take long to level things up as Frank Lopez Garcia finished off a breakaway in the 54th minute.
NCFC defender Jordan Skelton was in good position to snuff out the danger early but slipped, allowing Garcia to go one-on-one with goalkeeper Will Pulisic.
With both teams searching for a late winner, it was Rio Grande Valley that broke the deadlock in the 79th minute. In an attempt to one-up Servania's first-half goal, Chaves beat Pulisic with a hard-hit shot from 30 yards out.
.@RGVFC begin to open up the game, finding their second goal of the night against @NorthCarolinaFC. Goal scored by Frank Nodarse!

2-0 | #USOC2022 pic.twitter.com/faTTMVdl5W

— U.S. Open Cup (@opencup) April 7, 2022
"We spoke about being a little bit more of a solid team because we didn't combine as well as we should and in the second half we improved our movement of the ball, our touches," Cabrera said. "We were able to score two goals and I think it was more solid for us and it was a good game."
The two sides combined for five yellow cards in the tightly contested matchup, with three cautions coming after the 77th minute.
Rio Grande Valley FC's next opponent will be determined in the Third Round draw on April 8.