Bay Cities FC is hoping this is the beginning of a Cinderella story. The club, founded in little over a year ago, has now moved on to the Third Round of the 2022 Lamar Hunt US Open Cup. The match was played at the home of the San Jose Earthquakes, but was labeled as a home match for Bay Cities. Bay Cities, who play in the National Independent Soccer Association (NISA, Div. 3 pro) won 2-1 over a big favorite in Monterey FC of the USL Championship in front of a crowd of about 500 fans. Bay Cities ended up spoiling a return to PayPal Park for former San Jose Earthquakes player Simon Dawkins and former coach Frank Yallop. The run continues, as a lot of firsts for the Bay Cities' history happened today.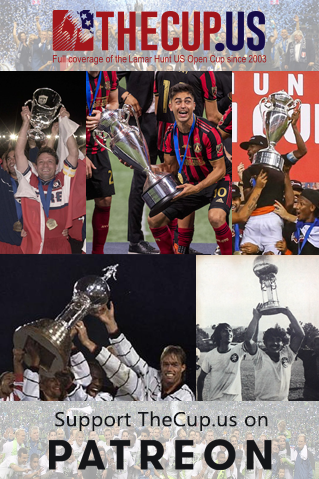 Both teams were making their tournament debut and both scored their first goals in US Open Cup history, and Bay Cities got their first win in US Open Cup in their short history as well. And they did it in dramatic fashion.
The first goal came off the right foot of midfielder Rei Dorwart as the shot is a deflection off the Monterey Bay FC goalie JJ Dallas.
Monterey Bay scored the second goal of the match off a header by midfielder Robbie Crawford, he was assisted by Morey Doner.
The last came off a failed clearance by Monterey Bay defender Hugh Roberts. Edson Cardona took advantage with a beautiful left foot volley that screamed past the goalie to shock the whole stadium.
"They played with heart, they played for their communities," said head coach and co-founder Anders Perez. "This is a group of guys that should be playing Division 1 or Division 2, nobody gives them much opportunity. This why we started this, this is why I started this. There are a lot of players not being seen, and we are giving them a chance."
"We were definitely the underdog today, I don't think a lot of people were expecting us to get the results we have been getting lately," said Tony Jimenez about his team's upset. "It was such a beautiful feeling to be out there, this is my first contract."
On the other side of things, Monterey FC was hampered with the thought of losing in their first US Open Cup match ever. That fate loomed large as Bay Cities celebrated like it was a cup final.
"It was like a cup final for them … credit to them honestly … they capitalized on the mistakes that we made, and they punished us," said Monterey goalscorer Robbie Crawford.
Monterey head coach Frank Yallop, who was coaching in his 25th US Open Cup match, 10 of them with the San Jose Earthquakes, had a more somber tone after the game.
"It's not a good feeling losing any game, we didn't play very well … they had two or three good chances, and they scored two goals, we had five really good chances and scored only one," said Yallop. "It's disappointing as it is. It's not a fair reflection of the game, but you got to finish your chances."
Despite the result, the fans that were there to see beloved former San Jose Earthquakes player Simon Dawkins return to PayPal Park got to see him play for 84 minutes.
"It was good to see the fans out here, there were a lot of San Jose Earthquakes fans, and they are supporting the local teams out here, it was good to see a good turn out," said Dawkins. "It was great to play in front of them again."
"That was my first match in the last three years, it was good to get match fitness in for me," said Dawkins. "Disappointed with the result, but one personal thing I can take away from this is I got some minutes in".
The former Tottenham and Jamaican International prepares to make a mark in the USL Championship as he makes his return to soccer.
EDSON CARDONA.
LAST MINUTE.
NUF SAID. pic.twitter.com/hjoYreZesl

— Bay Cities FC (@BayCitiesFC) April 7, 2022
Bay Cities moves on to the US Open Cup Third Round that has a possible date with an MLS team. The draw for Round 3 will take place on Friday at Noon ET.