A visiting MLS Next Pro St. Louis CITY 2 team imposed itself with a goal in each half to knock hosts and USL Championship side Indy Eleven out of the US Open Cup with a 2-0 win in the Second Round of the US Open Cup.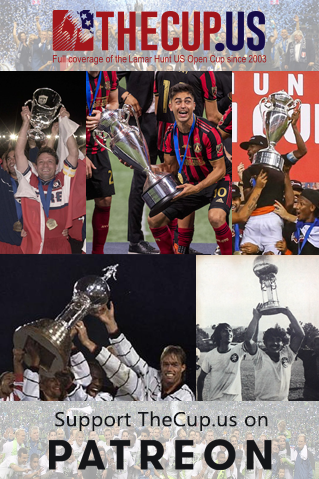 St. Louis CITY 2 ceded 64% of possession to its second division opponents, but outpaced them on shots 7-6 and looked the more dangerous team for all but 15 minutes after the half.
The visiting side is the sole incarnation of the club that will enter a side in MLS next year, and has several players who are being warehoused in the third division in anticipation that they may play next year. Still, the Indy Eleven side had to compete with them this year and may have expected to dominate. That never happened.
Indy dominated possession from the start, but St Louis' press paid off in the 17th minute. A botched clearance by the Eleven ended up falling to Josh Yaro in the midfield, who pinged a neat on-time cross out of the air to Ezra Armstrong on the left wing, just inside the 18. Armstrong settled the ball with his thigh and half-volleyed the ball with his left decisively past the Eleven's backup keeper, Tim Trilk, to open the scoring.
St. Louis continued to press, and looked close to scoring during stretches before the half hour mark and again around the 37th minute when Armstrong combined twice with Vitor Dias on two occasions.
After the half, Indy came out forcefully for the first 15 minutes, and pushed its attack down the left side of the visiting defense. The Eleven managed three menacing crosses in the 51st, 55th, and 58th from that side, but each was intercepted just off the goal line by St. Louis keeper, Michael Creek.
St. Louis countered around the 70th minute, pushing the hosts back on their heels, and in the 72nd minute Armstrong pinged a ball from the left wing to substitute Célio Martins. He controlled the ball and slipped it to Wan Kuzain who snuck the ball inside the far post with a low shot for the second-half goal.
St. Louis now advances to the Third Round of the US Open Cup with a possible opportunity to face a MLS squad. The draw for Round 3 will be announced on Friday at Noon ET.
Incredible, incredible, incredible touches done by @stlCITYsc with a beautiful finish from Wan Kuzain! @stlCITYsc extends the lead against @IndyEleven in the Second Round!

0-2 | #USOC2022 pic.twitter.com/77CGqxeq5f

— U.S. Open Cup (@opencup) April 6, 2022