New Mexico United knows all about playing against Goliath in the Lamar Hunt US Open Cup. Tonight, though, they were Goliath when they hosted the Las Vegas Legends (NPSL) in United's first-ever home Open Cup match. And it showed on the pitch from the second the opening whistle blew.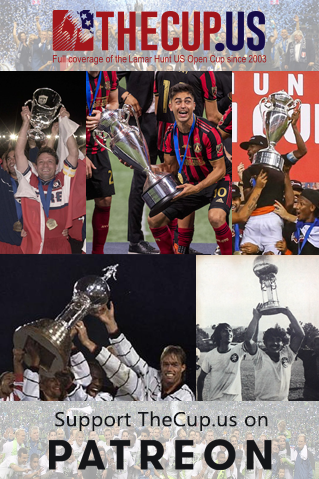 With a 5-0 win over Las Vegas, New Mexico United picks up the club's first win over an amateur team and the first win in front of their home fans.
"You just try to take it like every game, it doesn't matter who you play," said United midfielder Will Seymore. "The objective is to win. When you underestimate a team that you don't really know anything about, you can get giant killed like that. I think we just had to approach it like the professionals we are, like every other game and hold our standards."
The hosts set the tone of the night early, showing a willingness to take what the Legends were willing to give them. While the visitors played narrow at the back, United looked to play through the wingbacks, Raddy Ovouka and Daniel Bruce. By utilizing the wide areas, it allowed other members of United to make runs through the back line, and in the 7th minute, Sergio Rivas was played in behind and drew out Legends keeper Hector Casillas, who conceded an early penalty.
Chris Wehan would get the nod and coolly slotted home the attempt, going to the bottom left corner.
From there, the floodgates opened. In the 17th, Jerome Kiesewetter, who opened his club account, doubled the lead after cleaning up the rebound after a header from Rivas went off the crossbar.
Ovouka would increase the lead to three goals in the 40th, finishing from just outside the six-yard box.
Even the halftime break couldn't slow down United's momentum, as moments into the second half, Carl Sainte extended the lead once again. After a Rivas cross was cleared away from the face of the goal, the ball fell to the young Haitian midfielder. Sainte stepped into his shot from 21 yards out and laced it into the left corner of the net.
An already bad night for Las Vegas got even worse when Eduardo Guzman saw yellow for the second time in the 82nd minute and was sent off. Down to 10 men and scrambling to prevent any further damage, Casillas conceded a second penalty in the 86th. Kiesewetter was given the opportunity to stand over the spot and converted once again to give United their fifth goal of the evening.
FT@NewMexicoUTD 5
Las Vegas Legends 0

Season high 5 goals for the Black and Yellow

They're off to the 3rd round of the US Open Cup

Highlights on @KOB4 @USLChampionship @opencup @TheCurseNM pic.twitter.com/FqPALza8jA

— Brandon Ortega (@Brandega) April 6, 2022


Scoring Summary
7' – New Mexico United – Chris Wehan (Pen)
17′ – New Mexico United – Jerome Kiesewetter
40′ – New Mexico United – Raddy Ovouka (Chris Wehan)
47′ – New Mexico United – Carl Sainte
86′ – New Mexico United – Jerome Kiesewetter
Lineups
New Mexico United: Ford Parker (GK), Will Seymore, Alexis Souahy (Austin Yearwood 45′), Rashid Tetteh (Sam Hamilton 79′), Carl Sainte, Mike Azira, Chris Wehan (Tabort-Etaka Preston 52′), Raddy Ovouka, Daniel Bruce, Sergio Rivas (Justin Portillo 79′), Jerome Kiesewetter
Manager: Zach Prince
Las Vegas Legends: Hector Casillas (GK), Eduardo Guzman, Abdel Kuwa, Jameel Neptune, Maliek Howell (Daniel Osuji 63′), Jesus Gonzalez (Julio Vargas 56′), Elad Cohen (Mohamed Kuwa 46′), Roberto Soto, Samuel Aina (Esequiel Coronel 46′), Brandon Vargas (Yuval Cohen 56′), Daniel Rangel
Manager: Jose Rivera
Yellow Cards
Daniel Rangel, Las Vegas 57′
Abdel Kuwa, Las Vegas 64′
Eduardo Guzman, Las Vegas 73′
Jerome Kiesewetter, New Mexico 78′
Hector Casillas, Las Vegas 86′
Red Cards
Eduardo Guzman, Las Vegas 82′ (second yellow)
Attendance: 2,128