For the third time in club history, and the third tournament in a row, the Charlotte Independence have been eliminated from the Lamar Hunt US Open Cup by an amateur team. The North Carolina Fusion U-23s join the Ocean City Nor'easters (2018) and the Florida Soccer Soldiers (2019) in knocking the Jacks out of the competition.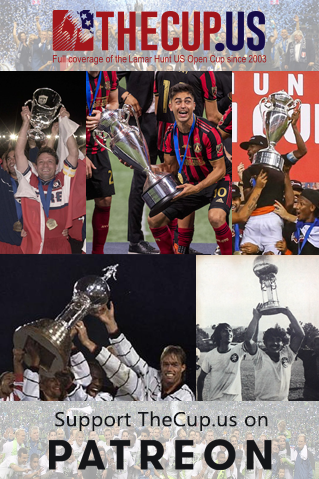 The Fusion U-23s, who were the USL League Two runner-up last season, defeated the Independence 4-2 to earn the club's first win over a pro team since 2006. It also snapped an eight-game road losing streak for the Fusion in the Open Cup, the longest such streak in the Modern Era (1995-present). The last time the Fusion won a road game in the Open Cup was in 1999 when they were a Div. 3 pro team (USL D-3 Pro League) and traveled across the country to upset the Orange County Zodiac of the A-League (Div. 2 pro).
Not many fans made it out to American Legion Memorial Stadium due to torrential downpours in the Charlotte Metro region. But the ones that were in attendance saw a hard-fought and scrappy match.
The Independence would get on the board first, thanks to a Shalom Dutey header off a set piece in the 14th minute.
Luis Neto would equalize in the 37th minute for the Fusion.
Ayrton Paez would put the Jacks back in front just before halftime, thanks to an assist from Ivan Luquetta.
The second half would see tempers flare between the in-state squads. Some pushing and shoving would eventually lead to Tresor Mbuyu, of the Independence, being shown a red card in the 76th minute.
Just before the end of regulation, Tom Marriott of the Fusion would score his first goal of the match in the 88th minute. William Lorentz would seal the victory for the amateur side with a goal five minutes into second half stoppage time, right before the full-time whistle.
"It was a massive win for the club," said Fusion goalkeeper Josh Perryman.
Since joining USL League Two in 2004 under the name Carolina Dynamo, the Fusion have eliminated four professional teams. Only three amateur clubs in the Modern Era have more pro team upsets than North Carolina. (Flint City Bucks 10; Des Moines Menace 7; Ocean City Nor'easters 6)
Perryman said his Fusion teammates came into the match with a mindset of "no fear" and are eager to see who their next opponent will be in the Third Round. The draw for Round 3 will take place at Noon on Friday.