Separated by a mere 15 miles, FC Tulsa and Tulsa Athletic went for bragging rights in the first-ever Tulsa Derby to highlight Tuesday's Second Round of the Lamar Hunt US Open Cup before the hosts FC Tulsa took a 2-1 win at ONEOK Field.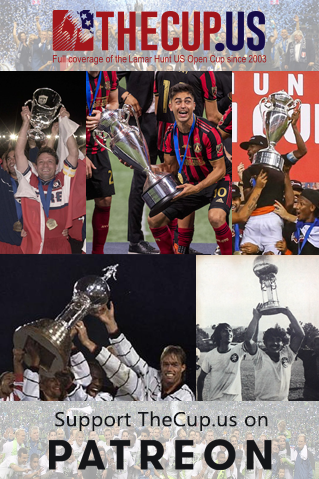 From the first 10 minutes, it was all FC Tulsa.
Brian Brown put the home side in front with a goal in the fifth minute, sliding towards net to finish off a feed from Diego Corrales and offer the strong start from FC Tulsa in front of a crowd of 2,300 supporters.
Down 1-0, it would be the 13th minute before Athletic would have any appreciable possession. Jordan Watson showed good skill in making a deep run along the goal line but could not set up a shot on goal.
Ronald Rodríguez headed in the second goal on a corner served up by El Salvador international Joaquín Rivas, giving FC Tulsa a 2-0 halftime lead.
Brown and Rivas had just returned from a call-up with "La Selecta," making the return trip to Tulsa last Thursday after featuring in three appearances for El Salvador in World Cup qualifying. It was the first goal in a Tulsa uniform for Brown who like Rodriguez joined the club in the offseason.
The second half started much more briskly, but still dominated by FC Tulsa. In the 60th minute, Athletic's Jo Garcia lifted a long ball deep in the area from a free kick, but none of the three Athletic players could get a boot to it leaving them still in a two-goal deficit.
Deep in the game, substitute Billy Nzojyibwami made a fantastic run down the right side and chipped FC Tulsa goalkeeper Austin Wormell to cut the deficit to 2-1. In the 87th minute, Athletic's Bryson Reed saved a sure goal by Gabi Torres to keep it a one-goal game.
Tulsa Athletic goalkeeper Bryson Reed made six saves, keeping the ball out of the back of the net for the final 72 minutes. But the damage had been done.
FC Tulsa will learn its third-round opponent Friday with the Open Cup third-round draw held by U.S. Soccer. The draw is scheduled to begin at 12 p.m. ET.
If Tulsa draws an MLS club, it will be the USL side's first competitive match against a team from the top division since a 2-1 loss to FC Dallas in the fourth round of the Open Cup in 2017.
Goal scorers
FC Tulsa 5' Brian Brown
FC Tulsa 18' Ronald Rodríguez, assist Ronald Rodríguez
Tulsa Athletic 77' Billy Nzojyibwami, assist Joe Garcia