The contest between Tulsa Athletic and Azteca FC was a battle of teams without a US Open Cup victory. Ninety minutes later, Tulsa would be the team to change that stat with a 3-0 win in the First Round.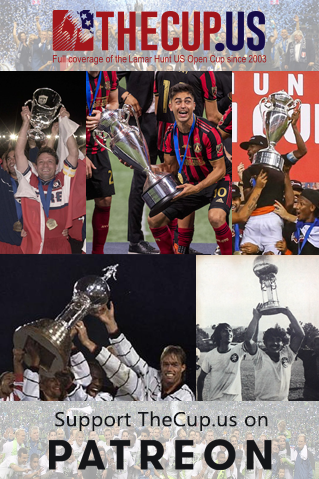 The game started fast with Tulsa on the front foot. Azteca, however, were equal to every attack and had a few good opportunities themselves.
Tulsa jumped out to the lead in the 25th minute when Matthew Rodgers found a wide open Aaron Ugbah on the oppos
ite side of goal who coolly slotted the ball home to make it 1-0. Azteca's Marlon Borja needed to be carried off after a crunching tackle, as Tulsa's Vinicius de Oliveira went through his ankle.
The rest of the first half remained evenly matched, but still the attacking edge stayed with Tulsa into the second half where Tulsa found another gear while Azteca could only thwart the attacks against them.
In the 71st minute, David Paniaqua was adjudged to have brought down Jordan Watson for a penalty, which was perhaps dubious. Regardless, Joseph Garcia stepped to the ball and found his left-hand post. Marcos Madera did get his right hand to it, but the kick could not be stopped, for a 2-0 lead. The wheels seemed to start to come off for Azteca.
Just three minutes later, Joseph Ruiz sent a cross across the face of goal and found Ruben Torres who tapped in to give the home side an insurmountable 3-0 lead. Four minutes after that, Cesar Meza was sent off for a two-handed jersey pull against a Tulsa player. The disadvantage in manpower would make it a mountain too big to climb for the visitors.
In the 87th minute, a contentious PK non-call against Tulsa took the wind out of Azteca's sails. Til Zinnhardt clattered into Azteca's Freddy Fragozo in the penalty area without a touch on the ball, and both players tumbled and stayed down briefly. Azteca could not mount a meaningful attack after that, as the end was moments away.
The win gives Tulsa Athletic a Tulsa derby date with FC Tulsa of the USL Championship on April 5 in the Second Round.