Perfect weather conditions greeted the teams and spectators at Ted Hendricks Stadium in Hialeah, Fla., for this first-round match between host Miami United FC and the new boys on the block, City Soccer FC from the National Soccer League.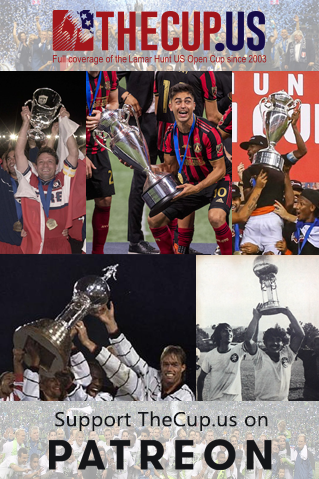 While the first 79 minutes weren't short of action, they were short of goals. Not so in the final 11 minutes, as the floodgates opened and the teams combined for four goals in quick succession. When the final whistle blew, Miami United FC had ended City Soccer FC's Lamar Hunt US Open debut with a 3-1 victory.
Miami United looked the most dangerous early on. They fashioned two good opportunities, the first on Robertino Insua's free kick in the 6th minute and the second on Ignacio Cubeddu's run into the box in the 31st, but both chances were stopped by City Soccer FC's defense. Both goalkeepers had their moments to shine, too, with Robinson Gabriel Barrios of City Soccer FC and Miami United's Bryant Gammiero making key saves to keep the match 0-0 into halftime.
In the second half, with no goals on the scoreboard and time winding down, extra time was looking like a very real possibility.
But Miami United FC finally drew first blood in the 79th minute, as the NPSL side took the lead on a beautiful free kick by Insua. Just two minutes later, Oscar Escobar Reyes responded for City Soccer FC from inside the box and it was level again at 1-1.
That tie lasted just a minute, as Lucas Espindola of Miami United broke the deadlock in somewhat controversial fashion. There were appeals of a handball from City Soccer FC and upon watching video replay, Insua indeed made contact with the ball with his arm before the goal. However, with no video assistant review in the US Open Cup, the goal stood.
The final blow was dealt in stoppage time when Miami United was awarded a penalty, which Espindola dispatched for his second goal of the night to secure his team's advancement to the second round — they'll face USL Championship side Miami FC on April 6 at Florida International University Stadium in Miami.
Espindola was our man of the match after his two-goal performance. "Happy to have been the difference-maker tonight," he said with a sly grin. "The game was very close, and sometimes luck has to be on your side in these tournaments."
While Miami FC has started their league season — they will have played four USL Championship matches by the time of the second-round US Open Cup game — Miami United's NPSL South Region Sunshine Conference schedule hasn't even been announced yet.
"It was noticeable that we aren't in season form yet," Espindola said. "We have two weeks to work on ourselves and be prepared for the next round."