The Villages SC hosted Orlando FC Wolves at The Villages Soccer Complex Tuesday evening. The home side would come out dominant winners by a 6-0 scoreline.
The six goals set a new single-game mark for the club in Open Cup play and earned themselves a Second Round date with the USL Championship's Tampa Bay Rowdies on April 5.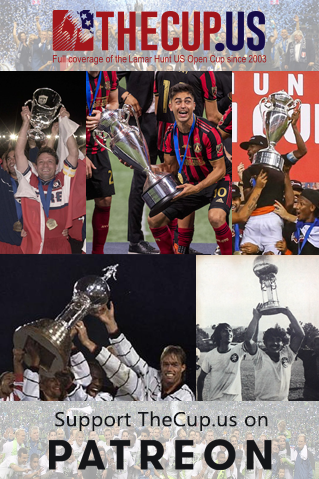 Tonight's game was the first competitive game for The Villages. Because of this, they were able to give three of their academy players game minutes, including Payton Rausch, a high school senior who capped his experience, all 15 minutes of it, with the team's sixth and final goal of the evening.
The game began with the home side dominating play. Just three minutes in, Rafael Barba shot wide to set the tone early. The first 25 minutes was one-way traffic. In the 12th minute, Juan Felipe Rojas received a pass from Christopher Dilan about 12 yards out and beat the keeper to his right for the opening goal.
Just nine minutes later, Rafael "Tete" Barba would double the score on an inch-perfect ball to just inside the penalty spot from Caleb Franke.
The beginning of the end would happen in the 41st minute when Daniel Oliveira received a ball from Austin Lakasik on the near wing, then sailed past Orlando's Rahmel Stewart and chipped beautifully into the far-side netting to make it 3-0.
Orlando would spend the 10 minutes either side of halftime on the front foot but it was too little, too late. The remainder was more wide open, Villages would show their experience, despite being a little shorthanded. Jose Victor France added a fourth goal in the 56th minute after receiving a pass from Daniel Oliveira and beating Orlando's James Taberham, he buried into the upper 90 from about 24 yards out.
The fifth goal came from Rafael Barba in the 63rd minute from a Daniel Oliveira corner, the dipping ball was met with a backheel flick to lift it over the Orlando goalkeeper. Finally, in the 75th minute, Rausch would replace Jose Victor France. Christopher Dilan sent a ball across the face of goal, which was touched by the Orlando keeper, but it deflected into the path of Rauch who slotted it home for his first career US Open Cup goal.
"They came in, they didn't let the level come down," The Villages head coach Anderson DaSilva said about his team's substitutes. "They got the level better because they brought more energy to the group."
The victory does two things for The Villages. First, it snaps a five-game US Open Cup winless streak Second, it sets up a date at Al Lang Stadium against the Tampa Bay Rowdies in the Second Round. A rematch of the 2019 tournament.
Scoring Summary
Juan Felipe Rojas 12th minute assisted by Christopher Dilan
Rafael Vacas Barba in the 21st minute assisted by Rojas
Daniel Farias De Oliveira in the 41st minute assisted by Austin Lakasik
Jose Victor Rua France in the 56th minute assisted by Oliveira
Rafael Vacas Barba in the 63rd minute assisted Oliveira (corner)
Payton Rausch in the 83rd minute assisted by Dilan
The Villages Roster
G 12 Andrew Muller
D   3 Yago Lopes
D   6 Austin Lakasik
D 13 Caleb Franke
D 14 Vandyke Gyau
M   4 Juan Felipe Rojas
M   7 Christopher Dilan
M 10 Daniel Oliveira
M 20 William Centeno
M 11 Rafael "Tete" Barba
F 21 Jose Victor France
Orlando FC Wolves roster
G   1 Juan Butrago
D 17 Fernando Galvis II
D   7 Damian Iamarino
D 14 Caesar Kwesi
D   6 Rahmel Stewart
M 13 Patrick Sandidge
M 12 Cale Saunders
M   5 James Taberham
M 31 Zak Woodward
M   9 Grant Blackhurst
F 10 Dennis Zapata
MATCH BROADCAST